How Ecomnova Is Winning During the Holidays — and Year-Round
Topics Covered:
The U.K. flower and plant market is collectively worth about £2.2 billion ($2.9 billion). Across the pond, Americans spend around $6.2 billion per year on flowers — but they're not buying more bouquets. In fact, taking population figures into account, the average person in the U.K. actually spends more than double on flowers each year, or $43 per person versus $19 in the U.S.
Two direct-to-consumer (D2C) brands in this marketplace, Appleyard London and Blossoming Gifts, were founded by U.K. web design and marketing company Ecomnova in 2014 and 2015, respectively. Appleyard offers "luxury bouquets with a modern British flair, created with exclusive seasonal blooms," while Blossoming Gifts is more affordable with "a wide range of great value flowers and gifts for all occasions." Both, however, have found success in a 200-year-old industry dominated by names like Interflora, which itself began delivering flowers in the U.K. in 1923.
How did they do this? It started by carving out a niche in the online market and then using digital marketing and audience targeting to zero in on the customers most receptive to their services.
The floral brands typically see three peaks a year around Valentine's Day, Mother's Day, and Christmas. This year, however, they saw sustained interest following Mother's Day — which the U.K. celebrates in mid-March. This may be attributed to the fact that the country went into lockdown around that time, and flower delivery remains a safe gift option during a pandemic.
As COVID-19 will impact end-of-year holiday celebrations, both brands expect to see an even bigger increase come Christmas as gift giving replaces in-person gatherings. Here's more on how these brands plan to reach consumers during an unconventional holiday season and how they distinguish themselves with competing services to stay top-of-mind year-round. 
Start Early — and Be Consistent
When approaching the holiday season, these brands start by compiling product ideas for Christmas, reviewing successful holiday products in recent years, and researching popular and/or on-trend products in the current year for inspiration. This year, for example, they're considering a build-your-own Christmas tree offering, in which customers buy a miniature tree and then pick out ornaments to decorate upon arrival.
Ecomnova — the name combines e-commerce and innovation — also focuses on individual brand identity and how to push different products from each brand in a way that feels authentic. What's more, the brands typically distribute an early bird offer to encourage advanced shopping and capture consumer holiday budgets before they spend elsewhere.
As Christmas nears, they also ramp up social activity with distinctive holiday themes on their social channels, such as consistent backgrounds, to keep campaigns cohesive. They include more texts and images in pay-per-click efforts like display ads.
Pro Tip: Cohesive messaging across channels helps customers understand what the brand is and what it's offering — and it helps cement brand awareness, too.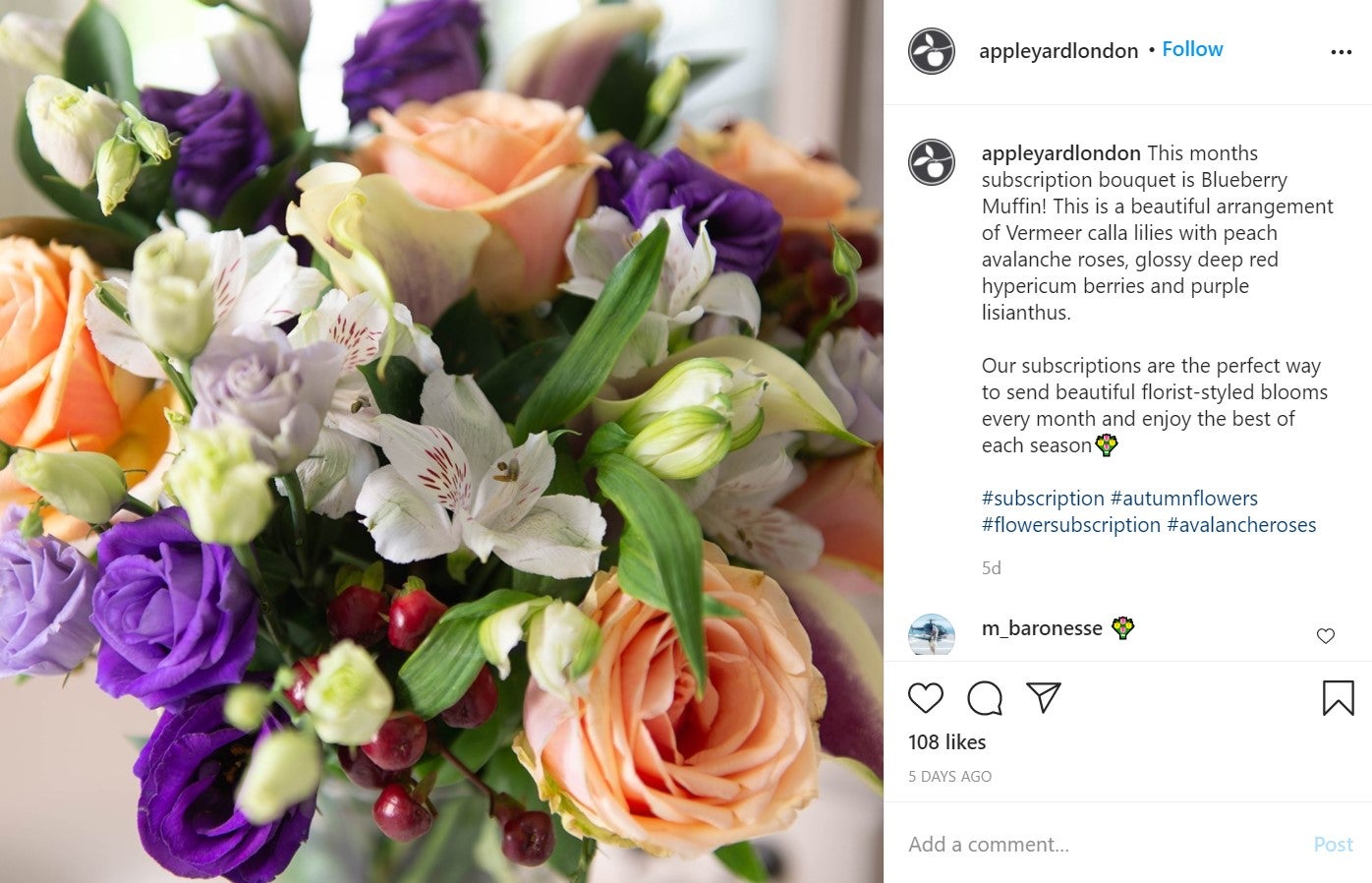 From: Appleyard London Instagram
Know Your Customer — and Craft Your Messaging Accordingly
Because Appleyard and Blossoming Gifts are two distinct brands, the Ecomnova team has to create unique messaging that speaks to each audience. They take pains to understand each customer base to ensure they're targeting the right consumers in social and display campaigns.
For Appleyard, messaging is more about lifestyle and celebrating special moments, whereas Blossoming Gifts is strictly focused on gift-giving. Their tone differs as well: Blossoming Gifts is lighthearted in its customer outreach, and Appleyard is more serious.
Appleyard also focuses more on the products themselves in brand imagery. Bouquets, plants, and baskets appear in sophisticated, aspirational settings, but the products are clearly the stars. Blossoming Gifts, on the other hand, adds more of a human element, showcasing consumers interacting with bouquets and gifts because market research has shown the Blossoming Gifts audience responds better to this type of creative.
Pro Tip: Don't spray and pray. Instead, target your messaging to customers and prospects most likely to be interested in your products and services to best utilize marketing spend.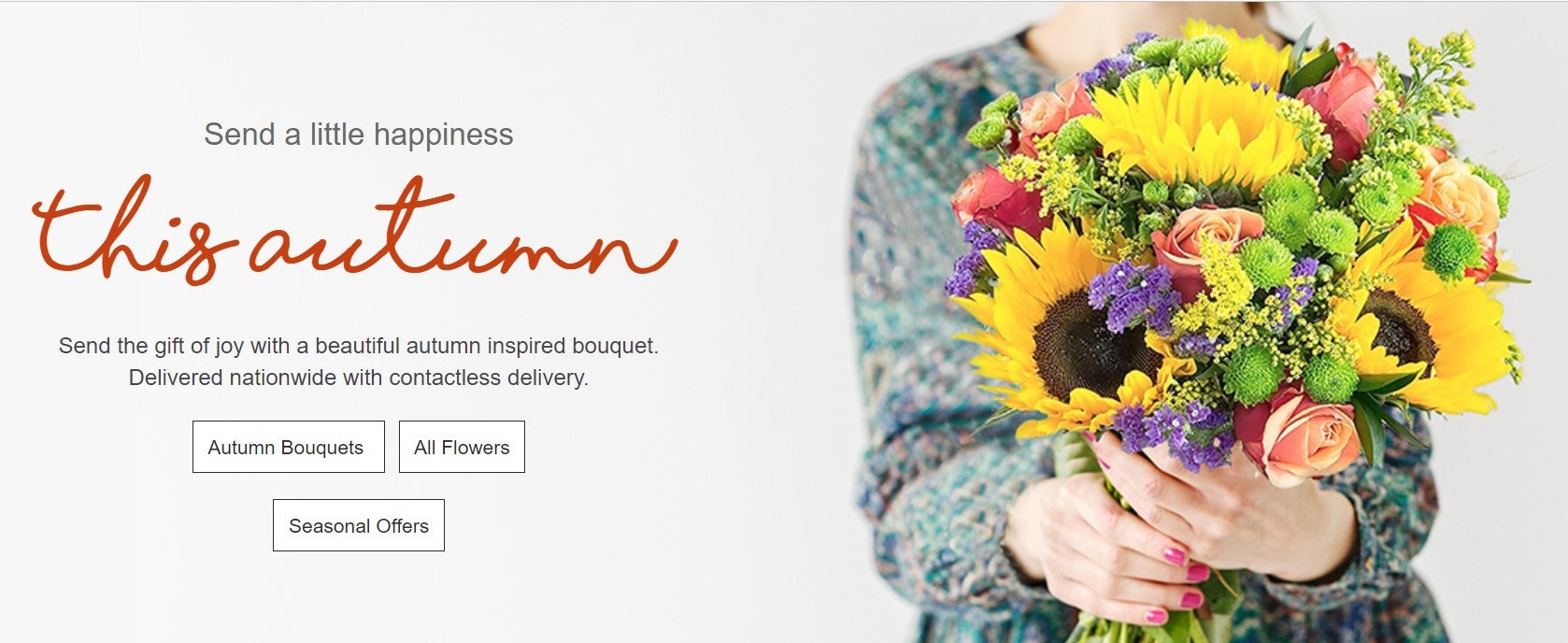 From: Blossoming Gifts
Stand Out with What Makes Your Brand Unique — and Make Sure Your Marketing Is Human
To stand out in an increasingly crowded market, Appleyard highlights various features, such as hand-delivery service, which demonstrates how the brand devotes more time and attention to its bouquets, plants, and gift baskets than its competitors. Appleyard also offers same-day delivery in London while Blossoming Gifts has next-day delivery throughout the U.K.
In addition, Appleyard created a "happiness guarantee," which promises to re-do and re-deliver a gift if the sender or recipient is unhappy. This helps consumers become more confident in their purchases from Appleyard and turns more prospects into actual customers.
Both brands adopt a similar tactic to cut through the market's noise by ensuring their messaging is evocative, speaking to consumers on an individual level. For instance, during lockdown, the brands used messaging about sending happiness and made a concerted effort to ensure outreach included empathetic language rather than lifeless marketing speak.
Pro Tip: Messaging that connects with consumers on a human level through shared experiences is more likely to resonate.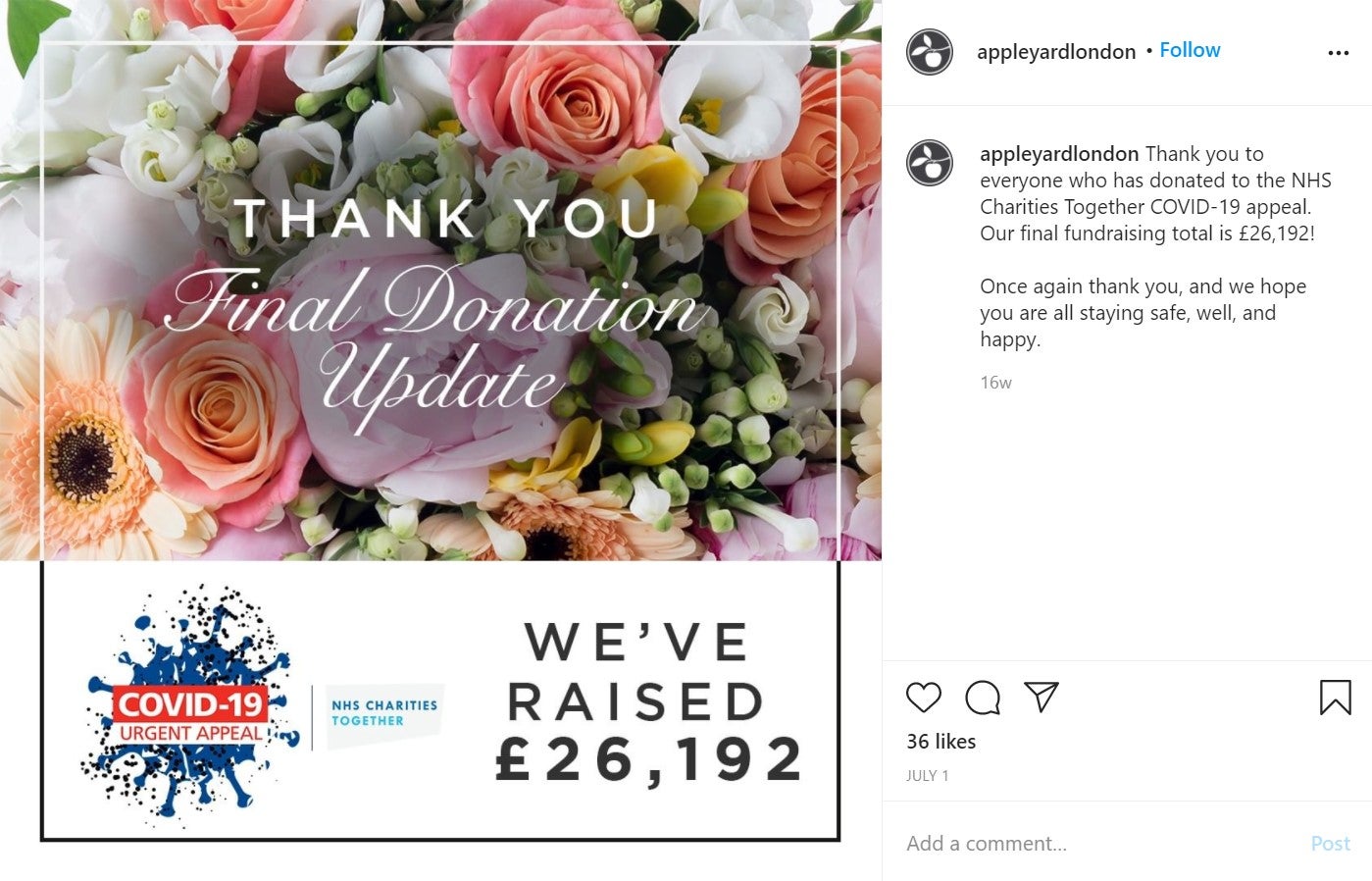 From: Appleyard London Instagram
Reengage Customers with Relevant Offers and Services
One challenge with the floral business is retaining customers after a special occasion has come and gone, in which consumers theoretically don't need your services again until next year. That's why Appleyard and Blossoming Gifts continually reengage customers, ensuring the brands stay top of mind beyond the next gift-giving occasion. They encourage customers to buy flowers outside of seasonal peaks — and even just because.
The brands accomplish this with email marketing, which sends compelling offers to previous customers. Other tactics include monthly subscription services, which send flowers on a regular basis, and a privilege service, which offers free delivery for 12 months for a set rate to encourage repeat orders.
Pro Tip: Proactive outreach and unique services can encourage repeat buyers — provided the outreach is relevant, and the services are useful.
From: Appleyard Flowers
Grow Your Business to Bloom Year-Round
Perennial flowers are those that bloom over spring and summer, die out during autumn and winter, and then regrow from rootstock the following spring. Customers, too, can be perennials — even for growing D2C brands.
The huge increase in the number of consumers using e-commerce during the pandemic bodes well for brands like Appleyard and Blossoming Gifts. Consumer willingness to order flowers online has certainly been a boon in 2020 and will likely continue well into the future. 
As we head into a holiday season during a pandemic, it's likely even more consumers will turn to e-commerce to fulfill their shopping needs. And with cohesive, targeted brand messaging — as well as proactive outreach and relevant services — D2C brands can connect with new customers this holiday season and keep them coming back throughout 2021 and beyond.
Last updated on September 16th, 2022.