Custom Ads: Go Beyond Templates With AdRoll
Topics Covered:
We've all seen the headlines proclaiming nothing is new or original anymore. Remakes dominate the latest blockbuster charts (we're looking at you, Dune and He's All That). Taylor Swift is re-recording all her past albums. Old-school brands like Fila and Champion are hip again. Will it ever end?!
When it comes to ads and marketing, you may feel similar fatigue. Whether it's the minimalist "blob people" visual style that big tech companies can't get enough of or that pastel-toned influencer "Canva" aesthetic all over Instagram, it almost feels like we've seen everything before. 
Though templates — which we're not trying to shun, by the way! — can make the content creation process a lot faster, simpler, and cheaper (especially for small businesses), you run the risk of looking like everyone else. And nobody wants to be boring. 
But what can you do if you have no time, no extra budget, and a left-brain that can't churn out creative ideas no matter how hard you try? While AdRoll does provide a robust library of ad and email templates optimized for conversions, we want our customers to stand out from the crowd. That's why we offer personalized ads that take away the stress of creating custom creative content. 
We sat down with Jake Burroughs, Dynamic Creative Design Manager at AdRoll, to dive into how brands can take their ads to the next level with some help from us.
Let's get right to it: Why is it important for brands to launch unique and personalized ads and not just use a template?
Custom branded creative allows for a more cohesive experience when an end-user clicks through display ads to a landing page. Consistent presentation of your brand across channels can increase your revenue by over 33%. Plus, custom creative is an excellent brand awareness opportunity, allowing you to tell your story in a way that resonates with the audience and creates a connection that templates can't match. 
Makes sense. Can you give us a quick rundown of what the AdRoll creative team offers to customers? What's the process of creating custom ads? 
Our designers work closely with account managers to get a creative brief and relevant assets from our clients. We then create on-brand, engaging creative in various ad formats using industry-standard design software and upload them to your client dashboard.
We primarily create dynamic display ads with personalized product recommendations. There are many different features that can be incorporated, such as video, countdown timers, looping promo animations, and more! Other formats we also provide custom work for are Static ads, Animated HTML5 ads, and Email templates.
Do you have any examples of AdRoll-created custom dynamic ads that you can show us?
Yes! Here's a 970×250 dynamic display ad we made for CLUSE. Since they provided additional lifestyle product images in the feed, our designers could offer more advanced features. The "takeover" style hover animation maximizes available space in the ads while still allowing the brand awareness opportunity provided by inbanner video.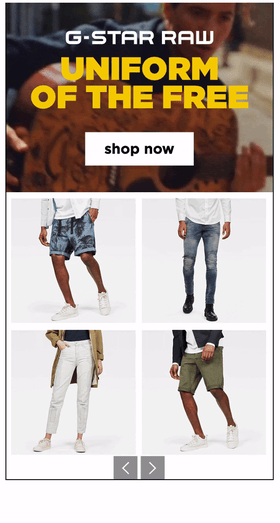 Next up, a 300×600 dynamic display ad we made for G-Star Raw. We matched the style of their landing page with bold copy and incorporated a video asset background to create motion and draw the eye. The consistent product photography in their feed kept it looking clean, while navigation arrows and product info rollovers encouraged viewers to interact and explore additional clothing choices.
Here's another dynamic display ad made for Soylent. Our approach here was to match the minimal look and feel of their website, focusing on the large, clean, and stylized product images with product information and call to action (CTA) shown only on hover.

Then there's this banner for Topo Designs, which uses clean typography and contrasting colors to grab attention.

What about static and HTML5 ads? Do you have examples? 
Check out this ad for Open Tour Paris, where we used simple yet lively mail-themed elements to evoke that travel spirit. 

This one for TeamUp is a little different from the rest because it uses illustrations rather than images. The complementary colors and bold CTA do a great job of making you pause to read the copy. 

If you're interested in seeing more of our capabilities, explore our dynamic and static ad galleries.
Very cool! Is ad personalization a free service for AdRoll customers?
Custom creative is offered as a free service for clients who meet media spend requirements. Please reach out to your account manager for more details. 
For my own curiosity, can you give us a behind-the-scenes sneak peek into how the AdRoll creative team works? 
Sure! We are a remote global design team supporting many regions across time zones. A typical day might include an internal team meeting to stay connected, a design consultation call with a client to walk through our capabilities, and plenty of focused blocks of time to design beautiful ads.
Sounds pretty fun! Do you have advice for brands and marketers who are tackling the challenge of creating compelling ads on their own? 
Here are some tips and best practices that are good to keep in mind when developing dynamic display ads:
Invest in product photography. Ads need to be eye-catching and high-quality, and strong product imagery is the heart of any campaign — and the key to making the sale! 
Choose a size/aspect ratio and stick with it. People are more drawn to product image sets with a consistent size and aspect ratio, especially if you're launching ads across platforms. 
Use transparent backgrounds, as they'll better highlight your product (which should be the focus of your ad). 
Don't skimp on your copy and CTA. Instead of touting product features, focus on communicating specific benefits that customers will enjoy by appealing to their needs. Make sure to have a clear CTA, too. 
Shorten your product titles and descriptions. They'll be more effective in grabbing attention. (Remember: Products are displayed for approximately five seconds — that's not a lot of time to read a ton of text.) 
Test, test, and test. You won't know what creative will work best unless you A/B test everything — images, copy, CTA, and ad features. 

Stay fresh. The last thing you want is to cause ad fatigue in your target audience. We recommend refreshing your creative once per quarter, which means mixing up the look and feel of your ads. 
Here are some more tips if you're interested in acing your creative game. 
Thank you so much for your time, Jake! 
No worries! Once again, if you're interested in AdRoll's custom creative capabilities (which I strongly recommend), reach out to your account manager — they'll help you get started. 
Get Started With Custom Ads
It's time to stand out from the crowd with custom ads (which you now know doesn't require building out your in-house graphic design team or learning how to use the Adobe suite yourself!). 
For more creative resources, make sure to check out AdRoll's Marketing Resource Library — it's filled with everything you need to create fantastic campaigns that engage and inspire.
Last updated on October 26th, 2021.