Creating Content Assets for D2C Brands
Topics Covered:
Since direct-to-consumer (D2C) brands directly communicate with their customers, creating quality content assets has never been more important. Content assets are ads, blog posts, videos, and other visual or written pieces that will engage your target audience and convert them into customers. Keep in mind that every piece of content needs a goal: to highlight new products, create some buzz, or encourage visitors to buy from you.
You can create a lot of different types of content assets. How do you choose which content formats are best for your brand? Once you've identified your goals, ask yourself a few questions:
What types of content do your visitors engage with? Are there particular pieces that drive likes or shares on social media, or posts that spark comments and conversations? Are there ads that get a lot of clicks or images and videos that get a lot of engagement? Do your competitors use copy or creative that's particularly resonated with you or told a story well? Don't be afraid to use those for inspiration!

What are the common themes and subjects that you can use to create more than one content asset? For example, if you're a custom apparel shop, a common theme for content pieces could be how to create a design that looks best on shirts and other items. You could then create a blog post on using color in designs and an ad showing how easy it is to create a design. While each piece will be different, it's easier (and more effective) to create assets that have similar messages.

What action do you want people to take after seeing this content? Every piece of content should have a clear call-to-action (CTA) that encourages people to engage further with your brand or take the next step.
Once you've answered these questions, decide on the type of content you'll create (visual, written, or ad) and the channels you might use to promote the content.
Visual Content 
There are many different types of visual content you can use to communicate your message, including photos, infographics, and videos. Here are a few examples of visual content that we recommend:
Product photos: Product photos are a great way to highlight new products to customers on social media, through display ads, and other channels. Innovative brands find ways to spice up their product photos by showcasing them in trendy locations or in use. Go outdoors, try product layouts in unexpected locations, play with lighting, and recruit people to pose for action shots with your products. 
Example:
Behind-the-scenes/company photos: You can use behind-the-scenes photos to make your company more approachable, and get your customers excited about new product launches and other news. 
Example:
Aspirational photos: Brands use aspirational photos to highlight a lifestyle that meshes with their products and connects to their consumers. These range from travel to interior design to even a relaxing outdoor oasis.
Example:
Inspirational quotes and graphics: Another way to use visual content is to infuse your Instagram feed with inspirational quotes and graphics. These can be as simple as a motivational quote on top of a plain background.
User-generated content: Brands also can use photos submitted by customers, either on their websites or social media platforms, to show how their product affects customers' lives and enhances their brand authenticity. This is a cost-effective way of getting visual content, and it also builds brand loyalty.
Videos: These can be as simple as a smartphone video or professionally shot videos. You can create a variety of different types of videos: documentary-style, animated, how-to videos, and so on. Video content can spur more customer engagement and can be a great way to showcase your brand's products and how they work.
Infographics: Infographics are a fun way to educate customers about product features (for example, the anatomy of a great running shoe) or interesting buying trends. Infographics include text and illustrations and can be as straightforward or as intricate as you like. Online graphic design programs like Canva offer templates to help you create your own. Infographics work well on Pinterest and other social platforms, as they're easily shareable and engaging. 
Written Content
Written content covers blog posts, listicles, how-to articles, and more. What you'll create depends on the themes you've identified. For example, if you're a retailer, you might write a blog post before the winter holidays on choosing the perfect gift for your mother-in-law. Engaging written content keeps your existing customers coming back to your website for advice. This boosts engagement, improves search engine optimization (SEO), and increases the likelihood that they'll continue buying from you. If you're struggling with your written content, here are a few things to keep in mind.
How long should my content be?
Depending on the content and your goals for it, content length can vary. Generally, though:
Any content needs to have at least 300 words on the page for search engines to view it as helpful. If you're writing blog posts, this is the bare minimum. Ideally, blog posts should be between 500 and 1,200 words.
Content that you want to rank at the top of search engine results needs to be approximately 1,890 words. It may seem like an arbitrary number, but an analysis of the top-ranking content on Google shows that content over 2,000 words tend to drop off search results.
Longer content like how-to guides should be between 3,000 and 10,000 words. Content this long gets shared a lot more often. (Like the one you're reading right now!)
How can I make my content readable?
You want visitors to stay and read your content. Here are a few ways to make what you write more readable:
Use short sentences and action verbs.
Add sub-heads (mini headlines) into your longer posts to break them up.
When you can, use bullet lists. Those are easily scannable.
How do I do this SEO thing?
SEO will help visitors find your content and your website. You can improve your SEO by:
Using relevant keywords. Do some research on what your ideal customers are looking for when they fire up their browsers. Google's AdWords keyword planner can help you identify keywords that get a lot of searches but not a lot of competition.
Writing for humans. Don't get caught up in "stuffing" your content full of keywords. Use the keywords throughout your copy, starting in the first paragraph or first line, and the title. But search engines frown upon content that's full of keywords that do not make sense.
Finally, always include a CTA in your copy. Here are some samples:
For more information, visit www.[yoursite].com.
Learn more about our [awesome product] at www.[yoursite.com]
Click on the link below to buy now.
Ad Content
In addition to visual and written content, you can utilize several advertising options on social media and across the web. Each one lets you take advantage of different sizes and ad formats. So what kind of ads can you create?
Image ads are a great way to get started with online advertising. These ads use a static image along with some text. "Static" means that the image doesn't move — it's a photo, illustration, or other still image. Image ads work across different channels and devices. These are the most basic types of ads, and they're also the least expensive to create. Generally, image ads should always include your logo and a call-to-action.
What type of image you use depends on what you want your viewer to do. If you're using Image ads to build your brand, you might combine a catchy or memorable statement with a photo that makes it easy to imagine using your product, or how the product will make the viewer's life better. If you want visitors to click through to your website or sign up for an email newsletter, include a link to your website and use promotional copy that encourages visitors to act. 
Native ads automatically adjust format to fit the environment where they show up, so your ad blends in with the content your audience is viewing. For example, they can look like recommended content, such as a news story that's related to the article someone is reading on a website. One of the significant benefits of using native ads is that viewers are 18% more likely to buy from them.
Example:

Dynamic Ads are ads that change based on who is viewing the ad. You can choose which products to show in your ads based on a visitor's previous behavior like a product they left all alone in a shopping cart or something they might be interested in based on something they bought recently. Dynamic ads can automatically scroll through products and promotions like a marquee, or they can let a viewer scroll through to the products that are most interesting to them. 
Video ads are very popular – and a lot easier to create than you think. You don't need big production teams, and you can turn static images into GIFs and video ads with apps that are already on your phone. Video ads are more engaging and more successful at creating a connection with an audience. In fact, Invisia found that viewers retain 95% of a message if they view it in a video, compared to 10% from reading the message in text.
Example: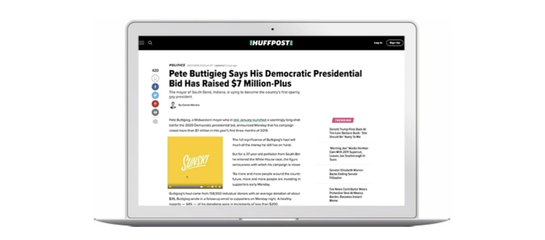 When you create ads, keep a few things in mind:
Always include a call-to-action – what you want the person seeing your ad to do (visit your website, sign up for a free trial, save now, or buy now.)
Use ads to tease a product, service, or promotion. Stuffing too much into one ad risks losing your audience's attention before they take action.
While you have a choice of formats for your ad, the size is much smaller than a web page. What fits on your home page won't translate well to a banner ad, so you'll need to be concise and to the point with your messaging.
Be willing to test different ad types, calls to action, and other parts of your ads, which we'll talk about in the next section.
This is only the beginning of what you can do with content: written, visual, and ad. As you continue to experiment with content, you'll learn what works best for your audience and choose formats that better engage them.
For the full A to Z on how to identify, grow, and maintain your audience through content and marketing strategies, check out AdRoll's Ultimate Guide to Growth.
Last updated on September 16th, 2022.