Guide to D2C Ecommerce SEO Campaigns
Topics Covered:
As a direct-to-consumer (D2C or DTC) brand, it's essential to build your foundational SEO knowledge. This guide is designed to help you understand the importance of SEO, and how to develop and execute a sound SEO strategy for your business.  A free planning template is included near the end of this post to help kickstart your direct-to-consumer SEO journey.
What's SEO?
SEO stands for Search Engine Optimization. It's a process of optimizing your digital content for the search engines to gain relevant traffic to your website. In the context of marketing, you can think of SEO as an acquisition channel to attract customers organically from search engines. 
Why Is SEO Important for D2C Brands?
As a direct-to-consumer (D2C) brand, your website is more than an e-commerce store. You not only need to convert shoppers who are ready to buy, but also increase your brand awareness among your future customers while they're still at the beginning of their customer journeys. That means you need to engage with customers in different stages of their customer lifecycles. By carefully crafting content targeting different search keywords, you can tailor your messages to your potential customers and introduce your brand to them early. 
According to a recent survey, SEO is the second most important acquisition channel and the first organic (free) channel to D2C brands. Let's walk through the four steps on how to build an SEO strategy that'll attract and convert customers.
Step 1: Understand Your SEO Status Quo
[Tools you need: Google Analytics, Google Search Console, Google Sheets, Search Analytics for Sheets Add-on]
If you haven't spent much time on your SEO strategy in the past, the first step is to understand your current organic search performance. Assuming you've implemented Google Analytics on your website, you can get an idea of the amount of traffic you've received from organic search and how it performs on your website compared to traffic from other channels using the "Acquisition" reports in Google Analytics.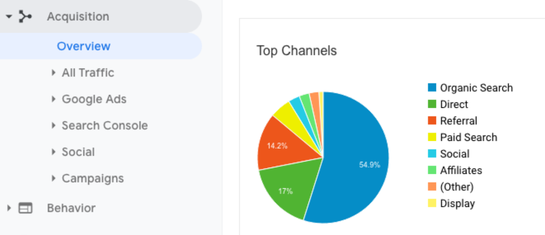 However, to understand how your website performs in Google search, you need Google Search Console. Using Google Search Console, you can find the numbers of search impressions, clicks, click-through rate, and average ranking position you got on the Google search result page for a particular search term. You can do some analyses directly in Google Search Console, and you can export the data into Google Sheets. For more advanced users, you may want to use the Search Analytics for Sheets add-on, which allows you to "retrieve data and create automatic backups from Google Search Console into Google Sheets."
Branded vs. non-branded search
Branded searches refer to the search queries with your brand name in it. For example, queries like "adroll" or "adroll products" are branded searches for us. Branded searches are from people who already know your brand and are looking for information about your company or products. They're typically from your existing customers or potential customers closer to making a purchase decision. On the other hand, non-branded searches are queries that don't contain your brand name. Non-branded searches are usually from people who may not know about your brand but are interested in something you offer. 
Once you have the search data in Google Sheets, you can categorize your organic search impressions and clicks into branded and non-branded searches. By doing so, you get an idea of the nature of your organic search traffic and how effective your SEO strategy is.
Don't know how to categorize your keywords into branded and non-branded searches? Keep reading. We'll provide you with a template.
Step 2: Conduct a Competitive Analysis
[Tools you need: Ulbersuggest, SEMRush, Ahrefs, Moz, or other SEO tools]
Once you have an idea of your organic searches, it's time to find out what your competitors' searches look like. While you can't get other websites' search data from Google Search Console, you can get it from numerous SEO tools. If your company has subscriptions to tools like SEMRush, Ahrefs, or Moz, you can use them. Otherwise, Ubersuggest is an excellent free tool to start with. 
To help illustrate the idea, imagine you're the marketing manager of a direct-to-consumer e-commerce site called Halfbikes.com. Your company has a unique product and a following on social media. You now want to improve the awareness of your brand and product through your SEO strategy and drive more traffic to your website through search engines. 
To start, type in your web domain name in the SEO tool of your choice to get an overview of your domain. Let's use Ubersuggest as an example. Keep in mind that the data about your domain from the SEO tools may be different from the data you get from Google Analytics and Search Console. Each SEO tool has a way of collecting data. While their data may not be as accurate as what you'd get from Google directly for your domain, it provides a common baseline for comparison purposes. While conducting a competitive analysis, it's essential to use data from the same source. 

Understand the major SEO metrics
Once you've typed in your domain name, you'll see the domain overview page with four primary SEO metrics:
Organic keywords: The number of keywords your website is ranked for, typically within the top 100 positions.
Organic search traffic: The estimated organic search traffic in a month. 
Domain score: This is a measure of your domain's trustworthiness. Its name may vary according to different SEO strategy tools, such as Domain Authority or Authority Score. 
Backlinks: number of links from other websites to yours. This is the main contributing factor to the domain score.  
Use your search data to identify your competitors
Sometimes, it might not be clear who your competitors are. So, don't forget to look into your keywords by clicking the "organic keywords" tile to learn who you compete with on the search results page.  

For example, you can see that "standing bike" is one of the non-branded keywords you rank well for, but two other companies, elliptigo.com and streetstrider.com, also rank well for this keyword. If you didn't consider them as your competitors in the past, you should now. 
Gauge your SEO performance relative to your competitors
Type in the domain names of your competitors one by one to retrieve their data. Then, make a quick comparison of the four primary SEO metrics. 
For example, comparing elliptigo.com against halfbikes.com (your domain), elliptigo.com has a much broader keyword profile and organic traffic volume. It also has a higher domain score and more backlinks, which is part of the reason they rank higher than you on the same keywords. By comparing these high-level SEO metrics, you get an idea of your SEO performance relative to your competitors. 

Dive deeper into branded vs. non-branded search
Next, download the keyword lists of your competitors' and categorize the keywords into branded and non-branded. Keep in mind that you need to use the same data source for comparison, including data about your domain. 
Not sure how to perform a  branded vs. non-branded search analysis? Check out this template.
As you can see, elliptigo.com has not only higher organic traffic volume but also a higher percentage of traffic from non-branded searches. This is an indicator their organic traffic has a higher percentage of visitors in the early stages of their customer journeys and a sign that they are more effective in driving brand awareness through SEO.

Step 3: Map Keywords for Different Stages of Customer Journey
What are the phases of the customer journey?
Before we dive into keywords, let's first understand what a customer journey is. A customer journey is comprised of the steps a visitor goes through to make the first purchase of your product and beyond. The customer journey map may evolve as new information becomes available. 
The customer journey map comes in various forms, but it can be broken down in these four phases. For the remainder of our lesson on building an SEO strategy, we'll focus on the first two phases. 
Short-tail vs. long-tail keywords
Now let's go back to keywords. To map the appropriate keywords to the customer journey, we need to introduce another concept  — short-tail and long-tail keywords. In a nutshell, short-tail keywords (or head keywords) are search terms typically with one or two words. This type of keyword represents a more general and broad search topic. It has a high search volume but less clear intent. As a result, it generally has a lower click-through rate. 
Long-tail keywords are search terms, usually with three or more words. This type of keyword represents a more specific search topic. While it has a lower search volume, it has a more explicit search intent and a higher click-through rate as Google can better match content with the search. 
Combining the concept of short-tail/long-tail keywords and non-branded/branded keywords, you can create a 2x2 grid highlighting the four stages of the customer journey, as shown below. To further illustrate the idea, let's use keywords elliptigo.com ranks as examples.
Stage 1: a combination of short-tail and non-branded keywords. The customer journey often begins from here, where consumers explore a wide range of products that may meet their needs. 
Stage 2: a combination of long-tail and non-branded keywords. Once consumers have some idea of what they're looking for, they narrow down their options and search for more specific types of products. 
Stage 3: a combination of short-tail and branded keywords. When consumers learn about a brand related to the type of products they search for, they'd want to know more about the brand's reputation, products, etc.
Stage 4: a combination of long-tail and branded keywords. This is when consumers find out a particular product, they're interested in and want to learn more about it. They're getting close to making a purchase decision. 
Keep in mind that while consumers generally would move from the first stage to the fourth before making a purchase, it's by no means a linear process. They could move back and forth across all four stages, and of course, they could also end the journey entirely when they choose your competitor over you. However, by breaking down keywords into these four categories and associating them with the four stages of the customer journey, you can better design your SEO strategy to drive brand awareness and conversion. 
Step 4: Build a Target Keyword List for Each Customer Journey Stage 
Let's put your halfbikes.com marketing manager's hat back on. How would you identify keywords for each of the four stages? Here are some suggestions.
Start from your current keywords: First, get all your branded keywords and classify whether they're short-tail or long-tail. By branded keyword, it doesn't mean it has to be the same as the domain name. Any keyword with a strong association with your brand can be considered a branded keyword. For example,"halfbikes," "halfbike," "half bikes," and "half bike" as all branded terms for halfbikes.com. Long-tail keywords like "where can I try a halfbike" and "half bikes for sale" are keywords for the fourth stage of the customer journey.
Then, identify your non-branded keywords with high relevance and search volume. For halfbikes.com, "standing bike" and "stand up bicycle" are good references.
Target your competitors' keywords: Relevant non-branded keywords from your competitors are good targets. For halfbikes.com, "elliptical bicycle," "foldable bike," and "urban bike" are good target keywords. You can build content around those terms to highlight the similarities and differences between your products and your competitors'. 
You can also target your competitors' branded terms. For example, you can target and create content highlighting "halfbikes vs. elliptigo" or "streetstrider alternatives." 
Draw insights from your customers: The ultimate goal of your SEO strategy is customer acquisition. Therefore, you need to understand the customer journey from your existing customers and the value your products provide to them. How did they find you? Why did they purchase your product? What do they use your product for? What are your customers' demographics and geolocations? 
For example, if your customers mostly use halfbike for commute, you may want to target keywords like "commuter bike" and "best bike for commuting." On the other hand, if most of your customers use halfbike for exercise, "bike for exercise" is a better target keyword.
Draw insights from Google: Last but not least, an excellent place to find out what keywords you should target is Google itself. You may notice Google suggests search keywords when you type into the search box. Those suggestions are based on actual search data.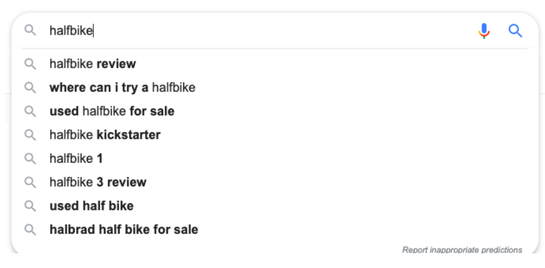 Another great place to find relevant keywords is under the "People also ask" section on the search result page. Don't stop at the initial set of questions you see — click on any question in this section, and Google will show more inquiries related to the one you just clicked. 

Putting things together, here's a simple keyword map for halfbikes.com: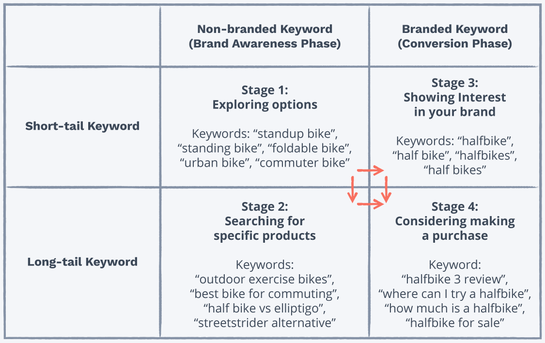 With this keyword map, you can build web pages with content targeting those individual keywords. While working on the content, think about the stage of the customer journey, your target audience is in, and what kind of information they look for. As a D2C brand, your website is not only an e-commerce store but also a channel for you to build your brand and engage with your potential customers.
Last updated on November 4th, 2022.