Chart of the Month: Are CPMs Predicting a Holiday Season Like No Other?
Topics Covered:
It's September. Leaves are starting to turn, pumpkin spice is on the menu, football season is ramping up, and millions of marketers are clearing out their schedules to deal with the round-the-clock insanity that is the holiday advertising season. 
Of course, 2020 isn't like any other year. The rapid spread of COVID-19 has drastically reoriented the way commerce is done across the globe. Vast shutdowns and closures hit brick-and-mortar stores hard. But at the same time, we've seen a rapid move by consumers to digital as a primary shopping venue. So what does this all mean for the 2020 holiday season? Perhaps there are hints in the CPM (cost per thousand impressions) rates from earlier in the year.
How Ad Rates Look in a Typical Year
To see what current ad rates might say about this holiday season, it would help to look at CPMs from a typical year. How do ad rates fluctuate under normal circumstances, and what do they tell us about holiday spending?
Typical years have a very well-defined pattern for CPMs. Prices are lowest in January, then rise slightly through the spring and early summer. There is another smaller dip in August, followed by a climb in September, and then a rapid acceleration to Christmas. These trends are fairly easy to see when looking at CPM distributions from 2019.
AdRoll CPM distribution by day for 2019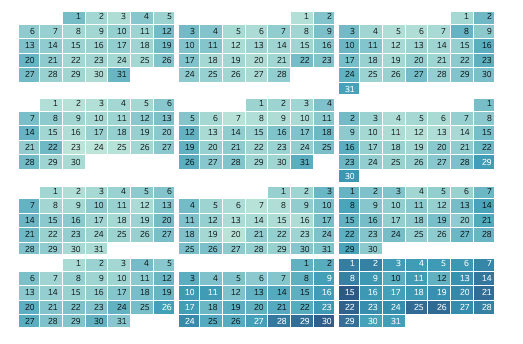 In a normal year, the biggest questions facing marketers is when and how to allocate advertising funds to get the best return. Scale up during busy but expensive seasons? Run more ads during slower seasons to maximize budget? Run holiday campaigns earlier to try to beat the rush, or stretch them past the holidays to take advantage of the dip in costs?
What's Changed in 2020 CPMs?
This pattern has held true long enough for experienced marketers to develop approaches and plans to deal with these fluctuations. This year saw a marked change from the status quo, however. Instead of a low point in January and then a gradual growth into the holiday season, CPMs dropped precipitously from February to a low point in April. As businesses were forced to shutter and the threat of a recession loomed, inventory grew and spending declined.
However, since April, CPMs have been skyrocketing. Despite largely ranking below where they were this time last year, the growth has been unlike anything seen before. Month over month, 2020 has seen the kind of growth that most years don't except until the peak of the holiday shopping season. Growth has been so strong, in fact, that CPMs have essentially recovered to pre-pandemic norms.
Comparing 2020 with 2019 month over month. Note that Cyber Monday in 2020 will be in November instead of December in 2019.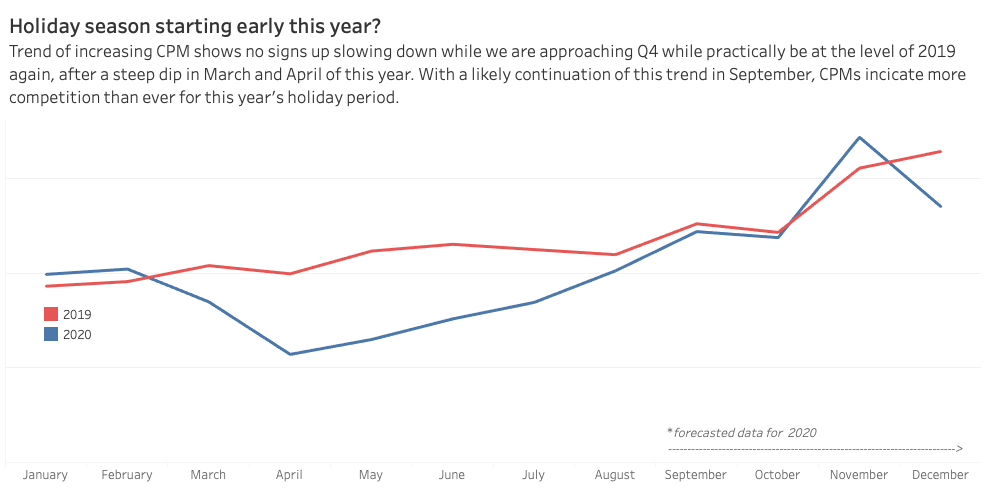 Not only have CPMs recovered, they show no signs of slowing down. Month over month growth in August of 2020 was 20% higher than August of 2019. Internal research at AdRoll suggests that growth will continue to match and will shortly exceed the CPMs we saw last year during the holidays. In short: the days of hyper-cheap CPMs we saw over the summer are over.
What Do CPMs Tell Us About the 2020 Holiday Season?
The short answer: hold on because we're about to take off. With CPMs climbing rapidly since their dip, and businesses desperately shifting sales to digital in the wake of COVID-19, we're poised for a run on ad inventory the likes of which has never been seen before. 
Things get more complicated due to a confluence of calendar quirks and rescheduling issues. Amazon Prime Day, typically held in July, has been bumped to October 13-14. This pushes the shopping extravaganza right up against the Black Friday run-up, which often starts by late October. 
Then things are complicated further because this year's Black Friday falls in November, in contrast to last year's December date. Between a late Prime Day, an increasing focus on 11/11 (which has become the largest shopping day of the year, thanks to China's growing consumer base), and a November Black Friday, August may have been the last chance marketers have to catch a breath in a while. The holidays are here — whether anyone is ready or not.
It's become a regular tradition for commentators to bemoan the holiday season starting earlier every year. In regular years, this plays as just another recurring story for morning news show hosts to banter about. This year is different. The holidays are starting sooner, and retailers will be desperate to make up sales lost in Q2 and Q3, making this season more intense than ever before.
How Should Marketers React?
So what's the next step for marketers aiming to make the most of their budget? That depends. Marketers who cut down on their spending earlier in the year, and with a large budget left over, might find themselves in the position to power through. Brands with cash reserves on hand can take advantage of higher CPMs to muscle out smaller competitors.
That said, it's unlikely that many marketing departments are just sitting on piles of money. And even well-positioned brands will be unlikely to beat out the behemoths like Walmart. Instead, brands will need to be more strategic about how they reach customers. That could mean starting holiday campaigns earlier to try to get ahead of the increased CPMs. It might also mean running holiday sales later — past the holidays and into the usual slow period for digital ads. Broader targeting that results in lower per-unit cost, as well as using cheaper non-standard inventory, can also help keep costs down.
More than anything, though, brands will need to lean on their existing audiences to make the difference. Email, social, and other ways of reaching out directly to engaged customers is going to make all the difference. More than in the past, ads might play a secondary role to direct outreach as some brands find themselves potentially priced out of the market. 
Rather than using ads as the primary outreach mechanism, brands might want to consider picking a few strategic points to deploy their budget and supplement the rest by marketing to already engaged users. Brands that are exceptionally creative can use the ramp-up period in the next month to build up robust customer lists that can be leveraged later in the year when CPMs are higher.
One way or another, though, this holiday season is going to be extra with higher advertising costs, fierce competition, and a tougher environment for brands and consumers alike. Brands need to take extra time now to plan before things go completely off the rails.
Originally published on September 29th, 2020, last updated on June 16th, 2022.