Advertising Tips for Black Friday and Cyber Monday Campaigns
Topics Covered:
It's that magical time of the year — planning your Turkey Trot costumes, figuring out how to dodge awkward conversations with your relatives, and most importantly, sales, sales, and more sales. Now that Halloween has come and gone, Black Friday and Cyber Monday are the next big events to look forward to. 
Though the consumer side of you may be clicking around and adding things to your to-buy list, you, the marketer, must get your promotional, inventory, and holiday marketing plans in place ASAP. 
Trust us: This holiday shopping season will be even more cutthroat than the last. But don't worry, we're here to help you navigate the maze of campaigns, conversions, and holiday sales — here are all the dos and don'ts of your Black Friday and Cyber Monday campaigns. 
Don't Get Spooked By Higher Ad Prices
The jack-o-lantern trick-or-treat basket once filled with candy may now be empty, but the scares don't stop. As every brand tries to grab attention and boost sales, CPMs consistently increase around the holidays, usually starting just ahead of Black Friday and Cyber Monday. 
In fact, AdRoll found that CPMs for all campaign types nearly doubled around Black Friday and Cyber Monday last year — unsurprising, considering the massive explosion of ecommerce during the pandemic. 
What does this mean for your brand? Given the noisy, pricy ad landscape, you'll need to spend more to stay competitive and achieve the level of impressions you're familiar with. Don't be afraid to put down big bucks for big returns — it's an investment for a reason. 
Do Launch Black Friday and Cyber Monday Campaigns Early
With every retailer launching a flurry of Black Friday and Cyber Monday emails, ads, and social media posts, there are some key timing details to keep in mind if you want your target audience to pay attention to your brand. 
First, don't change your ads last minute — you risk not having them approved and launched on time. Instead, get started with developing your creative early. (If you need help, the AdRoll creative team is ready to step in.)
We also recommend ramping up ad spending a few days before your major sale or period of known high traffic and conversions. (In other words, launching your Black Friday campaign on November 23rd, rather than the 26th.) Again, nobody wants a potential delay in the approval process that may cause you to miss out on the action — you'll also enjoy the added benefit of lower ad prices. 

Finally, if this isn't your first holiday rodeo, you'll want to review your data and trends from the last few years, so you can pinpoint precisely when sales start turning from a trickle into a flood. Knowing these key sale dates and visitor trends can provide tremendous insight to help plan your budget. 
Don't Create One Ad and Call It a Day
Black Friday and Cyber Monday are the busiest days of the year for online advertising, so naturally, you'll want to get the most out of your campaign by using a variety of creative, ad types, and marketing channels. Treat these few weeks as the ultimate time to go all out. 
Sequential messaging will also go a long way to maximize the impact and build up anticipation for your promotion. This means ensuring you're developing creative that covers every step of the purchasing process: attraction, engagement, and conversion. 
Remember: Retargeting will be tremendously powerful in keeping shoppers interested as they move along your funnel (especially when they're inundated with incredibly slashed prices from all directions), so make sure you brush up on your retargeting knowledge with this quick 101.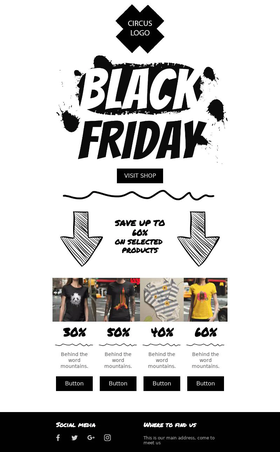 If you have different offers for Black Friday and Cyber Monday, we recommend using different creative approaches to differentiate the sales — think colors, design elements, and copy. This way, people who purchased from you on Black Friday will know to return on Cyber Monday to participate in a whole new buying event. 
Do Pay Attention to When You're Ending Your Campaign
As Black Friday rolls into Cyber Monday, you have to move fast while ensuring your content is always updated. This means triple-checking that your campaigns wrap up after your sale is over, and not the day of. (Heads up: AdRoll dashboards are in the UTC time zone.) 
Make note that Black Friday and Cyber Monday are not the time for a "set it and leave it" approach — the last thing you want is to realize something has malfunctioned after the shopping frenzy ended. 
Don't Stop Marketing After Black Friday and Cyber Monday
The fun doesn't have to stop just because it's November 30th, especially if you have leftover stock. Use the momentum you've generated from Black Friday and Cyber Monday and consumers' desire to buy by launching post-Black Friday sales. 
These one-day loyalty promotions and sales extensions are great for capturing the attention of those who may have missed your offers because they were too busy eating leftover turkey or camping overnight in big box retailers' parking lots.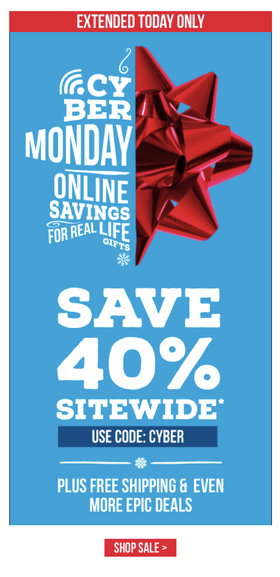 Pro tip: While fear of missing out (FOMO) will play a significant role in your Black Friday and Cyber Monday marketing materials, double down on the urgency for these limited-time sales. Phrases like "Last chance!", "One-Day Sale Extension!", or "Only 3 left!" help remind shoppers they may have already missed out the first time around. 
Get Ready for the Sales Extravaganza
With these tips, you're on your way to nailing down your Black Friday and Cyber Monday campaigns, but wait — the work doesn't stop there. With more packages flying off your shelves and onto shoppers' porches, you'll also need to plan and prepare your holiday inventory and fulfillment strategy. (We've got you covered with a whole series of guides and planning templates here.)
If you're ready to launch your Black Friday and Cyber Monday campaigns with a bang, the best way to do so is with AdRoll. Rather than blindly targeting shoppers on Facebook or Google's native dashboards, using AdRoll's AI-powered platform means you're guaranteed to reach your audience in more effective ways. Check out how we can power up your holiday ads today.
Want more holiday marketing content? Browse our resources below.
Last updated on November 4th, 2022.