Challenger Brands to Watch in 2020
Topics Covered:
When it comes to brand disruption, imagination is the only limit. The challenger brands making waves today cover all kinds of consumer products and come from every corner of the globe. 
The brands that succeed in disrupting traditional industries have many things in common: innovation, ingenuity, drive, and a commitment to the long haul. But they each have something else too — a certain spark that takes the brand into new territory and new spheres of success. From toothpaste to mayonnaise, underwear to soft drinks, here are some of the challenger brands to keep an eye on in 2020.
In this article:
Quip
Wellbeing Brewing
NotCo
TomboyX
Powershop
Ugly Drinks
Beauty Pie
Dolls Kill
Quip
Quip challenges the electric toothbrush market with its product known by some as "The Tesla of Toothbrushes." It combines an Apple-style approach to electric toothbrush design (simple and sleek), with a Dollar Shave Club style subscription model for refills of batteries, brush heads and associated oral care products. Quip has cemented its place in the industry by consistently making it onto "best toothbrush" lists and review sites. At the start of 2019, the company had over 1 million subscribers, and the forecast shows even more growth.
The founders of Quip acknowledge that they're taking an uncool industry and turning it on its head. While oral care is considered necessary by consumers, brushing teeth, flossing, and visiting the dentist are not activities that people necessarily enjoy. Quip is challenging that reluctance with a sleek, simple, and effective alternative to regular electric toothbrushes, and it's already achieved that success.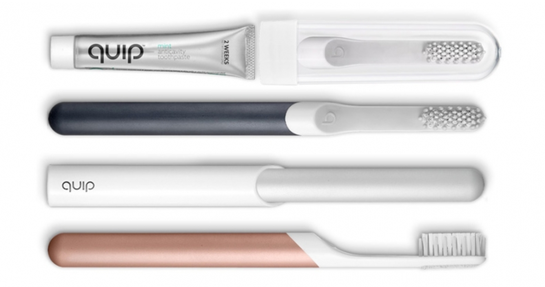 Recently, the company released a kids' toothbrush, and it has further plans for products that cover everything about oral care. An outstanding digital strategy has delivered promising results for Quip, with getquip.com reaching second place for number of visits to electric toothbrush web pages, second only to global giant Philips.
Disruption can happen in every industry, no matter how traditional or conservative — and that's precisely what Quip is doing for the oral care market.
Wellbeing Brewing
Beer sales are plummeting; in the past five years, there's been a 2.4% decrease in beer volume in the U.S. This is believed to be part of a broader trend toward healthier living and preferences for different forms of alcohol, like the wildly popular hard seltzer White Claw.
This trend has also created a surge in what's known as "near beer," which is a non-alcoholic beer, and global sales of these beer alternatives are expected to reach $25 million by 2025. One example of "near beer" disrupting the industry is the non-alcoholic beer by Wellbeing Brewing. Wellbeing is the first fully non-alcoholic beer brewery; consumers love it for its rich tastes and flavors and its natural, alcohol-free ingredient list that gives it a reputation as the world's healthiest beer.

Wellbeing Brewing doubled its sales last year, which makes it the same size as the average craft beer brewery. As a challenger brand to the shrinking beer industry, Wellbeing Brewing is definitely looking like the healthier option.
NotCo
What does it take to attract the attention of Jeff Bezos and receive millions of dollars in funding from Bezos Investments? For NotCo, a Chilean startup, it's all about developing plant-based alternatives to mayonnaise, ice cream, and milk.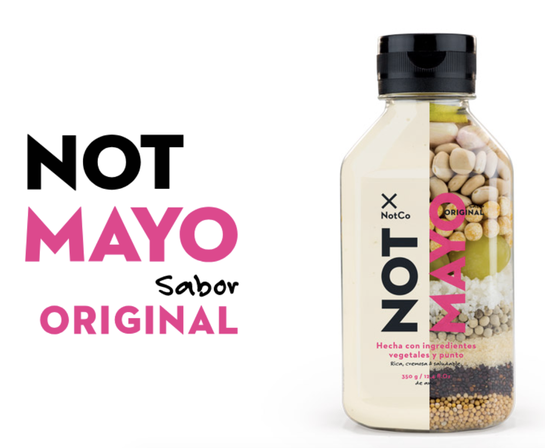 NotCo harnesses machine learning to find plant-based molecular structures that imitate the texture, color, and smell of foods, and to create vegan products that mimic the original. NotCo started out with mayonnaise and quickly achieved an impressive 10% market share in Chile before expanding to other foods. 
Interestingly enough, most NotCo customers aren't vegan — this company challenges standard approaches to the vegan market by delivering plant-based foods that give the original, non-vegan products a run for their money in terms of taste and texture. In this way, it's actually changing perceptions of plant-based eating and bringing it to the mainstream. NotCo is a great example of how smart execution can take a niche market trend and make it hugely popular with a broader, more mainstream audience.
TomboyX
TomboyX challenges one of the most basic consumer products — underwear — as a direct-to-consumer (D2C) brand that focuses on minority groups, specifically queer and nonbinary individuals. The company's mission is gender-neutral, size-inclusive underwear at an affordable price point.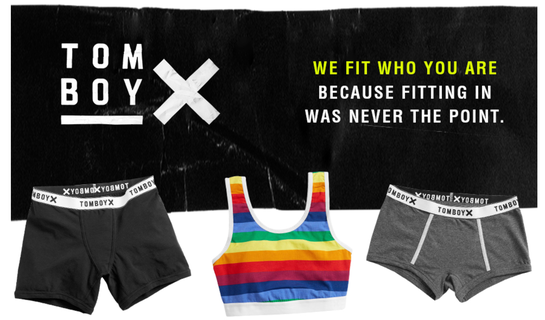 From its very inception, TomboyX struck a nerve. It launched on Kickstarter and raised over $70,000 in 30 days. To date, the company has had total funding of over $25 million.
TomboyX set itself apart by being a brand that not only truly listens to its customers and adapts products based on direct customer feedback, but also focuses heavily on inclusivity, which is a huge selling point for both millennials and Gen Z. In fact, its key product — boxer briefs for women — was born from an inquiry made by a shopper who couldn't find them on the market. Today, it's one of the brand's best selling products.
TomboyX is creating new levels of brand loyalty by being community-focused, customer-centric, feedback-based, and authentic.
Powershop
Climate change and sustainability are critical issues for consumers, and, as a result, the energy market is changing. Large traditional energy suppliers are being challenged by small to midsize suppliers. These smaller energy providers, which offer a more independent, eco-friendly, and customer-attentive approach, are gaining popularity worldwide.
One example is Powershop, which is an independent power supplier in Australia that was ranked by Greenpeace as Australia's greenest power company three years in a row. Powershop provides 100% carbon neutral power supply to homes and businesses and offers app-based management that allows customers to keep track of usage, monitor their energy habits, and reduce their carbon footprint.

The company's statement, "We want you to buy less of the stuff that we sell you," demonstrates how disruptive these small energy suppliers are. In an annual consumer survey by Which's?, Powershop entered the top 10 list of recommended energy suppliers for the first time, landing at number five with a 77% score. Consumers everywhere are turning to the authentic, transparent, and eco-driven power companies that put them in control of their eco-impact.
Ugly Drinks
Ugly Drinks is one of the challenger brands with a true rags-to-riches story. As a UK startup that began in a London apartment, it achieved incredible success after four years and is now sold at major retailers. It launched in the U.S. just a year and a half ago.
Ugly Drinks solves the problem of sugar-based soft drinks, which are a leading cause of medical epidemics worldwide, like obesity and diabetes. Ugly Drinks are totally unsweetened soft drinks based on sparkling water and flavored naturally with fruit-based essential oils.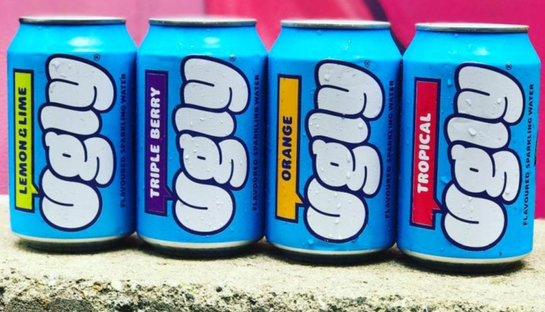 By late 2019, the brand was listed in 2000-3000 stores in the U.S., with 25,000 deliveries shipped in the past year. It's taking on a big industry that's fraught with health problems and ripe for change. Or, as the company founder puts it, "Soda as we know it is dead."
With growing knowledge about the health risks posed by sugar, consumer tastes are changing, and so is the market. Ugly Drinks identified a gap in the market and were quick to fill it with a viable product that answered the needs of the new, anti-sugar consumer. This has been a key to the fast success of this challenger brand.
Beauty Pie
Beauty Pie is a revolutionary concept in the global beauty market. The brainchild of cosmetic industry disruptor Marcia Kilgore, Beauty Pie is a D2C member club for cosmetics. It sources cosmetic products from the same manufacturers as the luxury brands and offers them to club members without the markup typical of luxury cosmetics.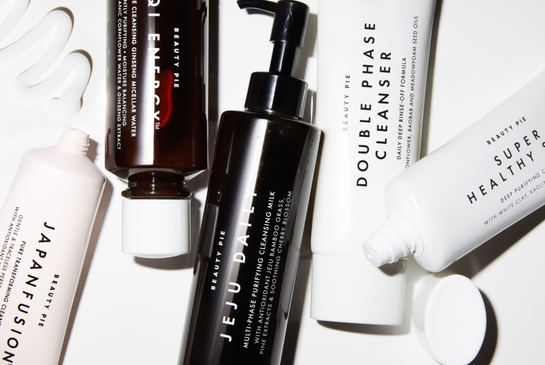 There are just 15 to 20 third-party suppliers that provide all the cosmetics for the beauty industry. For a small monthly fee, members can purchase these products at a fraction of the cost. Beauty Pie promises what today's consumers are looking for: value, quality for money, and sustainable practices. The company delivers on all three by ensuring transparency in the beauty industry that's traditionally highly competitive, confusing, and hard to navigate for the average consumer. 
Today's consumers are taking a far more active role in the products they want and are more vocal than ever about issues such as how companies manufacture their products, what materials and ingredients are used, sustainability, and much more. Beauty Pie has taken a page out of this book, and created a community, as well as a club, with a very active and interactive Instagram page that encourages feedback and dialogue.
Dolls Kill
Dolls Kill is taking online clothes shopping a step beyond the traditional fashion market. It's "rebellion in an outfit" for the "misfits and the Miss Legits." It comes in step with the rise of "e-girl" culture; no more perfect selfies or polished Instagram glam.
Dolls Kill tells women they can be whoever they want to be, no questions asked. This attitude is reflected in six personas, or "dolls," that appear on the website, each expressing an archetypal personality, from free-spirited Willow to psychedelic temptress Kandi.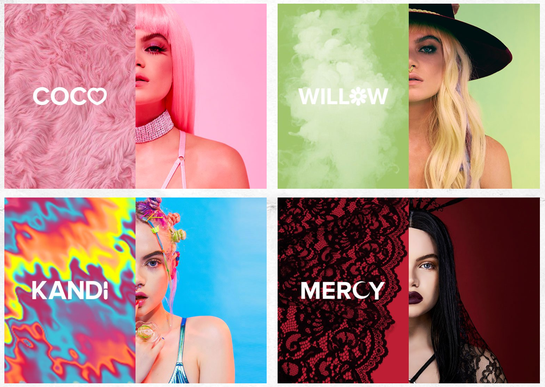 Dolls Kill is a mix of online and physical retail locations that target Gen Z — a market that'll make up 40% of global consumers this year. Unlike its competitors, Dolls Kill avoids mega influencers and takes a more organic approach, like by opening a pop-up store in eight cities selling only one product (boots, which sold out, of course).
Although not every clothing product is unique to the brand, no other brand quite packages it together like Dolls Kill, and that's how it succeeds in challenging the fashion industry online and offline.
2020 is set to be the year of challenger brands, and these examples prove that all it takes to upset established markets are a few creative and well-executed ideas. Challenger brands keep their industries on their toes with new products, new approaches, and latest marketing strategies — all of which are good for the market and the consumers. Innovation and change — though they look and feel like disruption to traditionalists — force the world forward, and challenger brands like these are leading the way. 
Now that you know the top challenger brands, here are some tips on how to build a D2C partnership. 
Last updated on September 16th, 2022.