Cabo Villas: Enhancing Customer Experiences With Social Media and Content
Topics Covered:
Known for its unbeatable hospitality, delectable cuisine, and the sparkling blue Sea of Cortez, Los Cabos is a dream destination for many. Naturally, one would think that trips to Los Cabos are "easy" to advertise — simply post pictures of the cerulean sea, and you've got yourself a gorgeous, no-filter-needed social campaign. However, due to numerous competitors and the pandemic, marketing has been anything but simple. 
Cabo Villas — a family-owned business with the most extensive inventory of villa vacation rentals in Los Cabos — is a thriving company that manages to rise above the crowd thanks to their outstanding customer service and strategic approach to social media and content. 
The Crème de la Crème of Vacation Experiences
According to a recent McKinsey report, global tourism has been one of the most affected sectors during the pandemic — their tourism recovery model forecasts a cumulative drop of $3 trillion to $8 trillion before expenditure returns to pre-COVID-19 levels. 
But while the challenges are rife, the Cabo Villas team is, first and foremost, taking every possible step to make sure that their customers feel safe and taken care of.
"With travel impacted internationally, taking steps to bolster client confidence has been at the forefront of our response to this crisis," says Ercilia Medeiros, Cabo Villas' Senior Marketing Manager. "Our vacation rentals are a great option for travel during this period as they offer a private setting without shared public spaces, and we've implemented enhanced cleaning standards to our already stringent protocols." 
But updated safety protocols aren't the only reason why Cabo Villas is thriving during a difficult time. They're also maintaining their success through their: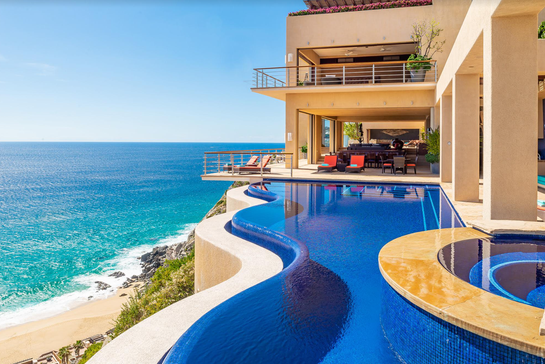 Unbeatable insider knowledge
Cabo Villas has been in business since the late 1980s, when founder Don Hirschaut started conducting eco-tours to Baja California Sur. "With over 30 years of experience, our team has been recognized by travel industry authorities for our expertise and service," says Ercilia. "Because we exclusively focus on Los Cabos, our guests know that they're receiving the best local knowledge." 
This local knowledge includes a focus on local news and current events. For instance, Cabo Villas has implemented a living and breathing online safety guide for potential visitors, covering everything from safety regulations to the activities and restaurants that are currently open. They've even published a blog post featuring their Vice President of Sales, Julie Byrd, to document what it's like to travel during COVID times.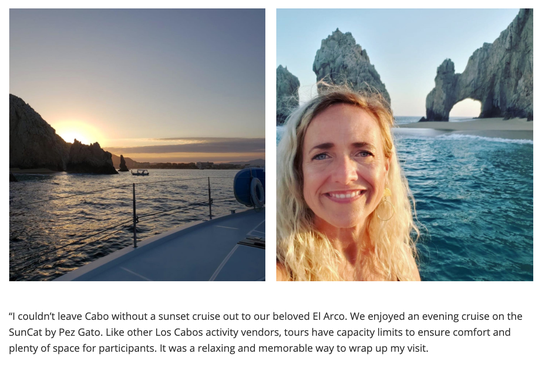 Pro tip: If your company specializes in a particular niche, then position your brand as a thought leader in the industry by serving as a resource to your customers. Instead of rehashing the same content that's already all over your competitors' sites, provide something fresh and forward-thinking, such as industry predictions based on your observations.
Outstanding customer service
Cabo Villas is already famed for their customer service. Whether you need entertainment for your special events, flowers, cribs, or any other amenities, the Cabo Villas team is there to provide you with whatever you need for a comfortable and enjoyable stay.
Cabo Villas takes that extra step to go above and beyond for their customers. "We've been delivering in-villa services such as grocery pre-stocking, chef services, spa treatments, and more," says Ercilia. 
Pro tip: Do you already provide a stellar customer service experience to your customers? Then take a page out of Cabo Villas' book and feature customer reviews on your website —  88% of consumers trust user reviews as much as personal recommendations.
Social media campaigns that ignite the imagination
"Brand identity is a highlight of social media," says Ercilia. "It's a great way to help prospective new clients learn about our offerings while reminding existing clients that it's time to come revisit Los Cabos!" 
But how is the Cabo Villas team whetting peoples' appetite for traveling? By promoting their campaigns through a mix of organic and paid social media across Instagram, Twitter, Facebook, Pinterest, and LinkedIn.
"In the early days of COVID-19, we re-shifted our social media from actively promoting our vacation rentals and sales to destination awareness around the theme of 'Dreaming of Cabo,'" explains Ercilia. "These fun campaigns included creating margarita and salsa recipe videos to remind clients of the welcome they'd receive if they stay at our villa rentals. This allowed people to get a 'taste of Cabo' while they're unable to travel and dream of future vacations."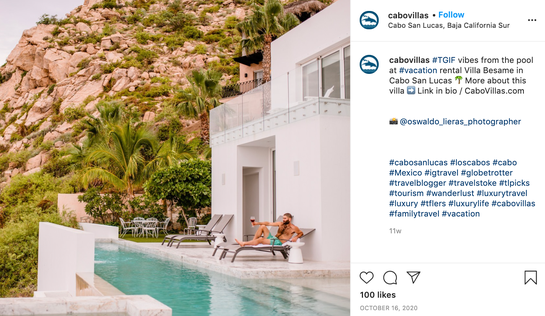 Pro tip: "In addition to your product, post about your team on social media," suggests Ercilia. "It gives your company a human face." 
Fun and informative blog 
"Our blog features destination awareness posts that spread knowledge about Los Cabos and the area's unique offerings for activities," says Ercilia. Want to read about whale watching? Check. Or what about the best snorkeling destinations and top restaurants? Check and check. Cabo Villas' blog covers everything and more, with tons of pictures to boot. 
Pro tip: Remember to link internally and externally in your blog posts! Internal linking allows you to revive some of your older content and highlights your website's validity. External linking to reputable sources also helps enhance your content's credibility because you're providing your readers with other helpful educational resources. 
Los Cabos Is Waiting For You
While it may be a while until people start traveling freely again, creative companies like Cabo Villas are here to help fire up your imagination and ignite your excitement for future vacations. By providing intriguing stories, beautiful imagery, and excellent customer service, Cabo Villas is ready and waiting to welcome you to Los Cabos.
Last updated on September 16th, 2022.