AdRoll's Top 7 Digital Insights for 2021: How Has Consumer Behavior Changed and What Does This Mean for Brands?
Topics Covered:
The year 2020 brought significant changes to how we live and work, including a seemingly never-ending amount of time at home. This ultimately shifted online consumer behavior like never before. We went from searching travel destinations and restaurant reservations to lockdown-friendly alternatives like recipes, hobbies, and pets.  
With 1.2 billion shopper profiles at our disposal and the ability to make more than 80 billion daily AI-based predictions, AdRoll is well-positioned to reflect on how consumers and brands responded to the extraordinary events of 2020. Based on the analysis of internal data, these are the seven biggest takeaways we found for brands that advertised online last year and what this means for 2021:
Demand Bounced Back in a Big Way
Cost per mille (CPM) — or the rate advertisers pay for 1,000 impressions — dropped precipitously in March and April as the COVID-19 pandemic began to influence consumer behavior. This dip was particularly noticeable in retargeting campaigns, which marketers use to remind shoppers about products they've browsed and encourage them to convert.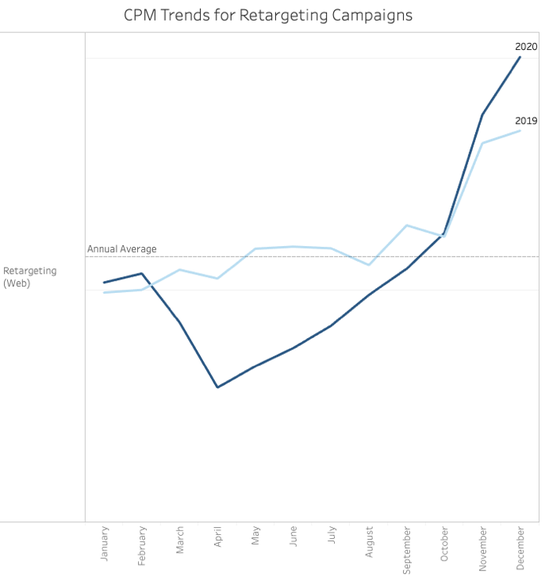 But the decline didn't last long — CPMs bounced back in May and then rose steadily to levels we typically don't see until the holiday season. In August, month-over-month growth was 20% higher than August 2019. This coincided with a sharp uptick in e-commerce as stores closed and consumers sought to limit unnecessary interactions. What followed was a parallel increase in advertisers attempting to reach shoppers online — and higher CPMs. In September, we predicted a record year for CPMs overall, which we can now definitively say has come to pass.
As the new year kicks off, CPMs are following the historical pattern of dropping to their lowest prices in January. That means now is the time to invest in brand awareness campaigns to cost-effectively reach new users before rates start to increase in the spring. This was our advice in March and April and the final weeks of 2020, as brands can reach considerably larger audiences for the same spend during periods when CPMs fall.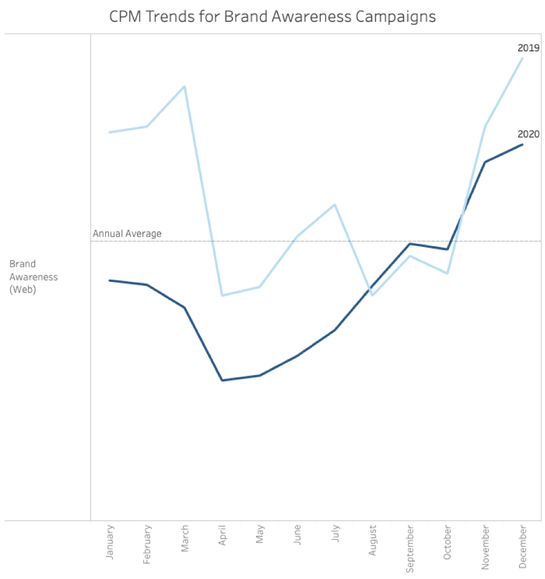 Traffic to Travel Sites Was Fairly Robust
Per the U.S. Travel Association, the American travel industry has lost $500 billion since March 2020. But there was a glimmer of hope: Daily traffic to travel sites was only down about 25% in Q4 2020 compared to the year prior, according to AdRoll data on the North America region (NAMER). That's not nearly as big of a drop as we expected.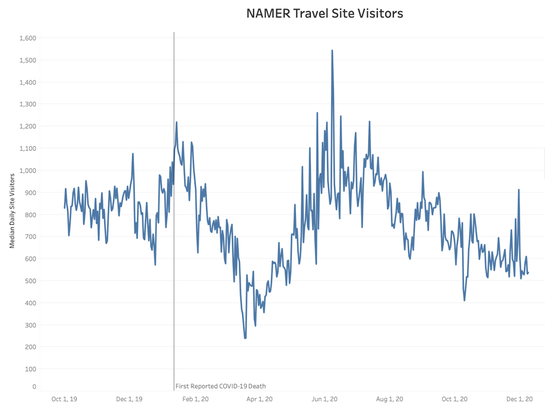 Food and Drink Finished 2020 Strong
Another sector dramatically impacted by the pandemic was (and continues to be) the food and drink industry, which saw a huge increase in site traffic from mid-March to May. That's when quarantining consumers first sought out recipe ideas for cooking and baking at home, as well as tools to fortify their kitchens for DIY projects. AdRoll data showed the increase in daily site visitors remained fairly constant through early Q4 — and ended the year 28% higher than December 2019.

Pet Sites Had Much to Celebrate in 2020
 Shelter-in-place orders spurred an uptick in pet adoptions, which we see mirrored in site traffic in North America. From March to April, daily visitors to pet sites rose a whopping 164%. On top of that, site traffic remained elevated until August before leveling out and then ending the year on par with December 2019.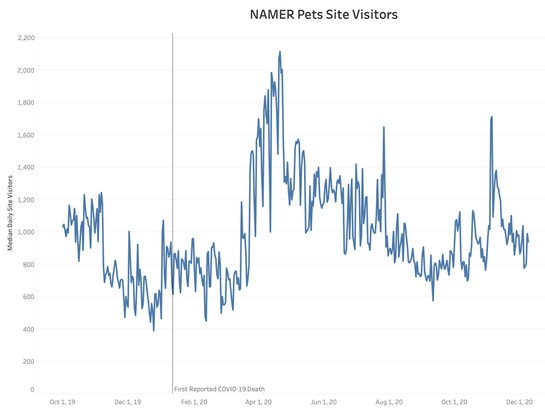 Holiday Shopping Trends Show We're Creatures of Habit
Despite the push by retailers for an early holiday shopping season marked by Amazon's Prime Day in October, AdRoll data showed many consumers waited until Black Friday to spend big. 
AdRoll analysis revealed a higher concentration of both conversions and site traffic on Black Friday 2020 versus 2019 — and AdRoll clients were prepared. Those who saw site traffic spike on both Black Friday 2019 and 2020 had an average traffic boost of 62% and a 201% increase in conversion volume compared to the November average leading up to Black Friday.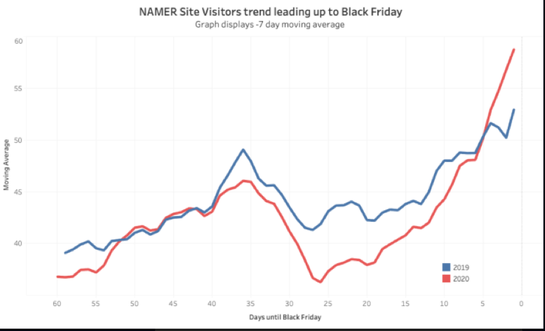 Facebook Remains a Powerful Advertising Platform
 Despite an advertiser boycott in July 2020, Facebook earned more than $21 billion in advertising revenue in Q3 2020, which was up 22% from the year-ago quarter. Facebook reportedly has eight million advertisers who use the platform to reach its 2.7 billion monthly active users. 
We analyzed Facebook ad copy and found "Learn More" and "Shop Now" remain the most popular calls to action (CTAs). However, over the course of 2020, we also found "Shop Now" had twice the click-through rate (CTR) of "Learn More," making it a more effective CTA for relevant brands. 
Q4 Was the Loneliest Quarter for Travel Ads
 Not surprisingly, the CTR for travel ads took a hit in March and April 2020. But that wasn't the most significant drop in 2020. Instead, we saw a huge drop in CTR for Facebook ads using the "Book Travel" CTA from June onward. 
In a typical year, we see the opposite trend with travel ads starting in April, likely indicating some reluctance among consumers to commit to travel expenditures despite the interest we see reflected in the site traffic trend above.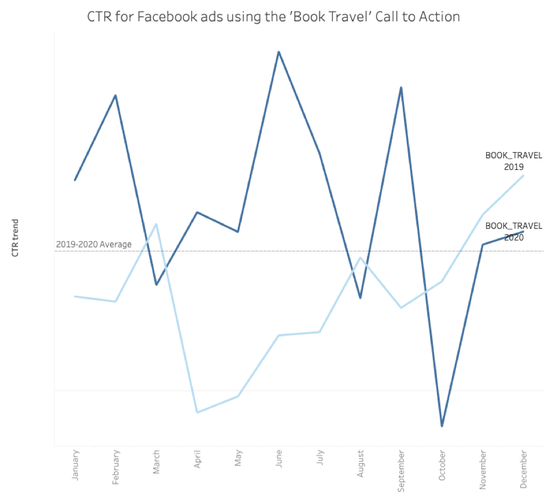 The Year Ahead
We don't know what exactly 2021 has in store for us, though it's a safe bet some of the trends from last year will continue through at least Q1 of 2021. That being said, we forecast the return of some normalcy, such as CPM patterns. It can be difficult for brands to know precisely how to respond amid today's ever-evolving e-commerce landscape, which is why it's more important than ever to have a trusted partner to help navigate the unknown. Contact AdRoll to get started.
Last updated on December 21st, 2022.