7 Strategies to Increase Your Ecommerce Sales from $0 to $1M
Topics Covered:
Ecommerce platforms like Shopify make it super easy for entrepreneur newbies to launch their own stores, selling whatever their heart desires. But it's a whole other world when it comes to how to increase online sales.
Though not impossible, it's a massive undertaking to juggle the daily challenges of marketing, advertising, pricing, operations, customer service, fulfillment, and more — all the while considering your long-term vision.
Before you scream "help!" into the digital void, we're here to offer some wisdom. It won't be long until you have real and achievable goals for your brand, making that $1 million ecommerce empire feel closer than ever. The best part? We even included some exercises to help you think through the next steps, too. Now go forth and conquer your niche!
Define Your Brand Identity
Every empire has its flag. Nike has the swoosh. Denny's has that acerbic wit on Twitter. Geico has the gecko. Glossier has millennial pink. To answer the question of how to increase online sales from your store, you first must ask what brand identity you have.
Contrary to what you may think, branding involves way more than just a logo, jingle, or mascot. Nor is it a set of fonts, colors, or image guidelines. Instead, it's a combination of all of the above. Even more important, it's also how you make shoppers feel, what your brand stands for, and why you're special.
Pro tip:To keep your team on the same page in regards to brand visuals, tone and voice, and values, we recommend creating a brand guide.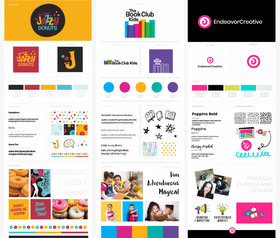 We can't overstate the importance of branding — with hundreds of thousands of ecommerce sites selling similar products (or even identical ones if you're a dropshipping store) and trying to increase online sales, the competition is fierce. And that's not even counting retail giants like Amazon.
While you may not be able to defeat Amazon, you can win by differentiating yourself from the rest of the pack. First, complete these questions to determine your brand identity — don't think too hard, just go with what you instinctively feel. Then, keep your answers in mind before creating any branded asset, including your website, company logo, or tagline.
Round 1: An introduction (1 sentence answers)
Describe…
Your company

Your company's founding story

Your short-term objectives

Your long-term goals

Your biggest marketing challenges

What part of your company makes you the proudest

Your biggest strengths

Your biggest weaknesses

What sets you apart from your competitors

How you want customers to feel when hearing your company name

Your target audience

What your target audience cares about the most
Round 2: Lightning round (1 word answers)
Is your company…
Small or large?

Mature or youthful?

Literal or abstract?

Playful or sophisticated?

Affordable or luxurious?

Smart or funny?

Early or late?

Cool or stuffy?

Open or closed?

Netflix or YouTube?

Water or soda?

Text or email?

Shower or bath?

Lots of friends or a few close ones?
Learn Everything You Can About Your Target Audience
There are two answers to the question of how to increase online sales: finding more people to sell to or selling more to your existing customers. The beauty of this? You don't have to choose between the two — this guide will walk you through the steps of marketing to both camps.
But first, determine your target audience. If you haven't already, take a moment to create at least three buyer personas.
Remember: The more details you can jot down about your target audiences, the better your ads will be (and higher a chance to increase ecommerce sales!). After all, if you've tried to develop audiences on a marketing platform, or even just Facebook, you'll realize the level of granularity can feel overwhelming.
So how do you get all of this information about your target audience in a systematic way (instead of just guessing)? Check out some tips and tricks here.
Bedazzle Your Site (Not Literally Though)
Without a physical store to dazzle shoppers, your website is the most crucial part of your ecommerce brand. Here's a checklist to help Shopify merchants design a site that'll lead to even more conversions, plus handy links to additional resources, step-by-step guides, and infographics. If you aren't on Shopify, the strategy still applies but the tools used to implement these steps would depend on your ecommerce platform.
✅ Choose your Shopify theme carefully using this guide
Having a Shopify theme that's perfect for your brand from the get-go means less time coding new sections and stressing out over customizing aesthetics.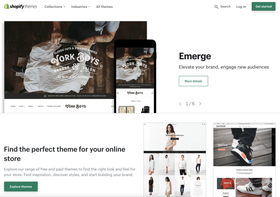 ✅ Build a fantastic homepage
Your homepage is the ultimate landing page. Make sure it's pulling its weight using this how-to
✅ Narrow down your product choices
Ever feel completely overwhelmed in a department or thrift store? Too many products can cause decision paralysis in shoppers. Don't be afraid to cull some of your underperforming items — or at least restructure your site design, so items are sorted in narrower categories and only a handful are displayed at once.
If you see high abandonment rates, you're not alone. The good news is studies have found that two-thirds of abandoned carts are recoverable, as long as you know what to do in terms of reducing friction in your checkout process, including:
Removing any unnecessary mandatory fields in your checkout process

Allowing shoppers to check out as a "guest" rather than having to make an account

Making it easy for shoppers to modify their carts (adding or removing items) in the checkout stage

Removing cart expiration timers

Offering more checkout payment options, including different credit card types and even installment plans
✅ Invest in high-quality lifestyle and product images
On a budget? You can easily take awesome photos using just a smartphone and a DIY setup. Here'show. Remember: Images can have a massive impact on how we perceive a product's value.
✅ Create a comprehensive FAQ page
Whether providing information on shipping speeds or your company's background story, FAQ pages are a great way to cut down on customer service costs. Just make sure to prominently feature a link to yours on your website.
✅ Use pop-ups wisely
While a pop-up can be a valuable tool to help you capture more email subscribers or encourage shoppers to use a chatbot, it can quickly get annoying if you use them with gusto. Therefore, we recommend limiting your site to one pop-up — choose carefully!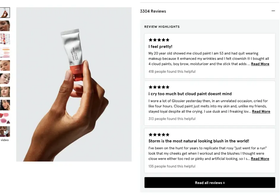 Five stars = trust, and customer feedback and reviews have never been more important than now. Make sure it's simple for shoppers to leave reviews, and be sure to feature your top ones proudly and prominently everywhere — we're talking product pages, landing pages, and even your homepage.
✅ Optimize for mobile
In the last decade, our phones have transformed from a pure communication tool to a gateway to online shopping. With more shoppers purchasing on mobile devices than ever before, check that everything is properly laid out in your mobile store, including:
All images resize properly.

All buttons are easily clickable without scrolling and pinching.

Navigation bars are fully accessible from all pages.

Loading speeds are relatively fast.

Visitors can return to their carts later, potentially even on another device.
An essential part of answering the question of how to increase online sales and building a great website that converts? Three words: Search engine optimization (SEO). The last thing you need is to dedicate a ton of time and resources to design a beautiful site that is impossible to find on Google. ButSEOshouldn't just be an afterthought — it's an essential process that requires thought and consideration:
Develop a keyword strategy

Make sure you're using HTTPS and not HTTP

Find and fix any crawl errors

Check and improve your site speed

Fix any broken links

Use an SEO-friendly URL structure

Check that every content page has:

An H1 tag

A meta description

A title tag

Links to other internal pages

Images with ALT tags
Develop Creative A/B-Tested Campaigns
Ah, digital marketing, the bread, and butter of ecommerce campaigns. From promotional emails to social media ads to blog content, digital campaigns are the best way to get your products and brand in front of more eyeballs.
With so many digital marketing campaign channels available, you might feel tempted to try everything at once. But here's a trick: Rather than haphazardly juggling ten platforms at once (all with unique requirements and best practices), start small. Then, armed with learnings and insights, grow later.
Take a look at your buyer persona list, specifically the media channels column, then complete this exercise. For every category, rank the channels from 1 (I must do this) to 3 (I should do this later), then cross out the remaining irrelevant ones.
Social media (paid & organic)
___ Twitter
___ Facebook
___ Instagram
___ Clubhouse
___ TikTok
___ LinkedIn
___ Snapchat
___ Pinterest
Content
___ YouTube
___ Blogs
___ Podcasts
Paid ads
___ Paid search (SEM)
___ Display ads
___ Pay-per-click ads
___ Retargeting ads
Owned channels
___ Email marketing
___ SMS marketing
___ Influencer/affiliate marketing
___ Mobile app
___ Virtual events
Then, take a look at this guide to creating amazing campaigns. Once you lock in your strategy and plan, use this checklist to review the creative you developed:
✅ Is it honest?
There's a sad truth in the ecommerce world: Too many shoppers have been burned some way or another, whether it's from brands that overpromise and under-deliver or others that falsify reviews and testimonials. That's why it's essential to deliver honest and truthful messaging, which will inevitably encourage consumer trust. While it pays to write powerful copy, the line between persuasiveness and hyperbole is blurry. Case in point: Honesty is always the best policy in marketing.
✅ Does it include your value proposition?
Too often, companies have a "me, me, me" approach to marketing. However, people don't want to buy things for the sake of accumulating more stuff or simply supporting a brand with their dollars (unless they're die-hard fans); instead, they want their problems to be solved and their needs to be met. Rather than focusing on how great your brand is, make sure your campaigns focus on how you offer value to shoppers, including:
How your product will solve their problems

Any specific benefits that your product offers

Why shoppers should buy from your company, and not your competitors
✅ Does it create a sense of urgency?
While keeping your brand top of mind can have immense value, sometimes you just need shoppers to hurry up and commit to their purchases. Here's where urgency comes in. Consider leveraging tactics such as:
FOMO-inducing copy

Time-sensitive offers, including free shipping and small discounts

Limited-edition products

Countdown timers in global headers or promotional emails
Is there an opportunity to reduce risk?
A powerful factor that'll influence a shopper's decision notto click the checkout button is risk aversion, typically towards financial loss. Perhaps they're worried the product won't live up to the stated benefits. Or maybe they're afraid that they won't like the item. Luckily, there are ways for brands to reduce this potential feeling of buyer's remorse, such as via money-back guarantees, free returns, or anything else that may remove risk from the purchasing decision.
✅ Did you (or can you) add social proof?
In 2021, the word of brands is no good. Instead, shoppers — completely desensitized to marketing speak — prefer the word on the street: What are their friends, families, and peers buying? What's hot and what's not? To take advantage of the power of social proof, infuse your campaigns with testimonials, accolades, and top reviews. After all, your happiest customers are easily your best marketing weapon.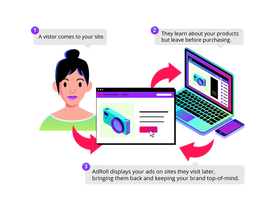 When it comes to launching the campaigns that you've painstakingly developed, we recommend:
Targeting lookalike audiences.A great way to reach new shoppers is by leveraging the data you've collected about your existing customers to find others who resemble them. With AdRoll, creating a lookalike campaign is almost too easy — not only do we attract new audiences, but we also use IntentMap technology to tap into groups who are most likely to become customers.
Using retargeting to capture lost sales. Shoppers can be fickle, and there's no way to avoid pesky abandoned carts. But with retargeting, you can boost your chances of someone returning to your site and checking out — it's one of the most effective ways to boost your sales numbers. Don't forget to pair your retargeting ads or emails with something irresistible, say a small discount or limited-time free shipping. For more retargeting tips and tricks, be sure to check out this post.
Perfecting your decision-making with A/B tests. Don't know which image to go with? Or maybe you just can't choose between two amazing CTAs? Cue the A/B test! When it comes to digital marketing in 2021, gut instinct just won't cut it — A/B testing is the way to methodically making sure that every element in your campaign is optimized to a tee.
Keeping messaging consistent everywhere. Ever clicked on a Facebook ad with a fantastic deal, only to be taken to a homepage with no sign of the deal anywhere? A huge part of creating a memorable (and effective) brand is displaying consistent messaging. As shoppers browse across channels and devices, you want to ensure every single touchpoint is synced with one another to push them further along the funnel.
Celebrate Your Existing Customers
As an ecommerce business, it's hard not to become too focused on the nitty-gritty details of chasing after the next new customer. But here's a bit of advice: Recognize and acknowledge all the support you already have and give existing customers the credit they deserve.After all, one of the most critical aspects of snagging new customers is by celebrating your existing ones, according to the marketing flywheel.
Not only do happy shoppers return for more, but they also talk. They'll recommend you to their connections, flaunt you on their social media, and leave glowing reviews that'll attract strangers. Some of them will even transform into brand evangelists, or free influencers if you will.
That's why your customer journey shouldn't end when their package lands at their doorstep — or, even worse, once you've received their credit card details. Instead, customer retention means celebrating them by designing a thoughtful and genuinely valuable follow-up process. Here are some ideas to get started:
Ask them if they have any questions or concerns immediately after they've received their packages.

Remind them to leave a review for their new goodies.

Build a loyalty program so repeat customers can earn points and redeem rewards.

Thank them with a small gift on their "loyalty program anniversary."

Send them extra points on their birthday.

Offer them early access to sales events.

Feature user-generated content in your marketing campaigns.

Send them customer-only deals, discounts, or invites to virtual events.
The key to acing customer retention is thinking of every sale as a relationship, not a transaction.
Put Your Analytical Helmet On
Do you freeze up when facing rows and columns of alarming numbers? Or maybe the last time you handled anything related to statistics was way back in high school? Don't worry: Marketing data and analytics are not as intimidating or complicated as they may seem, thanks to helpful dashboards like AdRoll that simplify everything.
The key to analyzing data, pinpointing trends, and optimizing your campaigns is determining your top attribution and conversion paths. After all, there are times when you feel like you're doing everything right, only to have your conversion rates be abysmally low. When that happens, it's often a result of a misunderstanding of your conversion pathways, rather than your ads being poorly written or designed.
Use AdRoll to check your attribution models and conversion pathways. Are you investing too much of your budget on touchpoints that aren't that helpful? Or maybe there are channels that are better off when working together? (For example, ads coupled with emails can yield up to 2x more conversions!) See if you can find any insights, then use these as a basis to start tinkering with your budget and priorities.
A Brand for the Ages
For explosive growth, you need a new set of plans — and now you have the answers to how to increase online sales from your ecommerce store and is it possible to build a 1M ecommerce business. Armed with this guide, we definitely hope your response to the latter question is a resounding "yes!"
Ready to see products fly off your (virtual) shelves and experience more growth than ever before? Don't forget to check out the AdRoll integration for Shopify and start winning new customers now.
Last updated on October 25th, 2021.