The Ultimate Guide to Generating More Ecommerce Reviews
Topics Covered:
Maintaining a positive digital reputation is critical for all companies, especially ecommerce brands that rely heavily on social proof. As more than 84% of shoppers trust reviews as much as they would a personal recommendation, it's clear that ecommerce reviews — whether hosted on your own site or a third-party platform — are a powerful tool in your marketing arsenal. 
But how do you transform those one-star duds into glowing five-star testimonials? How can you leverage your existing reviews to drive conversions and transform existing customers into loyal fans? Here's your ultimate guide to generating ecommerce reviews.
In this article:
How Do Online Reviews Build Social Proof?
How Do I Collect More Reviews?
I Have a Bunch of Reviews — Now What?
Five-Stars, Here We Come
How Do Online Reviews Build Social Proof?
"Social proof" refers to the psychological phenomenon where people form judgments and make decisions based on their peers' actions. In the context of ecommerce, online reviews allow target customers to make decisions based on the honest evaluations of previous shoppers rather than rely on marketing from the company itself (which, we all know, can be biased.) The power of ecommerce reviews to generate social proof can manifest in several ways:
Filters the noise
With global ecommerce sales reaching $4.28 trillion in 2020, it's clear that the industry is noisier and more competitive than ever. Shoppers are inundated with nonstop ads, products, and brand names wherever and whenever they scroll on the internet. When a shopper's purchasing need does arise, having to filter through the barrage of options can be a time-consuming and intimidating process. That's where ecommerce reviews come in. 
Reviews allow shoppers to better differentiate between their options, verify quality and reliability, compare brands, and determine which ecommerce sites deserve their hard-earned dollars. Shoppers have become savvier in authenticating products and brands — no longer will they be burned by items that look nothing like what they were advertised online.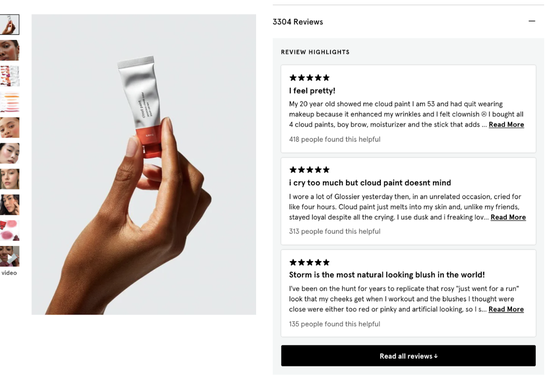 Boosts SEO
If your ecommerce store doesn't show up on the first page of Google when someone searches your keyword, you have some SEO work to do. Luckily, ecommerce reviews can come in handy on this front as well. 
Customers will typically use relevant keywords, such as your product name and attributes, in their ecommerce reviews. As a result, building a robust review infrastructure that leads to even more reviews will also increase the amount of content associated with your brand, keywords, and products. The best part? All of that will subsequently boost your digital rankings in the eyes of search engines. Your SEO team will thank you. 
Provides more information
Reviews are especially important for ecommerce brands that don't have a physical storefront where potential customers can see, touch, or try products before checking out. Reviews can plug this gap, especially if you encourage customers to comment on:
Whether a style runs large or small 
How the product looks and feels 
Whether the product matches its description and image
When your reviews are helpful and thorough, target customers will be less inclined to click on your customer service chat box or return an item that doesn't meet their expectations. 
How Do I Collect More Reviews?
People are naturally inclined to leave online reviews, especially if they had a uniquely positive or terrible experience. However, if you operate a brand-new store with limited traffic, reviews may be slow to trickle in. But that doesn't mean you should opt for a "wait and see" approach. Use these tactics to encourage your customers to leave a review: 
Follow up with your customers
Sometimes, all you have to do is ask. Consider following up with customers post-purchase with an email campaign — for example, you can leverage customer surveys that solicit feedback on their new goodies, as well as shipping speed, customer service, and their shopping experience. A comprehensive survey will allow you to pinpoint better which aspects of your business require more work.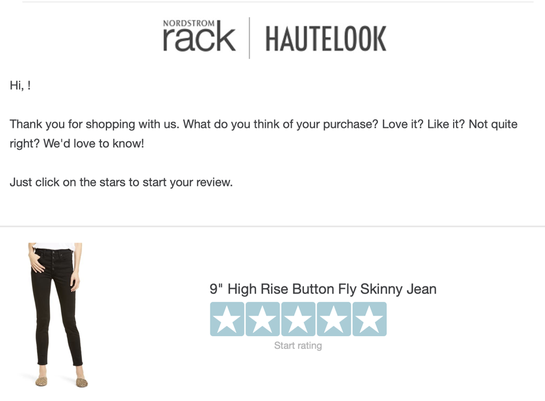 Pro tip: Make sure you're timing your follow-up emails strategically. You'll have a higher chance of success if you send the follow-up email while their purchase is still top of mind. There are plenty of ecommerce apps, such as BigCommerce's Yotpo, that can integrate with your store to automate this process. 
For a guide to email marketing software for ecommerce:
Make reviewing easy
We're all strapped for time, so to increase the likelihood that a customer will take time out of their busy schedules and leave a review, make sure that the process is as easy and painless as possible. Remember: They're doing you a favor. 
To remove friction points involved with submitting a review, you can: 
Include QR codes or URLs on physical marketing materials, such as packaging and "Thank You" notes that are inside packages. Pro tip: If you opt for the URL route, make sure the links are succinct to eliminate the risk of customers typing it in incorrectly. 
Add direct links to review forms for every product in your post-purchase emails.
Add links to your social media, Yelp page, and Google My Business page to the footer of your promotional emails and website.
Ask the right questions
Most people are intimidated by a blank field. Where do you even begin? You can alleviate your customers' daunting challenge of finding the right words by adding prompts to your review forms. Ask questions such as:
Did we do a good job of <whatever problem your product solves>?
Did <product name> meet or exceed your expectations?
Did your package come on time?
Would you recommend <your brand> to a friend?
Obviously, the type of questions you ask will depend on your product, industry, and target audience. To craft appropriate prompts, ask yourself: 
Which are the most significant setbacks preventing target customers from completing a purchase? 
What are the selling points of your product? What makes your product different from your competitors?
Is there anything special about your shopping experience or fulfillment process that you want customers to highlight? 
Ultimately, your prompts should strategically trigger customers to mention what your products and company do best. For example, if you know that your shipping is often delayed, you'll want to avoid asking customers to comment on their delivery experience. 
Don't incentivize ecommerce reviews
It can be tempting to offer free shipping, a small freebie, or even a discount in exchange for a review. However, both Google and Yelp strictly prohibit businesses from incentivizing ecommerce reviews. (They'll actually take them down.) 
To maintain public trust in your ecommerce brand, stay clear from offering perks. Let your products or customer experience speak for itself. Customers can sniff out a fake review from a mile away, which will immediately damage your online reputation. 
I Have a Bunch of Reviews — Now What?
How you leverage your ecommerce reviews can be equally, if not more, important than obtaining reviews themselves. To reap the benefits of social trust, you'll need to use your reviews strategically. 
Feature your ecommerce reviews prominently
Amazing ecommerce reviews should be the star of the show. Rather than hire a copywriter to craft paragraphs upon paragraphs of pithy copy, have your best reviews do the talking:
Add a carousel that hosts testimonials on the homepage. 
Develop a dedicated testimonials page.
Use design elements to draw site visitors to the review section for each product page.
To boost the credibility of each review and testimonial, include the customer's name and any accompanying pictures they posted — don't forget to ask them for permission first. You can also add the source of the review (whether the customer had originally posted it on Yelp or Google My Business). Ecommerce eeviews on third-party sites are typically seen as more trustworthy than those posted directly on a branded site. 
Pro tip: One positive review makes up one person's opinion, but a dozen reviews that testify to a product's worth offer a clear consensus. Not only should you feature your most compelling and eye-catching reviews, but you should also design your website in a way that allows shoppers to see an abundance of reviews. One survey found that shoppers want to see at least 40 reviews to gain trust in an average star rating. That's a lot! 
If you're struggling to obtain more than a handful of reviews per item, don't worry. On average, products are 270% more likely to sell when they have at least five reviews compared to no reviews. 
For more UI and UX best practices:
Engage with your top reviewers
At this point, you've probably figured out that five-star reviews are basically free marketing. So why not thank the helpful customers who have left a glowing review? With just a little bit of effort (and even less than that if you use the right marketing automation software!), you can transform a happy one-time customer into a loyal fan who tells their friends and family about your brand. 
Engaging with your top reviewers can be super simple — Google My Business, Facebook, and Yelp allow you to reply to reviews from your business page. Even a simple "Thanks!" can go a long way in helping a customer feel acknowledged for the time and effort they spent crafting the review. Not only are you demonstrating that you hear and value them, but you're also showing potential shoppers that you prioritize the customer experience. In fact, review platforms such as Google encourage business owners to do this — responding to reviews can boost local SEO efforts. 
Pro tip: If you want to take it one step further, consider sending your best customers personalized notes, especially if you're using their reviews as testimonials in your marketing materials. 
Don't forget about those one-star reviews
On the flip side, those dratted one- or two-star reviews aren't going anywhere — "out of sight, out of mind" is not a saying that applies here. An astounding 94% of online shoppers are discouraged from shopping when they encounter a negative ecommerce review. Ouch. 
You may not realize this, but negative reviews are a marketing opportunity. One study found that follow-ups to negative reviews result in 34% of customers deleting their original comments. By responding to negative reviews — especially if they're rooted in a misunderstanding or event that is not the norm for your brand — you can demonstrate that you appreciate valuable feedback from customers and actively take the initiative to improve your business. Just remember to stay cordial, non-accusatory, and helpful. 
Five-Stars, Here We Come
As an ecommerce entrepreneur, you can safely assume that every potential shopper — no matter your industry, product, or target demographic — will engage with online reviews before they click the checkout button. 
Ecommerce brands can no longer hide poorly-designed or low-quality products behind beautiful graphics or compelling copy. Thanks to the popularity of Yelp and Google My Business, finding an honest and objective evaluation of a brand or product requires just a few clicks. In other words, you must dedicate the time and resources to maintain a positive digital reputation and transform your ecommerce reviews into a social proof powerhouse. 
We've equipped you with all the tools you need to start maximizing your ecommerce reviews and reassure wary shoppers, boost conversion rates, and get ahead in the competitive ecommerce marketplace. Looking for even more ways to instill trust in your ecommerce brand? Check out the useful content we've just added to our Marketing Resource Library. 
For a complete ecommerce marketing guide:
Last updated on December 21st, 2022.