The Ultimate Shopify Product Image Checklist
Topics Covered:
You've hired a photographer (or put on a photographer's hat for the day), taken hundreds of product images, and… now what? Rather than go ahead and spend weeks retouching every single one in Adobe Lightroom — Spoiler alert: You shouldn't do that! — you'll want to cull some of them first. 
Remember: No matter how good the photographer, not every image will (or should) make the cut. As they say to fiction writers, don't hesitate to "kill your darlings." 
But how does that work when the product photos in your camera reel are nearly identical with only minor placement or lighting differences? What makes a good product image — one that deserves to be featured prominently on your website? Without a trained photographer's eye, these questions can be challenging to answer. 
Just like how you don't need an expensive DSLR camera to take amazing product images, you also don't need to take a course in photography or post-production editing to select your top contenders. At AdRoll, our mission is to save you resources and time — so use our checklist to decide which photos should make it on your Shopify product pages: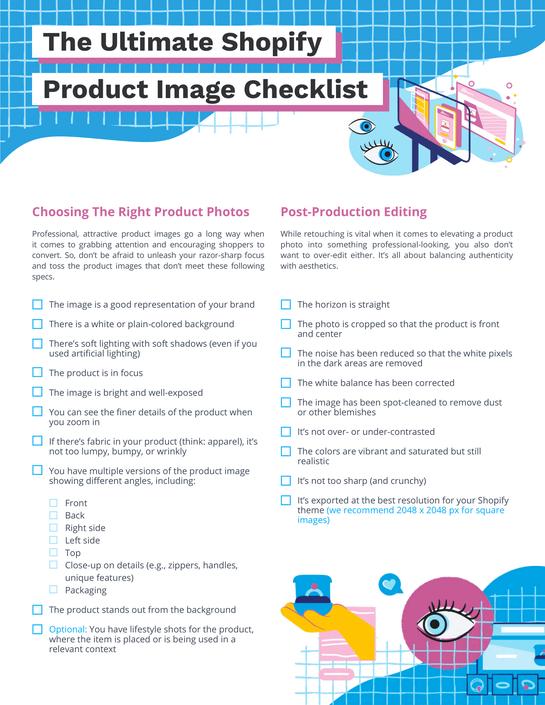 Once you've narrowed down to a handful of top images for each product — which is a lot more manageable than the hundreds, or even thousands, you started with — go ahead and start the fun task of fine-tuning them in your retouching software (whether that may be Adobe Photoshop, Adobe Lightroom, or Canva). 
Pro tip: Once you've decided on the best images, don't limit them to their corresponding product pages! You'll want to use them in your marketing materials — we're talking banner ads, promotional emails, and organic social media posts. After all, you've put in the time and work to make them look fantastic!
And if you need a partner to help you get started with your ecommerce journey, check out the AdRoll integration for Shopify. 
Last updated on December 6th, 2022.