4 Things Every Marketer Needs to Know About Gen Z
Topics Covered:
As a marketer, you've probably heard many stories about the upcoming generation: Gen Z. Young, politically active, and tech-savvy, some warn that they'll be the end of brick-and-mortar retailers. Others complain that their average attention span is only eight seconds long, effectively axing traditional marketing strategies. 
But no need to freak out from the fear-mongering headlines just yet — here are four demystifying insights into marketing to Gen Z. 
What Is Gen Z, Anyways?
Born between 1996 and 2014, Gen Z currently commands $44 billion in buying power and makes up 27% of the U.S. population (outnumbering millennials!). Although Gen Z does bear similarities to their millennial predecessors — they are active on social media, enjoy shopping, and prefer experiences over items — your existing marketing strategies may not meet their needs perfectly. Case in point: They've developed online communities dedicated to mocking brands that pander to them. In other words, it's not enough for marketers to create a TikTok account and call it a day. 
Stuck? Go for Video Content
When searching for entertainment, information, or tutorials to improve or gain new skills, YouTube is the platform of choice for marketing to Gen Z — approximately 85% of them use the platform actively. Remember: The flight to visual media isn't limited to YouTube. It spans Instagram, Snapchat, and TikTok. 
Visual culture is more important than ever. Whether a short-form video that only exists for 24 hours or a 30-minute vlog, the key to mastering these channels is to create engaging storytelling that packs an emotional punch, balances true entertainment or valuable information, and conveys brand purpose, value proposition, and CTA. Video production can be overwhelming at first, but we guarantee it'll eventually become more efficient and intuitive with practice, much like any type of content creation. 
For more information on how to build brand trust with video:
Consider Ditching the Memes
It can be challenging for marketers to grasp Gen Z humor, which is notoriously fast-changing, quirky, and random. The life cycles of memes, videos, and news can last merely a day, so capitalizing on trends will require speed, creativity, and a thorough understanding of complex generational nuances. 
Unless your brand's identity is casual and targets a young audience, attempts to connect with Gen Z using their type of humor can easily backfire or come across as trying too hard. Gen Z culture has an air of nonchalance — take a look at the VSCO app, for example, which exploded in popularity as younger users abandoned the highly-curated Instagram aesthetic. 
Pro tip:
Don't try to mimic the Gen Z voice. Instead, find your unique brand personality that feels accessible. If your brand is genuinely humorous, engaging, or even self-deprecating, you will naturally attract Gen Z followers. Denny's does a great job of this. Sure, their tone on social media is comical, but more importantly, it's consistent with their quirky brand communications across channels. As a result, their timely, eccentric posts hijack trending hashtags yet feel natural and authentic. 
If your brand is known for being corporate, sudden attempts to leverage memes or social humor will only backfire. The last thing you want is to come across as desperate.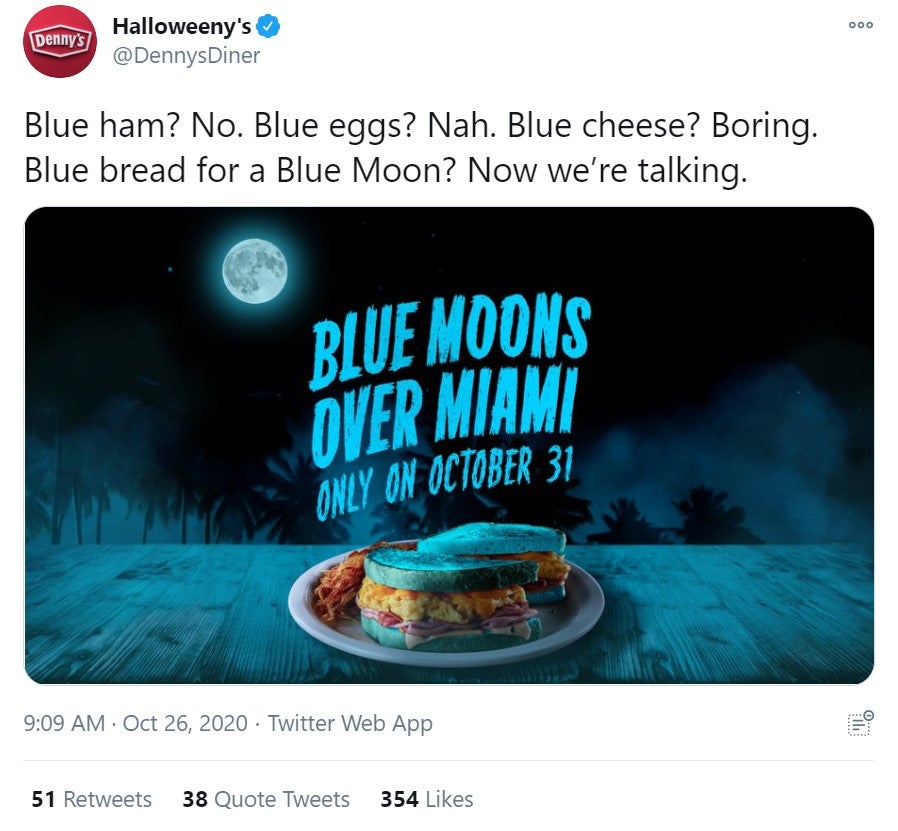 From: Denny's Twitter
Care About Hot Topics
Gen Z wants companies to be "a representation of their values and expectations of themselves and their peers." That means brands must take a stance on issues, whether it's climate change, gun control, or social justice, which explains why companies like TOMS, Nike, and Patagonia are so popular among young shoppers. 
A lot is going on in the world right now. Not only are we experiencing a global pandemic, but social and environmental injustice is also rampant. Businesses that only care about their bottom line will struggle to attract younger customers who care about where their dollars end up. Ask yourself, "Does purchasing this product benefit the pockets of executives or warehouse workers?"
Nowadays, it's not enough to change your logo to rainbow colors in June or post a corporate message urging customers to vote. Instead, do more: Modify company culture from the ground up, make sure sustainability is a factor in your manufacturing process, and take responsibility for your products by launching reuse, buyback, or recycling programs. Even better, become corporate leaders and advocates for your chosen cause within the whole industry. Then, feature these efforts prominently throughout your marketing materials. 
Keep It Real
With the onset of review platforms like Yelp, the days of false advertising are long behind us, especially if products or services don't live up to their promises. 
With Gen Z as the first digitally native demographic, brands cannot afford to rely on false or exaggerated marketing messages to pull in customers. In fact, a survey found that 79% of this demographic will trust a company more if its ad images are not Photoshopped, with 84% preferring ads that feature actual customers — the rise of Aerie over Victoria's Secret is a great example of this shift. Brands with a carefully curated social media approach should consider a more organic, unfiltered feed that includes user-generated content. 
If you're not ready to ditch your paid models, a great way to pivot toward authenticity and reliability is through word-of-mouth marketing. Consider launching a peer-to-peer marketing campaign or leveraging influencers, who are frequently deemed more relatable and trustworthy than celebrities. 
Pro tip:
If you decide to dabble in influencer marketing, consider partnering with a micro-influencer (they have between 1,000 and 100,000 followers on social media.) Because they typically belong to more niche communities, they can drive more personalized engagement with their fans. Research has shown that engagement levels tend to drop once influencers gain over 100,000 followers, which is why micro-influencers are 6.7 times more efficient per engagement compared to their more famous counterparts for marketing purposes. 
See how these brands mastered social media:
The Kids Are Alright
Gen Z is complex — they grew up in an increasingly polarized society worried about environmental catastrophe, wealth disparities, and social injustice. It's no surprise that they're now known for heightened social awareness and finding humor in uncertainty. 
When marketing to Gen Z, consider it an exciting way to experiment with bolder and more creative advertising that puts the customer first. Though it'll require reinventing the playbook you may have used for millennials, it's an opportunity to rethink what value propositions you offer that makes you worthwhile of their limited attention. 
If you're looking for a partner to help support your marketing to gen z efforts that go beyond pushing ads, we're here to help. Expand your capabilities with AdRoll and start building relationships and delivering meaning and delight to new audiences. 
Last updated on September 16th, 2022.