YouTube Ads: A Beginner's Guide to Unlocking More Clicks for Your Shopify Store
Topics Covered:
Want entertainment? Looking to learn new skills? YouTube has it all — which explains why it's the second largest search engine on the internet. 
No matter your industry, YouTube is the place to be if you're a Shopify merchant looking to reach a wide audience. Beyond organic branded video content, YouTube ads are also a goldmine for driving brand awareness and conversions. 

What Are the Different Types of YouTube Ads?
Skippable in-stream ads (formerly called TrueView)
What they are: These ads are delivered to users before (pre-roll) or during (mid-roll) a video — but users can skip them after the first five seconds. 
How much they cost: You only pay when users continue watching after the initial thirty seconds or interact with the ad. 
Their specs:
12 seconds to three minutes 

Also includes a companion banner and a video overlay to display a call to action (CTA) 

Must first be uploaded as normal YouTube videos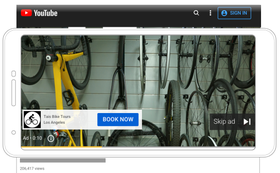 Non-skippable in-stream ads
What they are: Because 76% of users skip ads, non-skippable in-stream ads are a great alternative to conveying your full message. They work like skippable in-stream ads, except — you guessed it — users have to watch the whole ad before continuing to their video. 
How much they cost: Bids for this ad type are set according to your target CPM. 
Their specs:
In-feed video ads
What they are: In-feed video ads work similarly to Google search ads — they're promoted ad videos that show up next to organic search results. 
How much they cost: They're charged by cost per view (CPV) — you can expect to pay an average of $0.3 per click. 
Their specs:
Includes a headline, two lines of description text, plus a video thumbnail 

When clicked on, they take users to a particular video or to your YouTube channel 

16:9 or 4:3 aspect ratio recommended
Non-video display ads
What they are: Not a fan of video ads? Google offers display ads delivered on YouTube pages. (Think of the ads placed along the right or left sidebar.) 
How much they cost: Non-video ads are priced similarly to other ad types within the Google Display Network. 
Their specs:
Includes an image, text copy, and a CTA 
What Types of Audience Targeting Does YouTube Offer?
Google owns YouTube, so it should come as no surprise that the video platform's audience targeting tools are among the most robust. You can target your ads based on:
Demographics: age, gender, household income, and life stage (e.g., college student vs. new parent) 

Interests: Based on users' viewing behavior and search history 

Behaviors: Target users who have visited your site, used your app, or watched your other videos 
How Do You Create a YouTube Ad Campaign?
If you've launched campaigns for your Shopify store on other social media platforms, the YouTube ad creation process will be relatively simple:
Sign in to your Google Ads account. 

Click on "New Campaign." 

Choose your campaign goal — sales, leads, website traffic, product and brand consideration, or brand awareness and reach. 

When prompted to select your campaign type, click "Video," then choose your campaign subtype based on the YouTube ad formats we covered. 

Follow the instructions to name your campaign and select your bid strategy, budget, ad locations, audience language, location, content exclusions, and audience targeting. 

Launch your campaign! 

For more tips on acing your YouTube ads, here are some ad creation guidelines provided by the platform. 
What Are Some Best Practices for YouTube Ads?
Ensure your YouTube ads are a raging success — or at least successfully catch a user's eye by: 
Getting straight to the point. You want to hook users in as soon as possible to encourage them to keep watching, so make your first few seconds count. 

Not just slapping a logo on it. Treat your YouTube ad like a commercial — you want to introduce your brand in a meaningful way. 

Staying away from being too salesy. This is your opportunity for emotional storytelling. Use your YouTube ads to entice users first — the selling can come later. 

Taking more risks. Nobody remembers (or even pays attention to) boring ads. 

Making your CTA clear. Users need to know what you want them to do next. 
Pro Tip: There are a ton of Shopify apps that'll take your YouTube efforts to the next level — Shogun, for example, will let you embed your YouTube video into your Shopify website, while Zapier offers a YouTube integration for Shopify merchants.
For more winning strategies that'll help you drive more YouTube users to your Shopify store, check out this guide.
Click, Like, Subscribe
If you're a fan of video production or simply want to see more traffic and conversions on your Shopify store, it's time to get started with YouTube ads. 
But don't just stop there: Level up your other marketing efforts, too. Check out the AdRoll integration for Shopify brands to start launching ads and emails that attract, engage, convert, and retain shoppers.
Last updated on April 25th, 2022.