7 YouTube Marketing Strategies for More Plays, Shares, and Follows
Topics Covered:
YouTube is the ultimate hub for discovering the most eccentric corners of the internet, from cat fail compilations to hour-long conspiracy investigations. The site is the embodiment of modern internet culture: vlogging, viral trends, and tutorials — cementing songs like "What Does The Fox Say?" or "Gangnam Style" as part of our pop culture and transforming content creators like Lilly Singh and Michelle Phan into household names. 
At the same time, YouTube has positioned itself as a leading marketing channel for brands, hosting a wide selection of organic, promotional, educational, and entertaining videos, plus influencer collaborations and traditional ads to reach new audiences. 
But getting started with the platform can be difficult, especially if you have little video experience. Success involves savvy strategizing, SEO optimizing, and target audience researching. Here's everything you need to know.
Why YouTube Marketing?
If you're not on YouTube, you're missing out. Don't believe us? Check out these stats: 
It's clear: Video marketing is having a moment — combine short-form TikTok content with long-form YouTube videos, and you have yourself a winning formula. 
How to Ace Your YouTube Marketing Strategy
While YouTube poses vast opportunities to attract more traffic and shoppers, the challenge lies in the question of how you're going to rise above the noise. YouTube is a competitive landscape, and it's not easy to see fast results, especially if you're just getting started in 2022. 
Acing YouTube marketing requires creativity, strategy, and research in order to create incredible videos that users will be genuinely interested in watching. That said, here are seven pro tips to keep in mind:
1. Learn about your target audience
To get clicks on your YouTube videos, you need to produce content that maps to what your target audience is already watching — and not what would best serve your brand and sell products. (It's a trap many retailers fall for.) 
So, the first step to any successful YouTube marketing strategy? Learn about your target audience and determine what they want. Ask questions like:
Who are you making videos for?

Where are they in your shopping funnel? How familiar are they with your brand and products? 

What are some videos they're already watching on YouTube? (Think content topics as well as video formats.) 
If you've already started dabbling with YouTube marketing, you can find these demographics and interest-related insights in your Analytics tab. 
2. Do your research
There's no need to reinvent the wheel when it comes to YouTube marketing. An effective way to get started is by researching your competition to see what's working and what's not. 
Make a list of all relevant YouTube channels in your niche. Jot down their:
Number of subscribers

Average views per video

Posting frequency

Content formats 

Content topics

Popular comments from viewers
Once you've gathered all this data, ask questions like:
What do their top-performing videos have in common?

What do their worst-performing videos have in common?

What is the overall feedback from their viewers? 

Are there suggestions from viewers on what they hope to see next? 

What is their brand voice?

What are some ways I can differentiate my YouTube videos from theirs? 
Once you've analyzed your competitors, do the same exercise for the channels you enjoy watching in your free time. Think about what motivates you (the viewer) to watch, like, or comment on a video — or, alternatively, click the exit button a few seconds in. Plus, make sure to pay special attention to how they link to external websites or promote their products. 
3. Conduct keyword research
When it comes to brainstorming ideas for potential videos, trusting your gut won't cut it — why waste time planning, filming, and editing videos only for no one to find them? 
But how do you know what videos your target audience is searching for? By optimizing your videos based on popular keywords.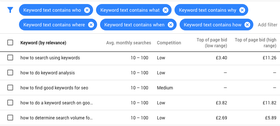 This involves:
Conducting keyword research — here's a guide on how to get started. You can also enter your topic into YouTube's search bar to get a sense of what users are searching for.

Adding keywords to your video's title, description (within the first three sentences), and tags. Make sure to include your website link, links to products, links to other social media accounts, and a CTA to your description. 

Writing catchy descriptions that outline what users can expect from the video. 
Remember: YouTube works just like a search engine, so treat your SEO tasks similarly to how you would for your website. 
4. Optimize your profile page
A basic, boring profile page is a fast way to signal to YouTube users that you're not active on the platform. Take the time to spice it up by:
Adding important "About" information 

Uploading channel art, including header images and a profile picture

Linking your ecommerce site and other social media profiles

Creating a channel trailer

Curating playlists that group similar videos

Designing consistent, branded video thumbnails (don't just use a screenshot from the video!) 
5. Think outside the box
Though videos may be more memorable than reading a long blog post or scrolling past an ad, you can't rely on the video format itself to drive clicks and views. Instead, engaging videos are creative in the ways they entertain or inform the audience — think about how, for example, the True Facts series or Weird History channel make science and history exciting and captivating. 

Here are some video ideas for your ecommerce brand to explore:
Unboxing videos

Day-in-the-life vlogs

Challenge videos

Product testing videos

Educational/informative videos

Collab videos

"Best of" compilations
6. Don't skimp on video production
Successful YouTubers go all out with their production value — no more grainy webcam footage or shaky handheld cams. Though you don't have to hire a full-on video production company, make sure every video you upload is high-quality. This means:
Adding background music and sound effects

Using transitions between scenes

Creating a standardized opener that introduces the channel and an outro with a CTA (e.g., visit your site or subscribe to your channel)

Using graphics, text, and other effects where it makes sense (but don't go overboard!)

Removing filler content and creating a tight storyline

Using timestamps to help viewers get to the section they're most interested in 
7. Send external traffic to your YouTube channel
Your YouTube marketing strategy shouldn't just consist of posting videos — you need to think about ways to send traffic to your channel, too. For instance, when you launch a new video, make sure to share the link or even create short teaser snippets to post on your other social media channels (think Facebook, Instagram, Twitter).
Ready, Camera, Action!
There you have it: Seven pro tips for mastering your YouTube marketing strategy. But before you pick up the camera and lavalier mic, visit the AdRoll Marketing Resource Library for more tips to level up your other marketing efforts.
Last updated on January 19th, 2022.