Let's Get Digital, Digital: Why D2C Brands Are Becoming Digital-First (And How You Can Too) [Infographic]
Topics Covered:
If you were trying to sum up the last decade of e-commerce as succinctly as possible, you couldn't do any better than "D2C" (direct-to-consumer). Once associated with catalogs and cheesy late-night infomercials (think Omaha Steaks and ShamWow), D2C brands are now household names. Companies like Casper Sleep and Warby Parker took a digital-first approach and became retail juggernauts by eschewing traditional brand conventions and innovating the way brands are built and marketed.
In many ways, D2C brands represent the original promise of digital commerce — the ability to cut out the middleman and go straight to the customer. Bypassing the traditional store model allows companies to have complete control over how they reach their market, but it comes at the cost of providing all of their own exposure. As a result, D2C brands invest more into promotion as a percentage of revenue than just about any other class of companies. Because these investments represent such a large portion of the operating budget, every dollar has to work harder and win more customers. That means pushing past traditional marketing and embracing digital transformation.
Digital transformation can be a difficult task to conceptualize. If it were as simple as taking traditional marketing approaches and moving them online, most companies would have transformed into digital powerhouses by now. Instead, going to a digital-first approach means tailoring your marketing specifically to the strengths of the digital environment and everything that entails.
Here are some interesting stats that speak to the digital marketing revolution: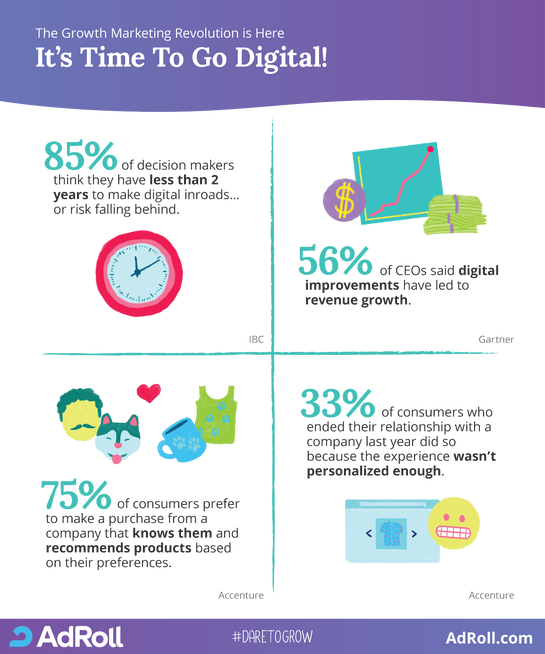 The good news is that spearheading a growth marketing digital transformation isn't as difficult as it may seem. Here are some tips to point you in the right direction and help you get there faster.
Move Fast
85% of decision makers think they have less than two years to complete a digital transformation, or lose business to speedier competitors.
Especially in the D2C space, which is based heavily on brand recognition, having a first-mover advantage is a huge boost. Letting someone else take that advantage, on the other hand, means you're fighting a constant uphill battle. Two years might not seem like a lot of time to make a drastic change. One of the big advantages of digital, however, is the ability to rapidly test and iterate on ideas. By committing early and testing approaches, two years should be more than enough time to make headway.
Reykjavik Excursions was able to create a digital transformation in a short amount of time, helping them increase marketshare and become one of the largest tour operators in Iceland. With a growth marketing mindset, the tour company was able to test new digital strategies in real-time, pivoting quickly when things didn't resonate with their audience. As a result:
"Bookings are up. Revenue is up. And the good thing is we have more quality conversions and leads — more valuable ones."

- Ari Steinarsson, Online Marketing Specialist
Make it Personal
Customers love personalization. In fact, 75% of consumers prefer to make a purchase from a company that knows them and makes smart recommendations. This might seem a little counterintuitive given all of the news lately about privacy and data security. On a deeper level, however, what customers want is for companies to be honest about what they collect, to give consumers options, and to be good stewards of their personal information. If you keep those things in mind when building out a personalization program — telling your customers what you collect and how, giving them the choice to opt-out of data collection, keeping their data safe and not selling it — then you can see great success from your personalization programs.
Marquee Sydney needed to boost customers quickly — it was falling below projections and wasn't getting the repeat business it thought it should. The international brand took a sharp left and achieved a 46% lift in sales and over 6x ROI by moving to a more personal, digital-first approach.
Don't Hesitate
Moving to a digital-first approach can seem intimidating. Many marketers are hesitant to pull budget from traditional channels that work, even if the results on those channels aren't completely satisfactory. While it's not a good idea to dive in headfirst without looking, it's absolutely smart to move budget quickly as soon as you see positive results. You should get into the habit of "validate, improve, increase budget" across digital channels to get the most marketing bang for your buck. Because digital spend rarely has long-term budget commitments, it's much easier to test than traditional options, making it ideal for experimentation, and leading to faster improvement in outcomes. In fact, more than half of CEOs were able to directly link revenue growth to small improvements in digital.
Boomf, a fun company that makes confetti bomb greeting cards, wanted to launch a new product. After a long time spent brainstorming and planning internally, it decided to take the plunge and test the new product through its digital channels. The results? The product was a smash hit and helped increase revenue by 123%.
Create Meaningful Relationships
Attracting customers is great, but the real magic of a full digital transformation is in the ability to forge meaningful relationships between consumers and brands. The first step is identifying the channels where your customers already spend time — building customer personas with customer journey maps can help with this. Once you have that, it's time to put the lessons from earlier into practice. Use what you know about customers and the results of your channel experiments to meet your customers where they are and provide them with unique, memorable brand experiences that match what they're looking for.
Sunski, maker of sunglasses that don't fall off during sports, felt it had fully tapped its market. So it took stock of its brand and its current customers, and launched a full digital-first transformation centered around providing meaningful experiences to a whole new customer base. Sunksi's rebranding and updated messaging resulted in huge growth and a 2.4x ROI.
It may seem strange that we're still talking about companies needing to make a digital transformation. After all, the internet was opened to the masses over 28 years ago. Amazon went public more than 22 years ago. E-commerce and digital D2C isn't new, yet many brands still haven't made the transition to digital-first. But the window of opportunity is closing, and it's closing fast. Within the next few years, the market leader in every vertical will either be a purely digital direct to consumer brand or a digital-first one. For traditional direct to consumer brands, making that change isn't just important — it's a matter of life and death.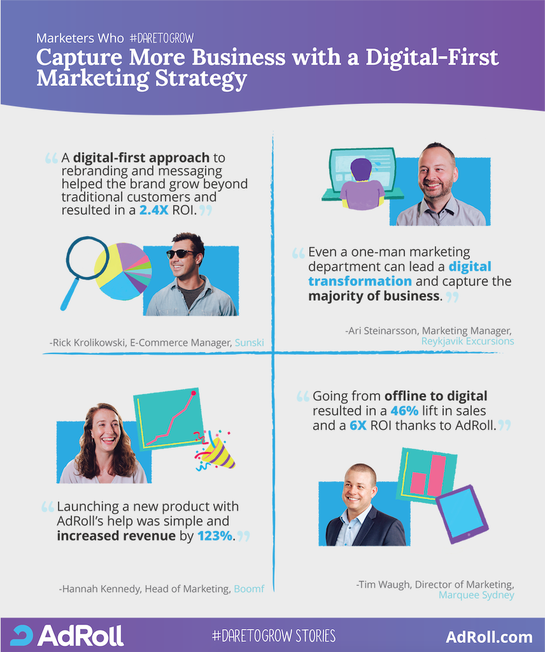 Last updated on November 15th, 2022.