Topics Covered:
AdRoll is the easiest way to launch personalized display ads, get started with retargeting, and re-engage cart abandoners. 
But if you're confused about how we can help your brand reach its goals and how we're different from the other MarTech platforms out there, you've come to the right place.
Launching + Optimizing Ads
First thing's first: we're a marketing and advertising platform that helps growing brands better connect with customers — in the right place, at the right time, and with the right messages. 
If you're looking to launch better ads, you've come to the right place. We can help you with: 
Ad campaign creation. We're famed for our powerful ad capabilities for good reason: we've helped thousands of brands unlock new growth. Launching cross-channel ads using our platform is straightforward: Rather than uploading your creative for web and then separately for social (as you would when manually setting up campaigns on different channels), the platform will automatically plug in the details in all the right spots.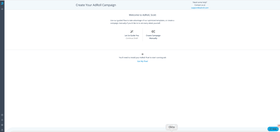 Audiences targeting. With our platform, you can easily build lookalike audiences who are more likely to convert or create audience segments based on specific demographics, interests, geography, or location. 

An ad template library. Not a creative person? We offer a robust library of premade ad templates proven to convert. 
Our platform is powered by machine learning and AI. In other words, our marketing engine uses data from 70% of global online shoppers to take behavioral, engagement, and marketing performance predictions to the next level.  
Boosting Brand Awareness
Using our Marketing Recipes (that's what we call our beginner-friendly recommendations on how to tackle a marketing goal), you can launch, monitor, and optimize cross-channel campaigns to build your brand on the web, mobile, social, and email. 
Converting Casual Shoppers
Getting clicks on your ads is great but clicks that don't convert? Now that's a massive pain. We can help deliver targeted, highly-personalized customer journeys, so site visitors are constantly engaged as they speed through the marketing funnel. 
Nurturing Existing Customers
Similarly, our platform is the key to transforming casual shoppers into loyal customers. You've probably realized that getting a customer to return for more is a lot more cost-effective than constantly chasing after a new one. We offer solutions to help you grow customer loyalty, ultimately increasing customer lifetime value. 
Decluttering Your Data
If you've been struggling with a complicated marketing stack with an array of unique dashboards that don't sync or integrate (or if Google Analytics' dozens of buttons give you an instant headache), our platform is the best way to take some of that stress away. With our Cross-Channel Performance Dashboard, you can instantly see how all your campaigns (email, social media, ads) are performing. Best part? We'll even provide you with actionable tips on what to do next — it's like having an ad expert right by your side!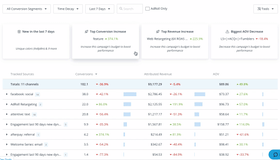 Creating + Managing Emails
Emails are a must-have tactic in marketers' toolboxes, and luckily, we make designing and deploying customized email campaigns simple. Whether you're creating an email to welcome a new customer or promote a flash sale, it's literally as simple as dragging and dropping different elements onto the page.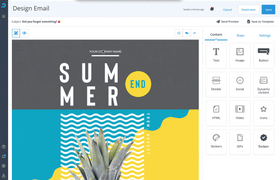 Tailoring Product Recommendations
Capture the attention of shoppers with personalized product recommendations based on items they've previously shown an interest in. Our AI-Powered Product Carousel is extremely easy to implement, with no coding or backend development needed. 

Start Saving (in More Ways Than One!) 
We're an all-in-one platform, meaning with just one subscription, you can tackle everything from ads to email marketing. 
We'll help you get started with omnichannel marketing
Today's shoppers experience dozens of marketing touchpoints before choosing to convert. With an omnichannel marketing strategy that seamlessly encompasses these touchpoints, you're upping the likelihood of successfully moving shoppers further down the funnel. At the end of the day, it's all about making sure your marketing efforts work together. 
We're the key to better data
A cross-channel solution like ours guarantees better data. For example, rather than having multiple channels take credit for a sale (especially if a shopper opens an email, sees a Facebook ad, and clicks on a display ad before making the decision to purchase), you ensure the right channels get the proper credit. Our platform lets you choose how you want attributions to work, too. 
We'll save you time and money
Long story short? Using an all-in-one solution means you'll waste less time and money navigating between tabs with different tools. Instead, you can dedicate your attention to what matters: Your big-picture strategy, how to nurture relationships with customers, and what eye-catching headline will help your brand go viral. 
What Makes Us Different? 
Though there are other marketing platforms that promise powerful results, they can get pricey,  especially for growing brands.
Our solutions are built for growing D2C brands and are aimed at leveling the playing field, whether your monthly budget is $100 or $150,000. Given that we're an all-in-one platform covering an array of marketing needs, we're easily the best and most affordable way to get started with omnichannel marketing — the only strategy that makes sense for targeting modern shoppers. 
Weigh your options
Let the comparison of features (and pricing) speak for itself by checking out how we compare with other MarTech solutions: 
How to Get Started With AdRoll
Ready to harness the power of our platform? Learn more about how our services can turbocharge your brand and marketing efforts here.
Last updated on April 25th, 2022.