The Ultimate Guide to Customer Loyalty
Topics Covered:
Do you have a favorite brand that you love returning to? You know, a store you religiously visit every month or so to see if they've released new products or launched a sale. Maybe you're an avid participant in their loyalty program, eagerly amassing points to unlock new deals and freebies.
That's customer loyalty in action — and we're taking a deep dive into everything you need to know about this key to Shopify business success. 
Ready to transform everyday shoppers into fierce brand champions? Let's get started.
What Is Customer Loyalty? 
Customer loyalty is what it sounds like. Consider it the emotional attachment a shopper forms with a brand or product, driven by positive experiences they've had over time. 
It helps that customer loyalty can do wonders for your bottom line:
It costs five times less to retain a current customer than to acquire a new one. 

Compared to new shoppers, current customers are 50% more likely to purchase new products.

Return customers spend more — 31% more on average — than new ones. 
What Does Customer Loyalty Entail?
Customer loyalty doesn't just magically happen, even if you offer fantastic products at unbeatable prices. Instead, it takes time, effort, and money to help shoppers build a strong brand connection. 
Here are a few high-level ways to deliver a positive experience that will nurture customer loyalty: 
Get your products right. Even if you do everything right, shoppers won't return for more if your products don't meet their expectations or satisfy their needs. 

Be generous. Whether it's by having a friendly returns and exchanges policy, offering freebies and discounts with every purchase, or developing a robust library of valuable free content, it pays to be generous. 

Show your gratitude. Are you including a "thank you" note in every package? Simple acts of gratitude can help shoppers feel like they matter. Show your appreciation by featuring user-generated content (UGC) in your social media and ad campaigns or by launching an amazing rewards program. 

Providing fantastic customer service. Turn a shopper's frown upside down with accessible and genuinely useful help via a robust FAQ page, a customer support hotline, or live chat. Here's more on how to wow with customer service. 
How to Launch a Loyalty Program
If you care about your customers and you want them to know that, we're here to equip you with everything you need to implement a loyalty program — which is the easiest way to boost customer loyalty. Pair these pro tips with this handy program launch checklist, and your program will be up and running in no time. 
Decide what your loyalty program looks like
Peek inside your wallet: How many rewards cards do you have in there? How many different loyalty program models do you see?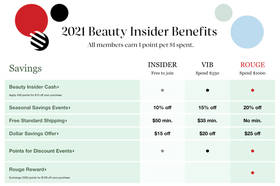 Take Sephora's loyalty program, encompassing three tiers, Insider, VIB, and Rouge. Then there's Starbucks, which lets you earn a star for every $1 you spend, with rewards unlocked at 25, 50, 150, 200, and 400 stars. Meanwhile, Ikea enters you for a chance to win a $100 gift card every time you scan your loyalty card in their store.
No matter what brand you operate, the two most common loyalty program models are points based (earn points for every purchase, which you can then redeem for rewards) and tier based (rewards that get better as you move up the loyalty ladder). 
Whichever model you opt for, remember your rewards have to be sufficiently compelling. As we said earlier, be generous. 
Choose a loyalty program partner
There's good news: You don't have to build an entire loyalty program from scratch. While Shopify integrates with various customer loyalty platforms, one of our favorites is Yotpo. Not only does Yotpo (a certified Shopify Plus partner) help you quickly launch a rewards program, but it also allows you to customize a full-scale referral program.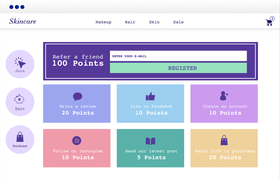 If you run a Shopify Plus store, there are several certified app partners that provide loyalty and rewards services — they integrate seamlessly into your store and offer top-notch support. Check them out here. 
Promote your loyalty program
Don't forget to promote your loyalty program to your existing customers. For instance, you can encourage them to sign up while they're checking out, then send them a post-purchase email with a message along the lines of "earn points for your recent purchase!" You can take advantage of retargeting ads and a solid remarketing strategy, too — here's a quick guide. 
The key to successfully marketing your loyalty program is pairing awareness with FOMO, so customers feel they're missing out if they don't sign up. 
You're All Set: Start Increasing Customer Loyalty Now
Ka-ching! That's the sound of points and rewards hitting customers' accounts. With these tips, you'll boost customer loyalty in no time — as long as they know it exists. 
With the AdRoll integration for Shopify and Shopify Plus, ads and emails that nurture customer loyalty in the ways we've described above are just one click away. 
Last updated on January 6th, 2022.