The Dos and Don'ts of a Great Loyalty Rewards Program
Topics Covered:
Business is booming, and your customers are more engaged with your brand than ever before. So, what's stopping them from joining your loyalty program? Well, the days of stamp cards and generic discounts are far behind us. Nowadays, customers want exciting experiences and benefits that matter to them. After all, loyalty programs are measured by their ability to influence and attract a company's best customers — and 79% of shoppers say rewards initiatives make them more likely to continue shopping with a brand. 
How can a brand design a successful loyalty program? From personalization to keeping customers in the know, here's eight loyalty program best practices:
1. Do Keep It Simple
The mantra "keep it simple" can be applied to most things in life, and loyalty programs are no exception. When it comes to starting your own, make the terms and conditions easy to understand. The more straightforward your loyalty program is, the easier it will be for both customers and employees to follow along. 
Before joining your program, customers expect to know what they're getting involved in. Be transparent about aspects like earning rewards (i.e., two points per dollar spent, 100 points for $10 off), ways to redeem rewards, and expired points.
2. Don't Be Demanding
Keep your sign-up process quick. Though it's important to collect as much customer information as possible, doing so in the beginning may overwhelm shoppers and lead them to abandon your loyalty program. 
Configure your initial sign-up settings to include a customer's name, email address, and phone number. You can prompt customers to fill out more personal information, such as birthdays and product preferences through email marketing later on. 
Starbucks, for instance, offers a free birthday drink after joining the rewards program. Upon signing up, customers receive an email outlining earning and redemption rules and different program tiers. By keeping it simple and offering program clarity, you'll empower customers to see the value in your rewards program from the start. 
3. Do Personalize Rewards
Recognizing shopping habits can help tailor your brand's loyalty experience, keeping shoppers engaged with relevant offers and rewards. You wouldn't offer free shipping to a customer who only shops in-store or a sign-up discount to a two-year loyalty member. 
Targeting and segmenting customers based on demographics, sales history, and milestones helps foster brand loyalty at each point in the customer lifecycle. 
4. Don't Make Rewards Unattainable 
If your program goals are unattainable, your loyalty program won't work. Customers don't want to wait a whole year to receive one reward. Approximately 53% of loyalty program members in the U.S. abandoned a program because it took too long to meet the reward requirements. 
For loyalty programs using a point per dollar system, consider creating offers and promotions to boost customer engagement as they rack up points. This can be as simple as a buy one, get one special on the weekend, or bonus points on specific products. These types of rewards will boost excitement and create buzz about your program.
Keep in mind that tailoring rewards to customers and making redemption goals easier can grow your revenue quickly and improve retention rates by 60% (or more!). 
5. Do Recognize Your VIPs
Shoppers want to be recognized for their commitment to your brand. In fact, 57% of customers say they're more likely to participate in a loyalty program that offers exclusive rewards and VIP status. 
With your own version of a VIP program, you can identify high-value customers and convert them to strong brand advocates. As customers grow their status, they can unlock exclusive rewards through specific spending and engagement actions. For example, you could offer a unique discount code exclusive to platinum tier members or special access to new products for loyalty members only. 
6. Don't Generalize Customers
No two customers are exactly alike, and they shouldn't be rewarded the same way. Offering the right rewards based on where customers are in their journey can create longevity and turn one-time shoppers into long-term customers. If you don't know what your customers want, ask them! Surveys are great for gaining important feedback that can help identify their needs and gauge overall satisfaction. Make use of your customer data to excite and delight your loyal customers.
7. Do Keep Your Brand Top of Mind
Keep your brand top of mind by sending reminder emails and notifications about relevant topics, such as new promotions and their rewards progress. Make it a point to excite customers about new promotions and update their milestone progress. Trigger automation to notify customers about how close they are to moving up a tier, birthday deals, unlocking new rewards, and upcoming promotions.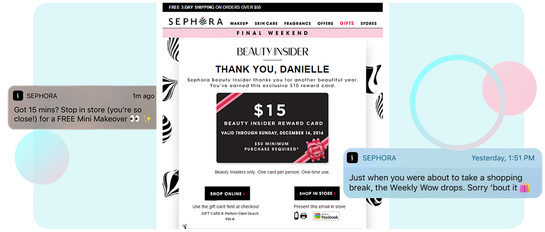 8. Do Think Outside the Box
Marketing is not a one-size-fits-all solution, which is why there are many methods to maximize a campaign's return on investment. Consider diversifying your marketing channels with SMS and push notifications. 
Also, remember that what's old always becomes new again. Today's customers respond well to traditional printed marketing materials, which are brilliant for brick-and-mortar stores (think stickers, flyers, and cut-outs). 
Understanding how your customers connect to your brand is an integral part of successful marketing. Are they shopping online? In-store? Through social media or your mobile app? This information will help you make the right decisions when it comes to communicating your loyalty rewards program. 
From Casual Shoppers to Loyal Fans
Whether you're exploring the potential benefits of launching a loyalty program or are looking to improve your current rewards, know that customers appreciate and engage best when a rewards program is true to its name. They want rewards that are easy to use, clear to follow, attainable, and personal to their shopping needs. By focusing on what customers want and understanding what drives them to purchase, you can build a loyalty program that will exceed expectations.
Ready to transform casual shoppers into loyal fans? Take your customer experience from good to great with a good loyalty and marketing solution, such as Kangaroo, today. Then, keep engaging with them onsite and offsite with AdRoll's ecommerce marketing platform. 
Last updated on December 9th, 2022.