The 2022 Fashion Ecommerce Trends Report
Topics Covered:
For most of us who found ourselves suddenly working from home nearly two years ago, 2020 marked the beginning of a dramatic transformation of our daily wardrobes. We replaced slacks with sweatpants, banished uncomfortable shoes, and watched as our accessories gathered dust. The unforeseen, 180-degree upheaval of consumers' needs impacted the fashion ecommerce industry heavily, with many brands pivoting to face masks and comfort-based apparel just to stay afloat. 
Fast forward to 2022: With the end of the pandemic nowhere in sight, will we continue opting for pajamas and athleisure, or will we see massive shopping sprees related to bygone fashion trends: shirts, blazers, and gowns? Will shoppers sprint to physical stores and try on new clothes, rely on curbside pickup even more or continue to shop online from the comfort of their own homes? 
Lucky for you, we've got the answers: Here is the ultimate guide to 2022 fashion ecommerce trends. Use this report to prepare your inventory, operations, and marketing, so you can exceed customer expectations and grow your brand in the months ahead. 
In this report:
Mobile Shopping = Yes, Please!
Sustainability Makes the World Go Round
Email Marketing Is Here to Stay
The Ultimate Timesaver? Personalized Shopping
The 2020-2021 Throwback
Most retailers faced an unprecedented number of challenges in 2020 and 2021 marked by shifting consumer behaviors, logistical hurdles, and shuttered storefronts. Brands were forced to throw out their plans and quickly rethink their marketing, fulfillment, distribution, and sales strategies. 
With physical stores either closed or reopened but viewed as less safe, ecommerce exploded in popularity, making it even more difficult for brands to grab attention. To stand out from the crowd, 78% of direct-to-consumer (D2C) brands increased their marketing budget in May 2020. Marketers had to find new ways to attract and connect with customers, whether by hosting community events on Zoom or creating TikTok challenges. 
The fashion industry — which encompasses everything from footwear to jewelry — was not spared. During the first wave of COVID-19 shutdowns in 2020, consumers immediately tightened their purse strings by eliminating unnecessary purchases, which included new clothes and accessories. However, although a McKinsey study found that over 60 percent of consumers reduced their fashion spend, ecommerce fashion brands who used the right mix of digital channels and targeting scored big. In just eight months, ecommerce's share of fashion sales nearly doubled from 16 to 29% of total global revenue.
The trends continued in 2021: Consumer habits cemented during the pandemic began to accelerate, and new social ecommerce channels emerged — we saw both Pinterest and TikTok partner with Shopify to make in-app shopping easier and more relevant. Fashion was just one of the many industries that benefited from these pivots from visual-based platforms. 
2022 Fashion Ecommerce Trends
Will 2022 continue to reward the fashion industry? Will online shopping reign supreme? Will consumers stick to what they consider safe and familiar, or will they be keen to discover new brands? Here's what we expect to be in store: 
Mobile Shopping = Yes, Please!
Since we began staying home in 2020, there has been a 20% increase in the time people spend on mobile apps. That's exciting news for fashion brands with mobile shopping apps — studies show that the amount of time a user spends in a mobile shopping app correlates strongly with total retail sales (both online and in-person). In other words, not only are people using their mobile devices to shop, but they're also engaging more with mobile experiences in a way that supports their buying journey.  
Key takeaways:
Make sure your website is optimized for mobile devices. 

If you don't have a mobile app, consider developing one.

Enhance your mobile app experience by building loyalty programs, in-store pickup codes, and package trackers — anything to make your app a useful, all-in-one shopping powerhouse. 
Sweatpants Forever?
If you're one of the many Americans working from home, you've probably been living in sweatpants for over two years now. An analysis of more than 16,000 retailers found that loungewear was, unsurprisingly, the most popular "lockdown clothing" vertical — this category saw consumer demand increase by 433% compared to the year prior.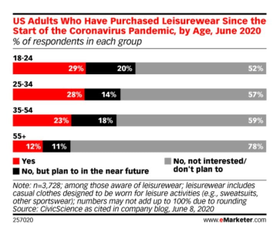 This major shift to loungewear will have lingering implications not just in 2020 and 2021 but for years to come — in fact, the loungewear and sleepwear market is poised to grow by $19.5 billion between 2020 to 2024. (This is partially driven by an explosion of designer options.)
Though shoppers probably won't wear loungewear forever, comfort and versatility will likely remain persistent fashion ecommerce trends and important consideration factors for their future purchases, especially as companies contemplate hybrid offices and the lines between work and home continue to blur. 
Key takeaways: 
If your fashion ecommerce brand doesn't sell loungewear, pajamas, athleisure, or leisurewear, don't worry — soft tees, flowy dresses, or stretchy jeans will do the trick. Make sure you prominently feature "casual and comfy" attributes in product pages. 

In your marketing materials, acknowledge that consumers are prioritizing comfort. If possible, use soft and cozy imagery to support the copy. 
Everyone Is Beautiful
Beauty is in the eye of the beholder. And even though fashion brands have historically influenced the way Americans — particularly women — perceive beauty, this has changed in recent years. Gone are the days where fashion ads and runways only feature lanky, tall, white women. Instead, brands have started to embrace authentic, diverse, non-Photoshopped bodies that accurately reflect what the country looks like. (Did you know that 68% of American women are a size 14 or above?) This has coincided with the plus-size fashion market's meteoric rise, worth around $31.9 billion in 2020. 
Key takeaways:
If your product line is limited to a specific type of body, it's time to make it more size-inclusive. 

Diversity in your marketing materials is no longer an option but a necessity (and good business!). About 64% of consumers will take action after seeing an ad they consider to be diverse or inclusive — this includes skin color, size, and disability. 
Sustainability Makes the World Go Round
Climate change has been a hot topic for quite some time now, but especially so in the last few years when we saw record-breaking weather events. It became clear that the textiles industry, which has a negative carbon impact larger than that of the airline and maritime industries combined, must change its practices to reduce its environmental impacts.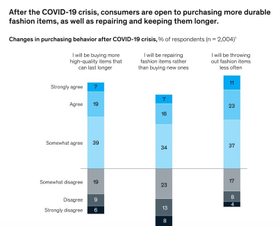 In 2022, we expect an environmental awakening for both the fashion industry and individual consumers. A survey conducted by McKinsey found that between 63 to 67 percent of consumers consider a brand's stance on sustainability and use of sustainable materials as key factors in their purchasing decisions. Among younger shoppers, interest in thrifted clothing is also skyrocketing, with approximately 50 percent of Gen Zers and millennials actively seeking out secondhand items to purchase rather than buying new. 
Key takeaways:
Choose sustainable materials whenever possible. If your products are made from recycled textiles, or if your production methods are innovative in reducing waste, feature this information loudly and proudly. Even better, make sustainability a cornerstone of your brand identity. 

You can't market a shabby product — not in the age of Yelp and Google My Business. Your products must be durable and robust. You can even create content or offer services related to product care and repair if and when items get damaged or worn out. 

Think of creative campaigns or even business models that can help eliminate waste. For example, AdRoll customer For Days pioneered a T-shirt subscription model where customers can pay for a number of new shirts a month. Once the shirts are worn out, customers can exchange them for new ones, and the old shirts are then upcycled into a new product. 
Make a Statement
The late Elizabeth Taylor once said, "Jewelry has the power to be the one little thing that makes you feel unique." This quote is more relevant than ever in the Zoom era, where a super-easy way to look and feel put together is to slap on a piece of statement jewelry. Since the pandemic, searches for jewelry have increased by 28%, while searches for statement necklaces, in particular, spiked by 70%. (Going bold and bright distracts from the unbrushed hair and messy living room backgrounds, amirite?)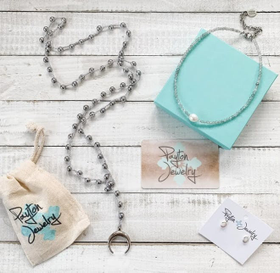 In 2022, we'll see statement jewelry continue to be one of the most popular fashion ecommerce trends, whether it's oversized drop earrings, chokers, bright pendants, or even jeweled headbands. And as we begin meeting up with our friends and family again post-pandemic, these accessories will remain relevant finishing touches for any outfit. After all, looking good means feeling good. 
Key takeaways: 
If your ecommerce fashion brand includes a statement jewelry collection, feature them prominently on your homepage and marketing materials. 

Create content on how to jazz up different outfits with accessories, complete with a lookbook of images. 
Email Marketing Is Here to Stay
Has your email inbox been filling up with more promotional newsletters than ever before? That's because email marketing is now one of the most effective ways to generate revenue — for every $1 spent, the return is close to $42. 
But don't start firing off emails just yet. Sure, you've got a great tool to connect with customers — but remember: every brand realizes this, which means the challenge to grab attention is at an all-time high. The average office worker receives an astounding 100 emails a day, and unsurprisingly, they're devoting less time to reading them. Emails must stand out to even stand a chance of being opened. 
Key takeaways:
To ensure your emails have the highest chance of being read, consider personalizing subject lines (they generate a 50% higher open rate). But make note: Personalization isn't just about adding your customer's name to a subject line. Take it a step further and target customers based on their past purchases, site visits, or specific items they've shown an interest in. If this sounds stressful to manage, don't worry — this can all be easily automated. 

If you're using email marketing to reduce abandoned carts, note that sending just one follow-up email is not enough. Studies show that sending three emails, compared to only one, will result in 69% more orders, as customers appreciate the extra reminder. 
Hello, Social Shopping!
Facebook, Instagram, and Pinterest are no longer channels that you can halfheartedly post to occasionally. Pandemic-driven fashion ecommerce trends have accelerated the growth of social shopping, and platforms have responded accordingly by expanding their shopping and checkout capabilities. In fact, experts forecast that U.S. social commerce sales will rise by 34.8% to $36.9 billion this year, representing over 4% of all ecommerce sales.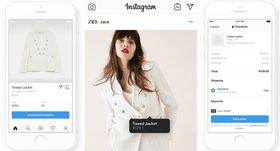 Key takeaways:
It's time to develop a comprehensive social media strategy. 

Integrate your ecommerce store with your social media pages, so your followers can buy directly from your pages if they see something they like. 

Don't forget: Your social media content shouldn't just be about selling products. Use it to share your mission or purpose as well as entertain, educate, and build a community around your brand attributes — all of which will ultimately contribute to driving brand awareness. 
The Ultimate Timesaver? Personalized Shopping
If you've ever shopped from an ecommerce retailer with an extensive product catalog, you're likely familiar with the annoyance of scrolling through products one by one. That's where personalization comes to the rescue. 
Personalization programs are proven marketing tools that encourage higher conversion rates and greater customer satisfaction. Who doesn't want a more engaging and relevant shopping experience?
Key takeaways: 
Use personalization to display relevant product recommendations based on what shoppers have already clicked on or have purchased previously. 

Add a pop-up questionnaire to your homepage that asks shoppers about their body type or favorite styles, so you can offer personalized guides with product recommendations that reflect the latest fashion ecommerce trends. 

Personalize product pages based on location — promote coats for a region that's snowing versus swimwear for a warm and sunny state. 
Pay Attention to Omnichannel Marketing
Beyond adding more social shopping channels and personalization programs into your marketing strategy, there's one more major ecommerce trend to pay close attention to: omnichannel marketing. 
Omnichannel marketing involves melding all of your offline and online touchpoints in a seamless ecosystem, so shoppers can interact with you wherever and whenever. O.N.S. Clothing, a menswear fashion brand, developed an omnichannel marketing spanning social media, in-store experiences, and content — check out how they did it here.
When it comes to omnichannel marketing, the key to success is a cross-channel marketing platform that can seamlessly integrate with your ecommerce store and analytics solutions. Cue AdRoll — not only can we transform your DIY marketing efforts into a well-oiled omnichannel marketing machine, but we're also an official Shopify Plus partner! 
New Year, New Styles
Beyond setting styles and trends, the fashion ecommerce industry will likely continue to lead the digital world in 2022, too. As consumers' clothing needs, desires, and expectations change, brands must future-proof their businesses for the significant changes ahead.
Feeling a little overwhelmed? Breathe. If you're looking for a partner to support your brand as you navigate these 2022 fashion ecommerce trends, we're here for you. AdRoll combines AI with data to help fashion ecommerce brands surprise and delight shoppers who are most likely to become loyal customers. Whether you need ads, emails, or advanced personalization targeting, we can help you reach your audience at every touchpoint of their journey. Learn more here.
Last updated on October 28th, 2022.