Everything You Need to Get Started With Dropshipping
Topics Covered:
Are you interested in starting an ecommerce business with little overhead costs, no geographical restrictions, and significantly less risk? Maybe you're looking to find products to sell in your Shopify store without spending hours on research? Or perhaps you're ready to ramp up your sales but are feeling a teensy bit nervous about spiking overhead costs, such as warehouse rent and employee salaries? If this sounds familiar, here's good news: Dropshipping is easier than ever.
In fact, a recent survey found that over 23% of all online sales are completed via the dropshipping model. Not only is it a popular alternative to the traditional business models for growing brands, but it's also an attractive option for those who prefer spending their daily efforts on challenges like marketing, branding, and sales. 
But be warned: Dropshipping is not a get-rich-quick scheme. For maximum success, you need to arm yourself with the best practices, platforms, and partners. Let us help you get started.
In this article:
What Is Dropshipping?
What Are the Benefits of Dropshipping?
How to Get Started With Dropshipping
Dropshipping Best Practices
Dropshipping Made Easy
What Is Dropshipping?
Dropshipping is a business model where an ecommerce entrepreneur (that's you!) sells products online in a way that requires no upfront inventory investment. Instead, when you make a sale, a third-party supplier — usually a manufacturer or wholesaler — will complete the order by shipping items directly to customers. In other words, you're handing over the reins of design, manufacturing, and order fulfillment (including warehousing, packaging, shipping, etc.) to a supplier, while focusing your time and efforts on marketing, sales, and customer service. 
Sounds great, doesn't it? That's why we believe it's the easiest way to start selling in your Shopify store. 
What Are the Benefits of Dropshipping?
If you're feeling excited about the potential of dropshipping, here are a few more benefits behind this business model:
Lower inventory costs. Dropshipping means you won't have to deal with the extra costs associated with storing or maintaining inventory in a warehouse — especially if you're selling larger or bulkier items that require special handling (e.g., refrigeration). That, in turn, translates to reductions in employee, rental, and security overhead costs associated with managing these storage and inventory logistics. 
An opportunity for testing. There's a degree of risk that traditional ecommerce requires — you're investing in a certain quantity of items that you expect to sell. Unfortunately, those elusive sales don't always happen. Because dropshipping means you don't have to own and pay for inventory at the get-go, it's an opportunity to test new products, or even product lines, to see if they're of interest to your target shoppers. This will provide you with better data that you can use to guide your product strategy moving forward. 
No overstocking. Dropshipping also means you can prevent overstocking, where you end up with unwanted inventory that sits unsold in your warehouse for months, whether that's due to market fluctuations, a shift in trends, or just an overestimation in demand. 
However, we won't sugarcoat it — given the increasing popularity of dropshipping, the ecommerce market has become significantly more competitive in recent years.  As with anything, there are some cons to dropshipping you should know about before you get started:
The profit margins are not always enormous. While there are stories of people who use dropshipping to supplement their income by tens of thousands of dollars a month, that level of success doesn't happen overnight.
Though you can begin dropshipping with minimal investment, the costs required to advertise and market your Shopify store and products can quickly add up. 
You don't have control over whether or not the product quality stays consistent over time. 
Delivery times, especially from overseas suppliers, can be a lot longer than what shoppers expect, thanks to the likes of Amazon's two-day shipping. Instead, you can expect dropshipped products to take two or more weeks to arrive. 
Most of the time, you won't be able to customize your products (or even product packaging) with logos or other details, which means brand development can be a challenge. 
Don't let these setbacks dampen your spirit, though! If you do your research, develop a creative marketing plan, and approach dropshipping with tenacity, we guarantee it'll be a worthwhile endeavor. 
How to Get Started With Dropshipping
Getting started with dropshipping is relatively simple, though there are some essential tips you'll want to keep in mind. 
Set up your Shopify store
You can't sell until you have a store! Shopify is the biggest ecommerce platform for a reason — with its robust App store, Themes marketplace, and Experts program, anyone can launch their store in mere minutes.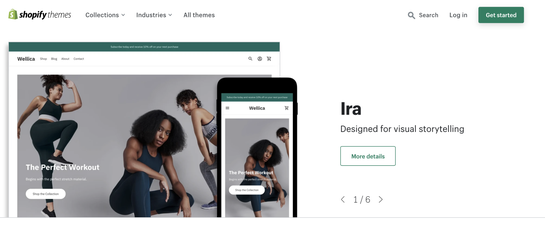 Pro tip: Depending on what your ecommerce dreams look like, there are several Shopify plans to choose from that are perfect for dropshipping brands — and most of them cost less than $100/month! 
Conduct product research
What's trending today may very well fizzle out tomorrow. To ensure adequate demand for your dropshipped products, you'll want to invest a significant amount of time in this research stage. Ask yourself:
What products are in high demand right now and why? How likely are these products to continue trending for the foreseeable future?
What items are my target market shopping for right now?
Which products would complement my existing product catalog?  
What are some narrow product niches with low competition?
Here are some tools we recommend for conducting product research:
Google Trends is useful for analyzing search trends and demand over time. 
Oberlo is a Shopify app that can handle product research, as well as manage the entire dropshipping process. Once integrated with your store, you can import unique suppliers' products directly to your site's product catalog. In addition, different subscription plans allow you to sell up to a particular number of products monthly — it's an excellent choice for those who want to experiment with dropshipping at a low cost. 
Spocket, also a Shopify app, lets you access the dropshipping catalog of thousands of suppliers primarily based in the U.S., EU, UK, and Australia.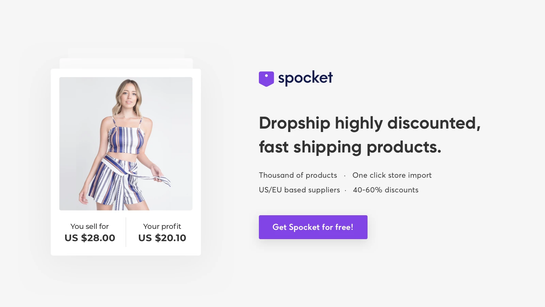 With your list of answers at hand, it's time to create a shortlist of product contenders. To see if these potential items are viable or not, consider these questions:
What is the current market price for these products?
Given your research, what do the margins look like? (If the margins are small, you'll need to make more sales to land at a profit.) 
What is the approximate cost for shipping each item individually (based on weight, size, and shape)?
Do the products require any hard-to-source materials or unpredictable supply chains?
Find a dropshipping supplier
The process of finding a dropshipping supplier is something akin to The Bachelor — in fact, it's hands-down the most critical step of launching your whole dropshipping process. Because of the important role that your dropshipping supplier plays, it's worth the time to vet all your options carefully. You want to find a dropshipping supplier that:
Offers high-quality products that are legally compliant. (You don't want to receive a letter out of the blue accusing you of infringing on a patent, for example.) 
Provides you with competitive prices.
Has quick response times. You want someone communicative and reliable, especially when it comes to relaying delays or product shortages.  
Ships products quickly. 
Packages products neatly. Even better, find a supplier that offers customized packaging with your logo on it.
Doesn't require a monthly engagement fee. (In fact, we recommend steering clear away from these suppliers!) 
Remember: Your dropshipping business is a relationship between you and your supplier, so find someone who you not only trust but can also see yourself enjoying working with. 
To find a dropshipping supplier, you can use the all-in-one Shopify apps mentioned above, or check out these other resources:
SaleHoo. $67/year gives you access to its directory of 8,000+ wholesale suppliers
AliDropship. A tool that connects you with AliExpress suppliers (primarily based in China)
Printful. A service that lets you design custom products (e.g., t-shirts), which they'll send directly to shoppers
Once you've narrowed down potential suppliers, take the time to:
Request for product samples 
Read their customer reviews
Check out their customers' stores
Ask any necessary questions to clarify their processes and responsibilities 
Develop your marketing plan
With your supplier handling the logistical side of things, it's time for you to dig into the fun stuff: marketing and strategy. Your responsibility in the sales pipeline is to attract, engage, and delight customers throughout the funnel by: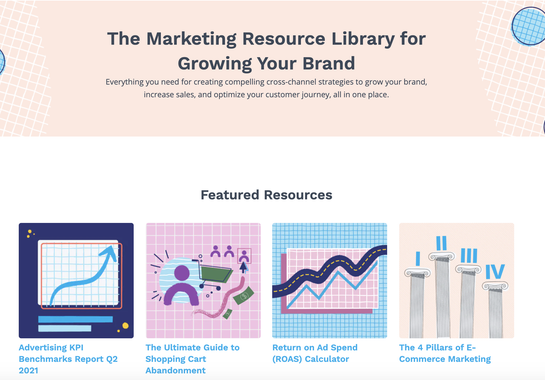 If this list sounds intimidating, don't worry — we developed resources on all of these topics. Head over to the AdRoll Marketing Resource Library to get a quick dash of wisdom on whatever topic interests you. 
Dropshipping Best Practices
As a beginner, there are a number of best practices to keep in mind:
While there are many benefits of dropshipping, the flip side is that you're selling the exact same product as a ton of other ecommerce stores (AKA your competitors). So, to rise above your noise, it's worth the effort to take better product images (or lifestyle shots that show your products in action) and write new product descriptions, rather than just posting those provided by your supplier. 
Just because you're dropshipping doesn't mean you can't build your brand! Content is a huge way to boost SEO and get your brand out there — we're talking blogs, Youtube videos, or even TikToks that introduce the team behind the brand. 
A FAQ page can go a long way in answering common customer questions, especially if you have long shipping and delivery times. 
A/B test all your marketing variables. You don't know which CTA, messaging, price, deal, ad platform, or image works best until you tinker with it. 
Don't limit yourself to one supplier — doing so puts your business at risk if, for instance, your supplier discontinues your most popular product or sells out earlier than expected.
The best entrepreneurs sell in niche industries they're genuinely passionate about. They'll participate in community conversations, connect with brand advocates, and let their expertise shine through in all their marketing. Choose the best product for you — not just because it's trending. 
Dropshipping Made Easy
Just like that, you're all set! With these tools at your disposal, you can quickly set up your Shopify store, start selling products, and enjoy a reasonably stress-free business model.
If you want some help with your marketing efforts, download the AdRoll app for Shopify for more conversions, higher return on investment (ROI), and better ads. 
Last updated on September 16th, 2022.