D2C Brand Spotlight: Blipblox
Topics Covered:
The hills are alive...with the sound of kids rocking on their fantastic toy synthesizers.🤘That's right — synthesizers aren't restricted to DJs or professional musicians. Kate and Troy Sheets, Co-Founders of Playtime Engineering, brought Blipblox into the world to introduce children (and even teens and adults) to the joys of producing electronic music. 
3, 2, 1… LAUNCH!
Blipblox is a one of a kind (and first of a kind) synthesizer for children. We're talking about a real musical tool, one that comes with a built-in speaker, an input for an external keyboard or sequencer, and a multi-color LED light show that can synchronize to the music.
It all started in 2017 when Troy — an engineer with a background in music production — began working on a concept for a synthesizer that's not only simple and fun to use but would serve as a learning device for kids. He and Kate started building a prototype and then debuted it at the NAMM (National Association of Music Merchants) show before launching an Indiegogo crowdfunding campaign in June of 2018.
The hype (and hefty mailing list) that Kate and Troy walked away from the event with ensured an incredibly successful first run at crowdfunding. In fact, they did a little too well — Blipblox quickly sold out, and because of the lead times for parts, they had a short stint at the beginning of 2019 when they had zero products to deliver. 
Lesson learned, though — during their second crowdfunding campaign to cover back end production costs, they were extra cautious to ensure they could meet the demand this time around. Fast forward to now, they just made their second product announcement and are going into retail in a couple of months. 
Matching Their Customers' Rhythm
While it's a common trend for products to have their spurts of popularity that eventually fade, Kate and Troy have managed to keep Blipblox's momentum going since its introduction to the masses. 
"One of the things we really focus on is customer service," says Kate. "We try to be personal with our customers and not make anybody feel like they're going through loops. We have strong communication, but we balance that with not over-communicating — we're cognizant of how to interact with those who are eager to engage and those who aren't." 
However, in the six months following their first crowdfunding campaign, communication proved to be challenging. 
"There were people who had the product, and people who wanted it, but couldn't buy it yet. So, we tried to build up our Instagram and Facebook pages so that when we did have retail for sale again, we could hit it hard — and we did. We did extremely well when we were in-stock again because we kept customers engaged."
A Social Media Star
When asked about the marketing tactics used to make Blipblox stand out from the crowd, Troy credits social media as playing an integral role in its popularity. 
"One of the nice things about our product is that it fits so well with social media," he says. "We have such a social media-friendly product — we get a lot of videos from our customers of their cute kids playing with our products, and it's adorable. It's fun because no matter how old they are, kids understand what a DJ is — they'll start playing our products, put their hands in the air, bounce their heads, and get their imaginary crowds going. When our users tag us on social media, it's great because we get this fun feedback loop between our customers and us." 

And unlike many other brands, Blipblox's social media engagement is all organic. "We don't pay for the videos we receive or influencer mentions," says Kate. "We have yet to pay for influencers to represent our products, but if we do, we want to make sure that they're not just copying and pasting our press release. They need to have an actual interest in our products, which goes back to the importance of authenticity."
Keeping the Music Alive
COVID-19 brought on many changes — trade shows were canceled, and Kate and Troy couldn't attend the various events they had lined up, including a stint at Comic-Con. So, because it's impossible to showcase their products in person, they turned heavily to digital marketing, especially content creation. 
"The first thing we did when COVID-19 hit was create a whole new set of instructional videos to educate our potential customers," says Troy. "Then, we took parts of those videos and made them into online ads to see how they'd translate through analytics. We experimented with retargeting, email marketing, and Facebook and Instagram ads." 
Kate acknowledges that it's no easy feat for small companies with little money to navigate the digital marketing sphere right off the bat successfully. "We had to learn how to create our own content. We didn't have experience with video, voiceovers, or writing. But to run our business, a critical part of that is generating our own ads, posts, and graphics — we're too small and can't afford to pay someone else to do it. But, we've learned the software, invested in photography equipment, and, most importantly, know who our customers are and what they want." 
Luckily, the demand for toy synthesizers during the pandemic has been high. More kids are at home, and parents are looking for different entertainment options that don't involve iPads or computer screens. And since many music education institutions are closed, Blipblox turned out to be the perfect solution for households that are lacking a little music.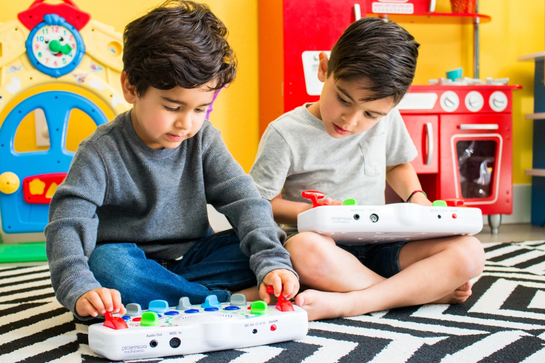 Advice for D2C Marketers
"We have thousands of things to say," laughs Kate. "But, we'll narrow it down to three."
Understand your product's positioning, and be willing to make adjustments. Let your data guide you — sometimes, what performs well is what you least expect. 
Swear by your authenticity. Don't overspend on flashy campaigns that aren't personal to your brand. Being authentic and a little kooky is better than being cookie-cutter and boring.
Brand consistency is critical. Test a lot, follow up, and try many different things, but always make sure you're on-brand — it helps build your brand equity in the long run. 
Last updated on September 16th, 2022.