All the Social Ecommerce Channels to Pay Attention to in 2022
Topics Covered:
You have optimized your Shopify store, created a content calendar, and experienced an epic creative brainstorming session with your team. You're all set for 2022, right? Hey, not so fast.
With omnichannel retail, shoppers are no longer limited to purchasing on websites. Instead, they're using social media for the entire marketing funnel — from discovery to consideration to purchase. In fact, one study found a jaw-dropping 60% of Gen Z shoppers spent the holiday season purchasing on social platforms.
That said, if you haven't jumped on the social ecommerce train, you're missing out. There's no need to panic, though: Here's what you need to know about today's social ecommerce channels — beyond Facebook and Instagram. 
TikTok
Haven't you heard? There's far more to TikTok than losing hours of your day buried in an endless stream of viral videos. It happens to be one of the hottest shopping destinations. 
Fun fact: The #TikTokMadeMeBuyIt hashtag has more than 7.9 billion views, with hundreds of thousands more added every day.
It makes sense: TikTok launched a partnership with Shopify in 2021. Those who have a TikTok for Business account can add a "Shopping" tab to their profile and upload their entire product catalog to create an in-app store. 
That's exciting news if you're already a TikTok connoisseur — TikTok users are almost twice as likely to purchase products through the platform compared to competing apps, according to TikTok.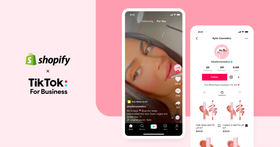 Here are some cool social ecommerce features to check out, especially if you're not ready to go all-out on TikTok Shopping:
You can add product links to organic TikTok videos, directing users to product pages on your Shopify store — think of them like Instagram's product stickers

Experiment with live shopping — here's a guide on livestream selling in case you've never gone live before

Try launching Collection Ads, Dynamic Showcase Ads, and Lead Generation ads — more on them here
Make sure to keep an eye out for more TikTok social ecommerce features, including a direct integration and full-service ecommerce solution, where the platform will manage your entire sales pipeline, from shipping and fulfillment to point of purchase. 
Until then, get started with TikTok for your Shopify store by reading this post.
Pinterest
If you've dismissed Pinterest as a site dedicated to crafters, DIYers, and future brides, you're missing out. Pinterest is a goldmine — not only for its discoverability but also for users' high purchase intent.
Thanks to Pinterest's new ecommerce features, its 459 million-plus users can pin ideas and inspiration to their various boards and purchase directly on the platform. Shopify brands can get started with Pinterest's selling capabilities easily:
Sync your product catalog directly to Pinterest, which will automatically update every day

Quickly make shoppable "Product Pins" from your product catalog

Add a "Shop" tab on your profile, so users can quickly see all your products at once

To get started, download the Pinterest app for Shopify and check out more of our Pinterest-Shopify pro tips in this guide.
Snapchat
Snapchat may have been on the scene since 2011, but trust us when we say it's an up-and-coming channel. Snapchat has more than 265 million daily active users right now, and the platform recently introduced a suite of ecommerce features: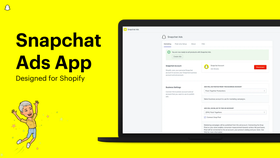 If you're excited about AR as an ecommerce tool, Snapchat is the social platform to keep tabs on. Learn more about Snapchat for your Shopify store with this quick post.
Win Big With Social Ecommerce 
And just like that, you have three new platforms to add to your 2022 marketing strategy. By diversifying your sales channels, you'll have a better chance of reaching your target audience — wherever they spend most of their time.
If you're ready to get started with omnichannel marketing, there's one tool you'll need: AdRoll. Our omnichannel solution unifies your marketing efforts so you can launch campaigns, find the best audiences, and measure your results all in one place.
Get started with the AdRoll app for Shopify merchants now.
Last updated on February 15th, 2022.