10 Facts About Livestream Selling (And How to Get Started With It!)
Topics Covered:
While we may no longer regularly tune in to QVC, livestream selling is more relevant than ever. If you scratched your head reading the previous sentence—whether you're saying "I have no idea what QVC stands for" or "I'm skeptical that people in 2021 are interested in QVC-style selling"—we're here to impart some wisdom on live marketing.
1. Livestreaming Isn't Just for Gamers Anymore
Livestream selling—where a host promotes products in a live video format—is a powerful marketing tool that helps brands build rapport with their target audience, attract new ones, and generate hype. Shoppers can
Interact with your brand in real-time.
Ask questions about your products.
Purchase directly.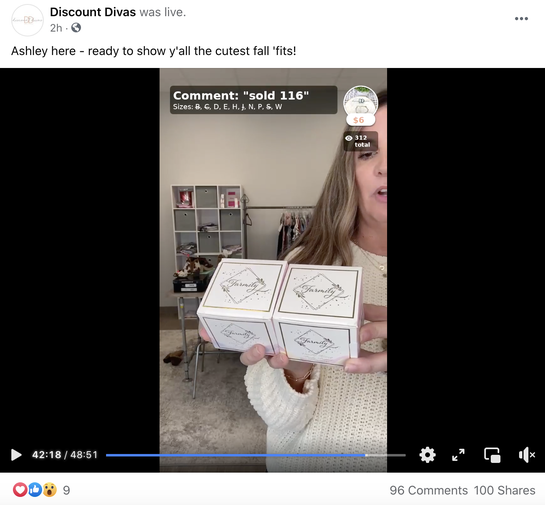 It's a fantastic way to reach younger shoppers who prefer consuming video content as well as those who value the experience of online shopping. Unsurprisingly, one survey has found that 35% of retail managers plan to leverage livestream selling this year.
2. There Isn't One Specific Livestream Selling Platform
We're seeing livestream selling everywhere, from Facebook to Instagram to Zoom—and TikTok will roll out a livestream shopping feature sometime in 2021.
Not sure which platform to use? Choose one where you already have a following and are doing a great job engaging with your customers.
3. It's Usually a Team Effort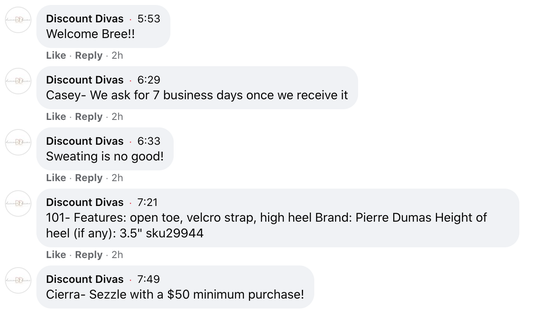 Today, most top livestream selling brands integrate on-camera content with the actual purchasing process. For example, while one team member hosts the event, another might monitor the comments section for viewers' requests to buy items and then add the relevant products to their carts. (Alternatively, apps such as CommentSold automate the shopping process—viewers simply need to comment "sold" on the feed to purchase products directly.)
4. Get Creative With Your Livestream Content
Livestream selling doesn't mean just holding up a product and describing its features. You can
Provide a sneak peek into a limited-edition item.
Offer viewers a discount or early access to items.
Answer questions that viewers submit in the comments section.
Have several team members try on the same piece of apparel to demonstrate how it fits on different bodies.
Use close-ups so viewers can see the material and details.
5. It's All About Having a Conversation
Ultimately, for livestream selling to work well, you'll want to connect with customers in these ways:
Introduce the people behind the company—it humanizes your brand.
Offer viewers a sense of exclusivity in terms of both information and products (which helps build brand trust!).
Provide viewers with a feeling of accomplishment post-event (e.g., they received the best deal or last available item).
Build a sense of community—encourage viewers to interact with one another in the comments section.
Use FOMO to encourage viewers to come back for more.
6. Schedule Your Livestreams Ahead of Time
You don't want to put in all the effort of planning a livestream event only to have nobody show up. Drum up excitement by spreading the date and time well ahead of the event across your marketing channels: social media, email, and even your e-commerce site. Don't forget to mention the time zone!
7. The First Few Minutes Are Key 
While it can be tempting to relax as viewers trickle in (or jump around trying to check that all your filming equipment is working correctly), the first few minutes are key when it comes to capturing viewers' attention.
Put on your game face as soon as you hit the "Live" button by introducing yourself, giving a shoutout to those early viewers, and describing what you have in store.
8. Design a Fantastic Set
Even though you can begin livestream selling virtually anywhere—your bedroom, office, or even your garage—take the time to arrange your set carefully. Choose a spot and backdrop that makes sense for your brand, and make sure that
Your background isn't too cluttered, messy, or distracting.
There's good lighting.
It's not too noisy (we're talking barking dogs, sirens, and crying children).
9. Choose Your Products Wisely 
When selecting the products to feature on your livestream, there are a few pro tips to keep in mind:
Choose products that will be visually appealing on camera.
Select ones that are not too expensive.
Hone in on any niche products or bestsellers.
Find items the host is passionate about (trust us, it'll show).
10. Don't Be Afraid to Have a Little Fun
Livestream selling is a fun way to make your brand more approachable. The host you choose must be relatable to your target audience, energetic, and extremely friendly—in fact, think of them as the ultimate brand ambassador. And, of course, they need to be deeply familiar with your brand and products.
Want more fantastic tips on capturing your audience's attention and becoming an all-star brand? Check out the AdRoll Marketing Resource Library today.
Last updated on September 16th, 2022.