9 Tips for Integrating Your Social Media Marketing Efforts and Shopify
Topics Covered:
Ready to take your social media marketing efforts to new heights? Instead of gathering your team to brainstorm a catchy new headline for your carousel ads or participating in TikTok's latest dance challenge, it might be time to consider a more basic yet equally important task: integrating your social media channels.
We've got all the deets on what social media integration is, why it's a must-do for Shopify stores seeking growth, and how to achieve success. Let's get started!
What Does It Mean to Integrate Your Social Media Marketing Efforts?
Social media integration is the process of using your social media channels to extend the scope of your website, branding, and marketing efforts. Often, it involves connecting your individual Facebook, Instagram, Pinterest, Twitter, LinkedIn, TikTok, or other social channels to a third-party marketing platform to ensure aligned creative, targeting, and analytics.
Unlocking a more holistic comparison of how your campaigns are performing across the board, social media integration is one of the biggest keys to developing a successful digital marketing strategy. Here are some other perks of social media integration:
Facilitate more accurate data collection and analytics — no more disjointed reporting!

Boost brand awareness and engagement (after all, you're offering your audience more opportunities to engage and interact with your band).

Simplify KPI tracking and save time.
TL;DR: Brands that don't integrate their social media efforts (and instead operate with a more ad hoc approach) risk losing to their competitors when it comes to using social channels to reach new customers and drive conversions. Taking the time and effort to integrate your social media marketing doesn't simply save time in the long run. It's also the path to a truly omnichannel marketing strategy that helps your brand reach the right shoppers at the right time and place.
Tip 1: Revolve Your Social Media Efforts Around Your Website
Like the foundation of a house, a website is the most crucial element of any integrated social media marketing strategy, with each channel striving to drive traffic and actions on said site. Ultimately, your goal should be to have your Shopify site and social media efforts working together seamlessly.
The first step? Ensuring your social media channels clearly link to your Shopify store and vice versa. If you haven't already, add visible social media buttons throughout your site, especially your footer. (And don't forget to design the buttons so that they open the links as new windows or tabs rather than redirect them in the current tab — you don't want users to leave your site altogether.)
Remember: Don't link to social media accounts you don't regularly post to; a deserted social media page can be a poor reflection of your brand and even hurt your reputation — nobody wants that!
Tip 2: Showcase Social Proof on Your Website
Looking to jazz up your Shopify store to give it more life? Beyond just adding buttons to your site, consider importing a social media feed or two — especially if you've developed an A+ social media strategy that involves reposting user-generated, lifestyle, or testimonial-related content. (Psst: A solution like Yotpo can help you massively with generating more UGC!) 
After all, social proof via UGC and reviews is a massive driver of trust, which goes a long way in convincing shoppers others have found success with your products. Lifestyle shots can also help shoppers envision how they may incorporate potential new goodies into their lives.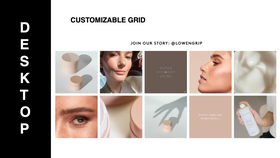 Beyond that, adding social media feeds to your Shopify store is also a fantastic way to introduce shoppers and existing customers to your social media channels, and hopefully, inspire a follow along the way.
Tip 3: Add Social Sharing Links to Your Content and Products
If you've invested in content creation (such as blogs, a podcast, infographics, or videos on your website), add social share buttons to each asset. This allows users to share or recommend content they find interesting or valuable to their social networks, which, in the long run, can help you build brand awareness.
Similarly, you can add social sharing links to product pages and wishlists or even try designing a campaign that encourages users to share the latter with their friends and family a few weeks before their birthday or the holidays as a little wink wink, nudge nudge, if you will.
Our biggest piece of advice as you experiment with different share buttons? Keep it simple. There's no reason to add a link to every single social media platform — focus instead on the platforms your target audience spends most of their time, double-checking that it makes sense for the format of the content you're encouraging people to share. (It wouldn't make sense to, say, share a blog post to Instagram.)
Tip 4: Offer a Social Login Option
We've all amassed dozens, if not hundreds, of logins for various sites over the years — and if you're starting to feel frazzled by the sheer number of passwords associated with your name, you're not alone. That's why adding a social login option, where you log in using your Google or Facebook credentials, is one of the best ways for brands to incorporate shoppers' social media accounts into their website experience. Why create an entirely new account, pick a password, and confirm it via email when you can just log in with one or two clicks?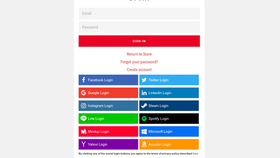 Remember: Shoppers appreciate brands that make their lives easier — by removing friction points throughout the customer journey, you'll unlock higher conversion rates.
Tip 5: Create a Comprehensive and Cross-Channel Content Calendar
Integrating your social media efforts doesn't mean you have to post the same content across all platforms — in fact, cross-posting is a colossal no-no considering the best practices unique to each channel. (Unless you're looking to freak out your Facebook followers, it's probably best to keep those quirky TikTok videos on TikTok.) Cross-posting might save you time and make your everyday social media management more convenient, but posts plastered ad nauseam across all your social channels don't just scream "insincere" — they can even hurt your brand's credibility.
Not only is it essential to spend the effort creating tailored content catering to specific platforms but it's also important to have a clear picture of your cross-channel content plan and consider, say, how a Facebook post might interact with a Twitter post. Does the narrative continue between platforms? How do your campaigns translate across platforms? How are you building your relationship with potential customers engaging with you via multiple channels?
We recommend creating a cohesive content calendar that outlines what you're sharing on each platform so you have a big-picture view of your cross-channel social media strategy.
Tip 6: Cross-Promote Your Social Media Channels
While cross-posting might not be the most effective way to maintain an active and relevant presence across your social media channels, cross-promotion is a fantastic tactic to encourage your followers to check out what else you offer. After all, most digital users are active on more than one social network.
So, make sure to include links to your other social profiles: YouTube, for example, lets you add links to other social networks on your channel page. Then, consider creating teaser content that invites followers to visit your other social accounts — you might share a 6-second snippet of a video on Twitter with the caption, "Watch the rest on YouTube!" And if you're hosting a special event for one specific social network (e.g., an Instagram Stories Q&A or a TikTok Live session), remember to promote it on your other channels as well.
Tip 7: Nail Down Your UTM Strategy
If you're going to link to particular pages of your Shopify store on different social channels, make sure to create customized links with UTM parameters so you can pinpoint where clicks are coming from. Identifying which social networks have the most significant impact on clicks and engagement for your brand is an extremely important to-do — how else would you know where to allocate your budget?
For more tips and tricks on how to nail your UTM strategy, check out this guide.
Tip 8: Try an Integrated Social Channel Customer Service App
One way to ensure you're offering the best customer experience? Leveling up your customer service vis-a-vis social channels!
By now, you've probably realized social media platforms aren't just a place to connect with shoppers and promote products. They're also an opportunity to deliver customer service — 54% of shoppers have a more favorable view of businesses that respond to both customer service requests and complaints on social media.
It's clear: simply replying to DMs or comments when you spot them on each platform is not just an easy way to feel overwhelmed but also a one-way ticket to a lost customer — ultimately, it's vital to design a comprehensive customer service process that is integrated between channels.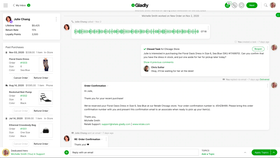 So, consider investing in an integrated multi-channel customer service tool. Try to choose one that lets you
Sift through the clutter to prioritize comments and DMs that require action.

Easily see customer history and interactions across platforms.

Prioritize request tickets.
Here are some Shopify customer service apps that integrate with different social media platforms to check out: Gorgias, Chatdesk, Gladly, Zendesk.
Tip 9: Use an All-In-One Marketing Platform
When it comes to integrating your social media efforts, the key is to find the right tools and partners for help. One favorite of Shopify merchants? AdRoll.
AdRoll is an all-in-one platform, meaning it's the ultimate home base for integrating all your social media channels and unifying your other marketing efforts. Without leaving the AdRoll platform, you can
Consolidate reporting — This means you simply have to master one platform instead of toggling between a dozen different complicated and unique dashboards. Talk about increasing your efficiency and reducing your mental load!

More precise data — Rather than have each disparate social media channel take credit for a conversion, integrating them on AdRoll's platform means you can unlock more accurate and reliable data to base your next steps on.

Optimize campaigns — AdRoll lets you view, edit, and analyze your campaigns. We'll even offer insights into what's working and what's not, so you immediately know how to best adjust your budget to boost your ROI.

Connect your ads across web and social — Thanks to modern shoppers' complicated customer journeys, it's never been more important to see how each of your marketing touchpoints interacts with one another and contributes to conversions. AdRoll helps you understand these relationships and properly attribute credit.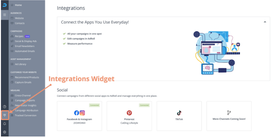 The best part? There's no need to hire a developer to tinker with your Shopify store's backend code. If you sign up for AdRoll's Marketing and Ads Plus package, you can connect all your social media platforms in just a few clicks — we'll do the rest of the work involving importing your campaigns and historical data.
3, 2, 1, Integrate!
Ready to integrate your social media marketing efforts with each other and the rest of your business? Get started with the AdRoll app for Shopify merchants, connect your social media channels, and start implementing these suggestions. If you want even more tips and tricks, check out our guides on Shopify + social, and more below!
Last updated on August 19th, 2022.