How to Create a UTM Strategy
Topics Covered:
If you're a marketer or entrepreneur with a creative side, you may have a tendency to name your files "untitledfinalFINAL_5". (Don't be shy, we know you're out there.) While this habit is seemingly innocuous — sure, your desktop is a frustrating virtual junkyard, and yes, it occasionally takes forever to find the correct file — it can also lead to major problems for your analytics dashboards and tracking codes. Think about it this way: When campaigns are haphazardly or confusingly named with no standardized formatting, uncovering trends and insights becomes impossible. So if your analytics dashboards are a bit of a mess and you have no clue which marketing channels and ad creatives work the best to drive return on investment (ROO), we have a solution: You need a robust UTM strategy — and we're here to help with this guide. 
Short on time? Check out this video on how to create an effective UTM strategy: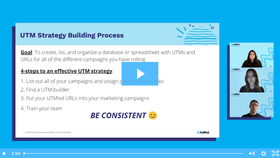 But First, What Are UTMs?
UTMs (also referred to as UTM codes, UTM parameters, or UTM tags) stand for "urchin traffic modules." On a practical level, they're customizable character strings that marketers can include in campaign URLs to help analytics tools understand how to categorize incoming traffic data. As a result, it's one of the most reliable ways to track your ecommerce site's traffic, conversions, and revenue. 
The best part? They work as a standalone tool, meaning you don't have to worry about changes to third-party cookies or new tracking regulations. They're also super easy to integrate into your analytics platforms, whether that's Google Analytics or AdRoll's Cross-Channel Performance Dashboard. 
For more on the ins and outs of UTMs (and some best practices to keep in mind), check out this post. 
How to Create a UTM Strategy
List all of your marketing campaigns
The goal of any UTM strategy is simple: Create, list, and organize a database or spreadsheet with UTMs and URLs for all of the different campaigns in your marketing arsenal that drive traffic to your ecommerce store. 
Getting started with your UTM strategy involves — you guessed it! — listing all of your marketing campaigns that need to be tracked: email, social, display, affiliate, and yes, even offline activations. Here's a template to keep you organized as you work through these steps.
For each campaign, you're going to fill out the tags:
Source: e.g., Facebook, Google, Pinterest
Medium: e.g., organic social, paid social, email, cost-per-click (CPC)
Term: e.g., apparel, accessories, shoes (these are paid keywords or key phrases)
Content: e.g., sally testimonial, corgi meme, logo link (descriptors of different ads within a campaign)

Campaign Name: e.g., 2021 Black Friday, corgi influencer, denim boots sale
Pro tip: The key to this process is balancing descriptiveness with simplicity. You'll want to understand a URL with just a quick glimpse but also minimize the chances of typos and other errors. 
Ultimately, you're going to combine these different parameters into one URL. (More on this later.) It'll look something like this:

For those eagle-eyed readers, you'll notice that not all URLs will incorporate all five tags — "term" and "content" are usually optional. If you don't have dozens of campaigns running simultaneously, you're probably fine omitting them. 
So, does this extra text in your URLs affect what shoppers experience? The short answer is no. Everything after the first question mark in the URL is essentially ignored by your browser — its sole purpose is to inform your analytics program that someone arrived to your site from a particular ad or platform. 
Find a UTM parameter builder
If looking at the URL above made you sweat a little, here's the good news: You don't have to manually plug in your parameters into URLs. 
The next step of your UTM strategy is choosing a UTM parameter builder. These are sites or tools that automatically attach UTMs to your links. Here are some to check out:
Unleash your URLs
Now that you've generated URLs for the campaigns you need to track, it's time to unleash them into the world. Paste your newly generated URLs with UTM parameters (or shortened versions of them, courtesy of link-shortener app Bitly) for each of your marketing campaigns. 
For example, if you've designed and printed a set of physical flyers, you'll include a custom URL to your site that'll look different from, say, a link to your site from an organic Facebook post. 
Train your team 
One of the fastest ways to destroy your UTM strategy is by handing over the reins to a team member who has no clue what your naming conventions are. Scaling is always tricky, and scaling your UTM strategy is no different. 
Ideally, you want consistent usage of UTM parameters across platforms, campaigns, and team members. And that's why the next step of your UTM strategy is to create documentation that outlines the exact guidelines. "Instagram" or "IG"? "Facebook" or "facebook"? (Yes, UTMs are case-sensitive.) Underscores, spaces, periods, hyphens, or dashes? Lay it all out. 
Monitor your analytics dashboards
The last part of creating your UTM strategy is ensuring you've plugged everything perfectly into your analytics dashboard.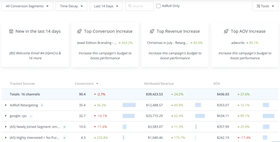 AdRoll's Cross-Channel Performance Dashboard is the go-to tool for growing brands that want to run better, more cohesive ads, emails, and cross-channel campaigns. With a robust UTM strategy, you'll be on your way to pinpointing exactly which ads and campaigns are pulling their weight. 
Unlike other analytics solutions, you can select an attribution model, which will determine who should be awarded credit for aiding conversions. With shoppers now experiencing dozens of touchpoints before clicking the checkout button, having a dashboard like this gives you more accurate data to work with. Case in point: Say goodbye to wasted time and marketing dollars, and hello to a well-oiled conversion machine.
Get UTM-ing! 
We're hoping this post helped you realize the power of having a comprehensive UTM strategy that not only organizes, tracks, and scales but also provides a much clearer picture of how well your marketing efforts are performing. 
If you're ready to get started with UTM, check out AdRoll's new Cross-Channel Performance Dashboard.
Last updated on January 4th, 2022.