9 Growth Tips From Shopify Plus Enterprise Brands
Topics Covered:
When it comes to marketing your Shopify store, there's no need to reinvent the wheel. With thousands of successful ecommerce stores powered by the platform, finding the best tactics and strategies can be as simple as checking out what your peers are doing.
That said, we compiled a list of Shopify Plus merchants — AKA the enterprise-level brands playing in the big leagues — and gathered some of their top growth tips for launching and leveling up a Shopify business. 
Whether you recently embarked on your ecommerce journey or are a seasoned direct-to-customer (D2C) marketer, check out these relevant tips that'll help you achieve newfound success for your brand.
1. Website Speed Is Everything
Ecommerce is a competitive world where every little detail matters — and a few seconds can change everything. A recent study found if your site takes longer than three seconds to load, you could lose nearly half of all your visitors — that's huge!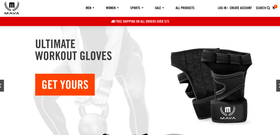 With this stat in mind, Mava Sports, a Shopify Plus-powered athletic company, removed all unnecessary apps and plug-ins (without negatively affecting the shopping experience) to prioritize loading times. 
The brand also used the "Lazy Load" script to load content and apps only after the page was rendered.
The result? A website that loads 5x faster.
Key takeaway: Use this tool to determine your site speed. If it's more than two seconds, it might be time to remove your site's bells and whistles.
2. International Markets Are Calling
If you have site visitors from all around the world but only ship domestically, consider growing your Shopify store by expanding to international markets.
When Petal & Pup launched in 2014, the couture brand only sold to local Australian shoppers. With more demand from places like New Zealand, Canada, and the U.S., the founders knew it was time to eye bigger goals.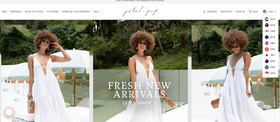 To begin selling internationally, Petal & Pup leveraged various Shopify tools and integrations. They added a currency selector, country indicator, and tax calculator, and made sure to set clear expectations on international shipping costs throughout the site.
Key takeaway: There's no reason to feel intimidated by the idea of expanding to new markets — we created this guide to help get started.
3. Connect Via In-Person Experiences
Just because you're a thriving ecommerce brand doesn't mean you can't connect with shoppers in person. 
In-person events are a fantastic way to build your brand, deepen your relationship with existing customers, and bridge the gap between the digital and physical world — especially if you're designing a memorable experience.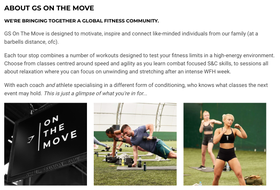 Gymshark, for example, offers a masterclass in how to bridge the gap between offline and online selling. By hosting pop-ups around the world where fans can buy merchandise and participate in coveted meet-and-greets with famous fitness experts and influencers, the company has nurtured its connection with millions of customers.
Key takeaway: Before you get started with experiential marketing, make sure you've nailed down your brand aesthetic and identity. Then, check out this guide for tips on how to get started with your first offline experience.
4. Get Started With AR, VR, and 3D Modeling
Augmented reality (AR), virtual reality (VR), and 3D modeling might seem like buzzwords, but trust us when we say it's only a matter of time before they become mainstream ecommerce tactics, especially as more brands leverage these technologies to deliver more efficient, personalized experiences (partially thanks to investments by platforms like Snapchat).
One Shopify Plus merchant taking advantage of AR, VR, and 3D modeling? Rebecca Minkoff, the designer handbag brand. The brand offers 3D-view tools to show shoppers every little detail of their bags, including the texture, structure, and shape. Shoppers can even virtually "place" the handbag in their space to see it from different angles.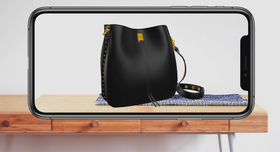 The results were huge — shoppers who interacted with their 3D tools were 44% more likely to add the item to their cart and 27% more likely to actually hit the "buy now" button.
Key takeaway: If you're unfamiliar with AR, VR, and 3D modeling, it's time to learn more about what you can do with them. Check out our  beginner's guide to everything you need to know.
5. Find a Cause to Champion
It's hard to differentiate between brands simply based on products. That's why a distinctive brand identity is one of the top priorities for any marketer. One of the best ways to build an A+ brand that stands out from the crowd? Finding a cause to champion, whether that's climate action, social justice, or gender equality.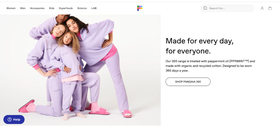 One Shopify Plus merchant that infuses their bigger "why" into their site, products, and marketing is PANGAIA, an ethical clothing brand. Beyond using sustainable, recyclable materials, they put their mission to save the environment on all their messaging. 
Visit their site, and you'll see how they heavily emphasize the use of sustainable materials in their product descriptions and how they feature clothing collections made from recycled textiles.
The brand has raised $100,000 for environmental and social causes so far, from wildlife protection to biodiversity. They've also planted hundreds of thousands of trees.
Key takeaway: Be a brand that cares about more than just its bottom line — not only is it good for the world, but it's also something that an increasing number of shoppers value. If you're ready to get started with cause-based marketing, check out this guide.
6. Create a Community of Fans
A community of fans and brand ambassadors is one of the biggest assets any company can benefit from — after all, it creates the ultimate opportunity for you to generate hype for new product launches, gather feedback, and leverage the power of word-of-mouth marketing.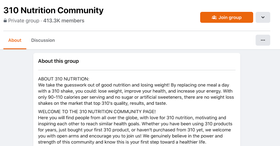 310, a supplement and nutrition brand, has done just that. Beyond its Facebook and Instagram pages (which have more than 1 million followers!), the Shopify Plus merchant has also built an exclusive Facebook group with more than 400,000 members. It's a thriving online community dedicated to empowering its fans to stay healthy and get fit — you'll find everything from testimonials to motivational advice to recipes for healthy treats.
Key takeaway: You don't need a full-fledged community management team to get started with community building. It can be as simple as inviting your top customers to join a Facebook group, launching a forum on your website, or creating exclusive events for your fans to get together virtually or in person.
7. Rethink Your Influencer Marketing Strategy
You're probably familiar with the perks of influencer marketing. It's one of the best ways to improve your brand's credibility and build long-lasting relationships with customers. But what if we told you influencer marketing doesn't solely have to involve partnering with social media hotshots?

Campus Protein, a supplement brand for students, is a Shopify Plus-powered brand with a fresh interpretation of influencer marketing. The founders decided to launch a Campus Rep program with reps selling to their peers and making up to 12% in commission. It has been a fantastic way for the company to reach its customers more directly.
It gets better: Upon graduation, reps are invited to earn a rep sponsorship or join the company full time.
Key takeaway: Affiliate marketing is one of the most flexible tactics for boosting conversions out there. Just make sure to consider who your target audience is and who they trust the most, then use this as a starting point for brainstorming relevant people, influencers, or publications.
8. Make Personalization Fun
Personalization is one of the most popular ecommerce buzzwords for good reason: It works. We've never had more opportunities to gather the relevant information needed to curate unique shopping journeys for shoppers, and using personalization to deliver memorable, efficient experiences is a great way for brands to stand out from the crowd.
But rather than relying on data related to the products they click on or their search terms, consider making the personalization process more fun.

Peepers, which sells sunglasses, progressives, and reading glasses, is deeply familiar with how challenging it can be to buy eyewear online. So, they decided to develop a feature on their site called the Perfect Pair Finder, where shoppers are encouraged to fill out a questionnaire about what shapes and features they're looking for in their glasses, with the site then offering recommendations.
But it doesn't end there — using the questionnaire results, Peepers then personalizes the customer journey, from email content to the site experience itself. And just like Rebecca Minkoff, Peepers also uses AR to make shopping easier; users can upload a picture of their face to virtually try on the glasses they like.
Key takeaway: Quizzes, questionnaires, and polls are fantastic ways to take personalization to the next level. But beyond just using the data you collect to deliver more unique marketing messages, consider also using it as a starting point as you brainstorm your next product or product line.
9. Do More by Educating Shoppers
Whenever you're developing content for your brand, whether to post on social media or your own website, there's one thing to keep in mind: Make sure it genuinely educates or entertains.
That said, one excellent way to engage with potential customers is by offering educational value via blogs, podcasts, videos, or infographics.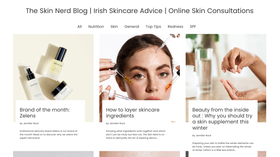 One Shopify Plus brand that doubles as an expert in creating educational content is skincare consultancy brand The Skin Nerd. Its website is full of tips and helpful articles and allows visitors to join the Skin Nerd Network, an exclusive group that offers even more in-depth content and invites to events. 
The Skin Nerd's vast library of content massively helped them during the pandemic — sales increased 10x in 2020.
Key takeaway: Content marketing might require an investment, but its benefits as an inbound marketing tool are tremendous. For more on how to get started with content marketing, check out this guide.
Grow Better With Shopify Plus and AdRoll
Something that all these top-notch ecommerce brands have in common? They've built cohesive customer journeys with multiple touchpoints that seamlessly integrate with one another.
The key to getting started with omnichannel marketing is using a comprehensive, streamlined marketing platform that'll let you target the right shoppers at the right time and at the right place. 
Enter AdRoll — our all-in-one platform not only lets you launch, manage, and optimize all your efforts (whether email, social ads, or web ads), but you can also segment your customers and deliver personalized experiences.
Download the AdRoll app for Shopify and Shopify Plus merchants to see how our AI-powered marketing solutions can turbocharge your Shopify store.
Last updated on May 23rd, 2022.