4 Ways to Improve ROAS in 2022
Topics Covered:
Running a successful ecommerce business is anything but cheap. With competition fiercer than ever, brands that want to stand out must heavily invest in their marketing efforts — emails, content, and most importantly, ads. 
That said, the best marketers constantly keep an eye out for ways to better spend their ad dollars. As any marketing veteran will tell you, this process of budget optimization begins with calculating your return on ad spend (ROAS), a key metric that informs how successful your ads are in driving conversions — because clicks without conversions don't pay the bills!
Knowing your ROAS isn't enough for growth, though. Here's what to know, plus how to boost your growth in 2022. 
But First, a Quick Refresher on ROAS
If it's been a while since you reviewed your marketing acronyms, ROAS refers to the calculation of how much revenue you drive for every dollar spent on ads. The higher your ROAS, the more you're achieving with your budget. 
Calculating ROAS is simple: Divide the total revenue generated directly from an ad campaign by the total cost of the campaign.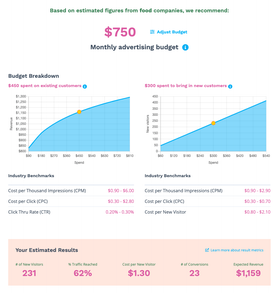 Pro tip: Not a math person? We developed a ROAS calculator to help, complete with recommendations on next steps.
4 Ways to Improve ROAS
The best ads are those delivered to the right audience, at the right time, in the right place — follow this mantra, and you'll boost ROAS to levels you never thought possible. 
1. Target the right audience
The better you can identify and target your ideal audience, the less you have to invest in marketing. 
Besides choosing the location, age, gender, or device to target when launching ads, take time to segment your audience and develop ads for each one. After all, it's unlikely that all your customers share the same traits, needs, wants, and shopping behaviors. For more on audience segmentation, check out this template. 
2. Choose keywords wisely
Besides targeting the right people, you also want to reach them when they're most ready to buy. In other words, when they start using long-tail keywords to search for relevant products. 
For brands, there are huge perks of using long-tail keywords, including lower competition and cost. The more specific you can get, the better. (Who do you think is more likely to buy, someone searching "blue women's running shorts size S" or someone searching for "running shorts"?) For more on developing a long-tail keyword strategy, check out this guide. 
3. Improve your landing pages
One major way of improving your ROAS is by boosting post-click conversion rates — nobody likes clicking on an ad, only to then be directed to an irrelevant landing page. 
A well-designed landing page can do wonders for conversions:
Use clear and compelling copy that continues the narrative and visuals offered in your ad. You want the customer journey to be as seamless as possible. 

Make sure it's mobile responsive. 

Feature the products promoted in your ads. 

Have a clear call to action (CTA) and conversion goal. 

Remove unnecessary and distracting links. 
4. Upsell and cross-sell
Another way to improve your ROAS is by upping your revenue per conversion via upselling and cross-selling. Why spend all your resources on obtaining new customers when you can increase the cart value of shoppers you've already attracted? 
To boost average order value (AOV), consider:
Upselling by offering bundle deals. 

Use free shipping to entice shoppers to reach a minimum order amount. 

Recommend pricier but relevant products. 

Promote higher-value products in your ad campaigns. 

Use retargeting ads to re-engage current customers. 

Provide a great shopping experience that encourages customers to return for more. 
Better ROAS, Here You Come! 
It's time to do more with your ad spend in 2022. But remember: Improving ROAS isn't a one-off task. It's critical to continuously test every step of your marketing flywheel to see how it impacts conversions. 

The best way to get started on the journey toward better targeted and optimized ads? Sign up for AdRoll. Check out how our ads solutions can level up your marketing efforts and unlock a world of more for less.
Originally published on January 31st, 2022, last updated on February 1st, 2022.