Holiday SEO Tips for the Busy Shopping Season
Topics Covered:
When it comes to marketing, you want your brand to be "at the right place, at the right time." This especially rings true during the holidays. When your ideal customer is holiday shopping, your brand should be front and center of the search results page. While paid search ads are always an option, you'll want to invest your time in organic efforts to close the gap. Luckily, there's a little something called search engine optimization (SEO) to help you out.
What is SEO and Why is It Important for the Holidays?
SEO is the process of optimizing the number of organic website visitors by appearing at the top of search pages for specific search terms. This means that if your company specializes in outdoor-wear and someone searches for "gifts for hikers," your site should pop up with things that a hiking enthusiast would love to unwrap.

Holiday SEO strategies allow you to optimize your organic efforts to fill in the gaps where your paid strategy might not be covering. SEO can also take a longer time to see results from due to indexing and other factors. Investing in holiday SEO now helps you build a strong approach for later in the year.
Last holiday season, Retail Customer Experience reported more consumers were shopping online. Annual growth was expected to reach between 12.8%-14.3% compared to the previous year. To get your store ready for the busy days ahead, here are a few important factors to focus on when devising your holiday SEO strategy.
Study Last Year's Trends
Start with your related keywords from the last holiday season. If you've already set up Google Search Console for your website, you can easily get the search query data from it. Otherwise, you can use SEO tools, such as Ahrefs.

Then, research those keywords with Google Trends and study the peaks and valleys of last year's holiday patterns. For example, below is the search trend of the keyword, "holiday gifts." As you can see, people started searching for "holiday gifts" from early October. The search volume accelerated in November but didn't reach its peak until mid-December and remained high until the week of Christmas.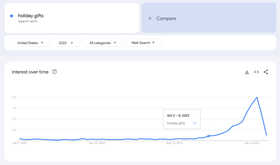 By understanding your holiday shopping traffic pattern from last year, it helps identify and prioritize areas you need to optimize and improve this year.
Get Your Target Keywords and Content Right
It's essential to understand last year's search words, but don't stop there. The keywords that will drive shoppers to your website this holiday season may be different from those of last year, especially if there were new products introduced before the holiday shopping season.
However, If your SEO is already optimized for keywords, don't overthink your strategy for leveraging holiday-specific keywords. Use what you already have, but start adding timely holiday shopping-related phrases, such as:
Holiday Gifts 2023

Black Friday 2023

Cyber Monday 2023

Holiday Shopping 2023
You can use Google's Keyword Planner or other SEO tools for general keyword research. Put together a healthy mix of high-volume and long-tail keywords so that you can attract both holiday and regular shoppers who are looking for something related to the product categories you carry.
Optimize Your Content for Search Intent
Having your target keyword list is the first step. Now, you need to make sure your content is optimized for those keywords so that you can rank high on Google's search result page. Different types of keywords represent different search intents and may require different types of content.

Here are the two types of search intent most relevant to your holiday SEO strategy:
Commercial investigation: This is when people aren't ready to make a purchase decision but are investigating in a particular product category. For example, searches such as, "best personal care gifts for the holiday," fall under this category. Your product catalog page or promotion page doesn't rank well for this type of search intent. Instead, create a blog post, shopping guide, or a short video for a much better chance to rank high on this type of search.

Transactional intent: This is when people are ready to make a purchase and are searching for specific products or deals. Searches such as "Burt's bees lotion" or "organic lotion on sale" are a couple of examples.

An excellent place to start (again) is Google Search Console, where you can see how your target keywords map to your web pages, or whether they do at all. Chances are you already have the right content and pages. But, if you find out there are keywords you aren't currently ranked for, you need to either create new content or optimize your existing content for those keywords. If you have existing holiday-related content from last year, be sure to update and optimize them so that Google can index your update.
Get Your Technicals Right
Now that you've optimized your content, you'll be getting a lot of traffic and sales — right? Well, not so fast. Keywords and content are essential SEO elements, but so are the technical fundamentals. After all, what good is it if your site can't handle the surge of traffic during the holiday season, or your check-out flow breaks? These aren't challenges that are specific to the holiday season, but their impact on your bottom line is significant during this time.
User experience is a factor Google uses to determine the ranking of your site. Check your site's performance regularly to make sure that there aren't any ongoing issues that could be affecting its success. Keep an eye out on the following:
Slow loading time

Broken URLs

Duplicate content

Unsecured pages

Lack of internal links

Formatting issues
Mobile Performance Optimization
One thing that's particularly important to focus on is mobile performance optimization. In 2020, smartphone shopping rose 25%, according to Marketing Dive. 

There are plenty of tools that you can use to determine your mobile performance, starting with Google's PageSpeed Insights to see your mobile page's loading speeds.

Note that Google has expanded its Mobile First Indexing practice — now, over 50% of Google's indexing is done via its mobile crawler, and all new sites are indexed by its mobile crawler as well. Your mobile performance and experience will not only have an impact on your mobile shoppers but to your entire website's ranking on Google.
Make Your Holiday Campaign a Success With AdRoll
Now that you've started to plan your organic holiday efforts, it's time to optimize your paid strategy. Learn more about how AdRoll streamlines your display ads, social ads, and email marketing into one, easy-to-use platform.

Dive into our holiday marketing strategy guide to plan the rest of your campaign! Check out the resources below.
Last updated on August 8th, 2023.