3 Questions to Answer Before Getting Started With Audience Segmentation [Worksheet]
Topics Covered:
For growing or established brands, audience segmentation is one of the most effective ways to increase revenue — after all, what's not to love about engaging with shoppers in a relevant and meaningful way?
Before you embark on the audience segmentation journey, however, it's critical you spend time planning and strategizing. Enter this worksheet. We've got three questions to help you get your planning underway — scribble down your answers and keep them close by once you start launching your campaigns!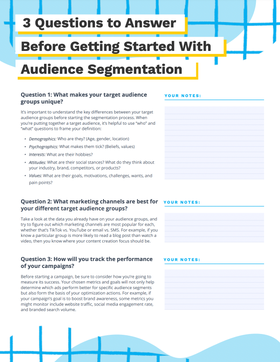 Ready to start your own audience segmentation efforts? AdRoll creates dynamic lists that grow revenue.
Last updated on August 23rd, 2022.