3 Examples of Abandoned Cart Recovery Campaigns
Topics Covered:
"Consistency is key" is one of those phrases that's not only applicable to angry coaches in locker rooms but also to brands dabbling in cross-channel marketing. 
As the name implies, cross-channel marketing uses multiple marketing channels — including digital ads, email, TV, social media, and/or a brand's website — to promote a consistent message. In other words, no matter where a shopper interacts with a brand, they'll experience a similar look and feel. 
Cross-channel campaigns not only solidify what a brand is about but also help companies reach consumers wherever they are. In fact, research has found that cross-channel campaigns can do wonders for increasing brand awareness and branded Google searches — with this approach, consumers know who you are and are specifically seeking you out.
One huge part of a cross-channel campaign strategy? Abandoned cart emails. 
Why You Need An Abandoned Cart Campaign
The concept of reaching out to consumers with consistent messaging and visuals is one of the key components of an effective abandoned cart recovery campaign. Yes, it's true: The majority of consumers who visit your website won't actually convert initially, even if they put a product in their cart — research shows more than 88% of online shopping carts are abandoned.
But those sales are not necessarily lost forever. Sometimes consumers just need a little push, which you can provide with consistent messaging. 
Retargeting campaigns and email marketing are undoubtedly the most popular tools for cart recovery. Both should always include relevant products — including imagery — as well as calls to action (CTAs). But research shows it's the latter that has high open and click-through rates (CTR), which is in part why so many brands use them. (Although that's not to say retargeting isn't a powerful cart recovery tactic, too.)
How To Create A Cart Abandonment Email
With an all-in-one marketing platform like AdRoll, you can easily get started with creating drip campaigns, which send out a series of emails: 
The first is typically a reminder up to several hours after the customer leaves the site.

The second is a follow-up, which is sent a few days later, creating a sense of urgency — one example is pointing out that a particular product or size is nearly out of stock. 

And finally, the third email usually offers a promo code a few days later as a final incentive to convert.
Psst: AdRoll offers a robust email template library, so there's no need to create and design your campaigns from scratch! 
Want to know how the pros do it? Read on for three brands that have mastered the most important aspects of cross-channel marketing and abandoned cart recovery campaigns. 
Google may have made a name for itself in online search, but it's clearly not a one-trick pony. And, as this email for Google's Wi-Fi system (Google Wifi) shows, the search giant/hardware manufacturer knows a thing or two about email marketing.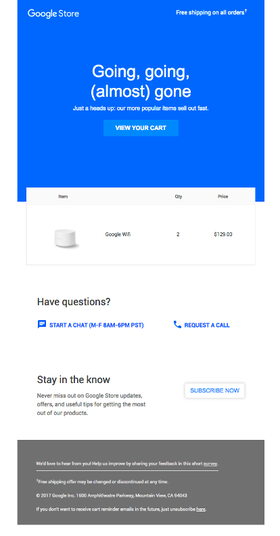 The subject line — "The Google Wifi in your cart is going fast" — certainly inspires that sense of urgency we noted earlier. Inside the body of the email, there's not only the product left in the cart in question but also a one-click solution to return to that cart to finalize the transaction. What's more, Google reminds recipients it offers free shipping on all orders and encourages them to subscribe to Google Store updates to "stay in the know."
Personalization is key to any cart recovery strategy because it addresses consumer intent. That means savvy email marketers aren't just sending a single universal cart abandonment email to all potential customers; instead, they cater their messaging depending on where a consumer is in the buyer journey. 
For example, a customer at the top of the funnel may add a product to their cart while doing research. That means their reason for not completing the purchase at that time will differ from the brand loyalist who owns the latest version of every product.
Besides personalizing cart recovery emails as much as possible — without, of course, creeping the recipient out — brands should segment consumers who have abandoned carts based on their prior behavior. It's one surefire way to increase the chances consumers will perform the desired action in the end.
The hospitality industry may have suffered from a tough last few years, but Virgin Atlantic is in good shape to encourage customers to book trips — at least email marketing-wise.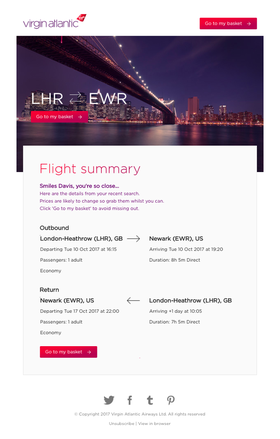 When a customer searches for a trip on certain dates but doesn't book it immediately, Virgin Atlantic follows up with an email with the subject line, "You're nearly there." It then repeats this messaging in the body of the email — and, like Google, reminds the recipient, "Prices are likely to change, so grab them whilst you can." (I'd wager the inclusion of a word like "whilst" is also intended to remind the customer about their potential trip to Great Britain as an additional means of whetting their appetite.)
The Virgin Atlantic email also includes personalized details from the recipient's search with a "go to my basket" button to make booking the trip simple. In fact, this basket button appears within the body of the email a total of three times, saving the viewer the trouble of scrolling up or down whenever they decide to take the plunge. It doesn't get much more user-friendly than that.
Engaging subject lines like "You're nearly there" are vital if you want customers to open your emails — research has shown 35% of consumers open emails based solely on the subject line alone. The best subject lines both pique the readers' interest — and are not overly wordy. Remember: Brevity is the soul of wit — and also ensure your subject lines don't get cut off on mobile devices. 
Pro tip: For brands in the hospitality industry, a great way to uplevel their emails is to dynamically adjust the creative based on the destination mentioned. That can be a photo of that city or country, a well-known monument, or local activity. 
While Dyson's "Items in your basket at dyson.com" subject line may not get hearts racing, its emails (like those of other top brands) are 100% mobile optimized. 
With mobile sales higher than ever, brands need to make sure they are optimizing for this audience or risk missing out on their share of those sales. Optimizing emails for a range of potential devices is simply a baseline requirement to make sure your messages are actually opened. After all, how would you feel if a brand sent you a follow-up email that looked weird on your phone? It's not a vote of confidence, is it?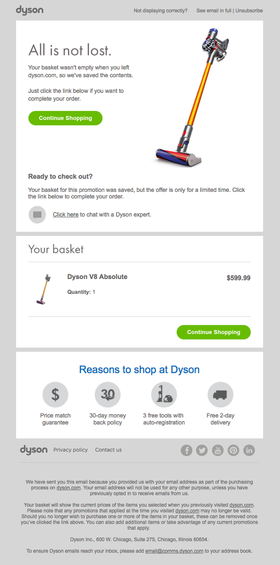 Like the examples mentioned above, Dyson pulls in a specific product relevant to a given recipient and includes multiple "continue shopping" buttons to make it easy to complete the sale in a few clicks. Dyson also provides four clear reasons to shop with Dyson at the end of the message with various icons for value-adds, such as its price match guarantee and free two-day delivery.
The brand adds a sense of urgency by noting the limited nature of a particular offer — and invites the recipient to chat with a Dyson expert if they still need help making a decision. 
Get Started With Better Emails Today
After implementing a cart recovery email strategy, your next step should be testing to determine which email variants appeal most to your customers and prospects. You should also experiment with the ideal number of messages while you're at it. Along the way, you'll see what consumers respond to, which will help adjust your strategy accordingly. 
Feeling inspired by these three examples? The next step to transforming your abandoned cart headache into an opportunity for more sales is learning to calculate your cart abandonment rate — get started with this guide.
Last updated on June 17th, 2022.