With Rising Logistics Costs, Offer These 5 Deals Instead of Discounts
Topics Covered:
It's no secret that we all love a good deal — there's just something about finding a fantastic product for cheap that makes our brains go "ding"! But the pandemic has drastically altered the retail landscape: Given high consumer demand, inventory shortages are rampant. Manufacturing and supply chain logistics costs have soared thanks to bottlenecks at ports. And in an attempt to stay competitive, many retailers have seen smaller margins. 
While businesses can typically profit enormously from sales events, rising logistics costs have made it difficult for them to slash their prices and compete with ecommerce juggernauts like Amazon. Luckily, discounts aren't the only name of the game — here are five other deals that brands can offer as alternatives to discounts without sacrificing their profit margins. 
Free Shipping
Shoppers have faced long and frustrating shipping delays during the pandemic, and we've got some bad news: It's set to last through the summer. While waiting weeks for a package is no fun, here lies a major opportunity for retailers who can offer faster and cheaper (or ideally, free) shipping and delivery. 
We can't praise the benefits of free shipping enough: One study found that over 78% of Amazon Prime members in the U.S. only subscribed because they wanted free shipping. The stat makes sense once you realize that more than 82% of shoppers see shipping costs as an annoying fee that reduces their likelihood of checking out. With over 60% of ecommerce marketers describing free shipping as their most successful marketing tactic, it's likely that free shipping will be the norm — and not the exception — in the years to come. 
While fast shipping can quickly add to your logistics costs, there are a few ways you can keep things manageable:
Have a minimum order amount that unlocks free shipping. (For example, non-Amazon Prime shoppers have to spend $25 or more to qualify for free shipping.) 
Only offer free shipping during a specific period, such as when sales are slow. 
Offset shipping costs by factoring them into your product pricing strategy, ensuring that it won't cut into your profit margins later.
To provide an even more efficient customer experience, you can offer free exchanges and returns as well. Even better, include a prepaid shipping label, so customers don't need to scavenge for a printer — it's all about these little customer service considerations. 
Buy One, Get One Free
The buy one, get one free promotional tactic is where marketers' knowledge of sales psychology can come in handy. What sounds better: a 33% price discount or 50% more product? It's a trick question — both are the same deal, but most shoppers don't like doing the math. 
You see, behavioral economics researchers have found that shoppers generally overvalue the appeal of "free." This trend applies even when we talk about higher-quality items with discounted prices. In one experiment conducted by the University of Minnesota, researchers managed to sell 73% more hand lotion when offering a bonus pack compared to when they provided an equivalent discount. Simply put, shoppers like getting more for less but love the idea of freebies even more. 
And luckily, there are tricks that don't involve throwing your profits out the window. In fact, this can be a great strategy to rid your warehouses of unwanted inventory. You can:
Include samples of your products with every package — it's a great way to introduce your shoppers to new items they otherwise wouldn't have considered. Even better, allow shoppers to choose what sample they want from a shortlist. (It's a trick you'll often see skincare and beauty brands deploy.) 
Offer services that are somehow related to the products they've purchased, such as tailoring or customization. 
And remember: There are countless variations of the BOGO tactic. You can require shoppers to buy three, four, or even five products to get one for free. Or, you can have a buy one, get one 50% off deal. Just remember that while you may lose a small amount of money on the free product or sample you've offered, it's well worth the result — a happy customer eager to return for more, try something new, or upgrade their purchase. 
Free Branded Swag
Similar to offering a free sample or add-on service, you can surprise customers with a small gift they hadn't expected. Popular direct-to-consumer (D2C) brand Glossier, for example, includes a sticker of their logo with every package. Other low-cost swag could be buttons, magnets, pens, or postcards.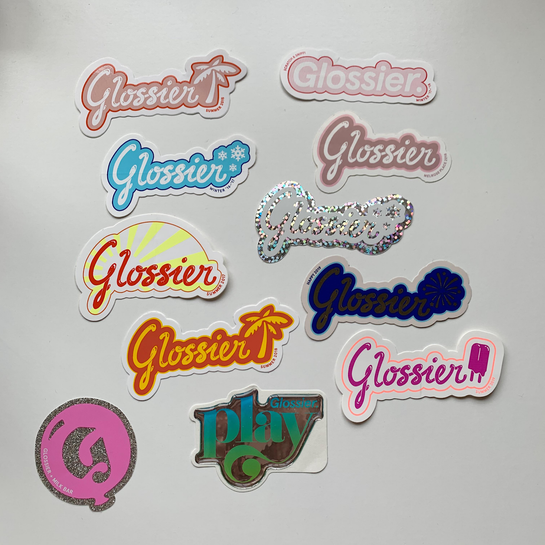 These free gifts are also a marketing opportunity: That laptop sticker could attract the attention of a future customer who has never heard of your brand before. The key to success? Make sure whatever gift you create is well-designed, genuinely useful, and promotes your brand. Ideally, it'll also complement whatever product your customer just bought. 
Next-Purchase Coupons
Ever receive a flyer in your package offering 15% off or free shipping for your next purchase? Or maybe it's a coupon for particular products? Next-purchase deals are huge when it comes to encouraging customers to return for more — and because it's a discount that can only be applied to a customer's next purchase, you're essentially minimizing your current risk. 
If you're not sure how much to offer, we've got a Consumer Psychology 101 trick for you: If an item costs $100 or more, a dollar amount (such as $40 off) will sound more appealing. Comparatively, for products cheaper than $100, a percentage can seem like a more worthy deal. 
Loyalty Points
If you've got a stash of store loyalty cards in your wallet, you're probably a savvy shopper. While some smaller brands may not be able to give away products for less, they can reward loyal customers by having a loyalty program, allowing repeat shoppers to accumulate rewards points. These reward points can then be used to unlock store credit, product discounts, free gifts, and other perks. While some of the deals we've seen on the market are worse than others — you know, spend $500 to get $5 in store credit — a well-designed and customer-friendly loyalty program can translate to a massive return for a brand. Studies show that loyalty programs are an effective way to boost customer retention, too. 
To maximize the effectiveness of your loyalty program, you'll want to design it in a way that makes it attractive to shoppers. This may mean:
Making sure points don't expire too quickly and that shoppers have a reasonable amount of time to spend them. 
Including appealing benefits beyond just discounts. A birthday gift, for example, is a popular one. 
Designing a loyalty program that doesn't just reward shoppers who purchase products but also those customers who follow you on social media, write reviews, and post photos of their products. 
Rising Logistics Costs? Don't Worry 
Despite rising logistics costs and the pressure that some brands face during periods of shopping frenzy (think Prime Day or Black Friday), adopting steep discounts as a marketing tactic is far from a must-do. 
You can rack up sales just fine by offering these five alternative deals that encourage shoppers to click "checkout." At the end of the day, it's all about what you can do to provide something valuable to your customers that pushes them to return for more. 
Looking for more ways to celebrate your customers? We've got a ton of ideas in the AdRoll Marketing Resource Library! Check it out now. 
Last updated on September 16th, 2022.