What Is Remarketing? 4 Tips to Get Started With This ROI-Driving Tactic
Topics Covered:
Imagine this: Someone visits your website, they click around on a few product pages, they even gasp add something to their cart, but then… they just exit the page. Without checking out!
Let's face it — we're all guilty of window shopping. But for brands, pesky abandoned carts can become a massive problem, fast. Not only do they drain the budget you've spent getting shoppers to your site, but it's also just outright frustrating. 
So, what should you do? One word: Remarketing. Here's how to get started to help boost your return on investment (ROI).
What's the Difference Between Remarketing and Retargeting?
Remarketing and retargeting are two great methods to remind shoppers about your brand. In other words, they're ways to send quick reminder messages that say, "Hey! Look at us and our products that you're missing out on!" Although remarketing and retargeting are typically used interchangeably, they are slight differences you should be aware of. 
You're probably already familiar with retargeting — it's what AdRoll is best known for. The strategy involves using paid ads (often display or social media) and tracking cookies to recover abandoned carts and encourage shoppers to move down the funnel. It's usually triggered after a shopper visits your website but fails to complete a desired action, like checking out. 
But here's a fun fact: Retargeting is a subset of remarketing. Though remarketing is also a tactic brands can use to re-engage shoppers and achieve similar goals as retargeting, it's focused primarily on email communication and other channels unrelated to ads. And unlike retargeting, remarketing is less about reaching new shoppers and more about messaging those you've already interacted with. Think of it as a more general umbrella term to describe advertising to a shopper multiple times. 

The line between remarketing and retargeting is a blurry one, especially as we move toward an omnichannel selling approach. 
Segment Your Audience
We often discuss the importance of segmenting audiences. After all, if you don't do it, you're basically throwing money out of the window. 
Segmenting your audience ensures that any remarketing message you deliver is relevant and personalized. Here's a guide on how to get started with creating audience segments. 
Don't Be Annoying
Retargeting and remarketing are incredibly powerful tools — and that's why they need to be used carefully. If you have experienced an ad creepily following you everywhere you clicked and browsed, there's an overzealous marketer behind it. 
Though you can (and should) use remarketing to hammer in your message, you also risk coming across as annoying. Make sure to rotate your copy and offers, and don't ever spam. Remember: Less is more.
Think About Your CTA
Everything you put out into the world should always have a call to action (CTA), and remarketing is no different. You need a strong CTA that reflects where shoppers are in the funnel — if they're not ready to buy, don't force it on them. Instead, encourage them to participate in a social media challenge or partake in a fun quiz on your site. 
Run A/B Tests
Even if you see fantastic results on your analytics dashboard, there's only one way to find out if you're doing the best possible job — and that's via A/B testing. Test your remarketing campaign headlines, creative, offers, and CTAs to see how it affects your data.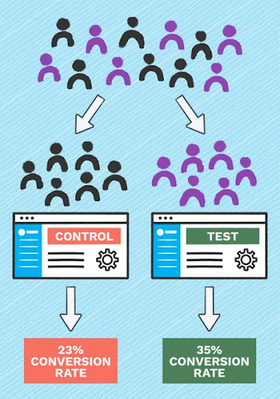 Start Remarketing
If inklings of a new remarketing campaign are forming in your head, that's great — get started with both your remarketing and retargeting efforts today with AdRoll's AI-powered marketing solutions. 
Last updated on November 15th, 2021.