What Are Shopping Ads and Why Should I Use Them?
Topics Covered:
There are more ways to drive sales for your Shopify store than ever before. But with the abundance of marketing platforms and tactics, it's easy to overlook one of the most effective ad types available to brands: Google Shopping ads.  
Here's everything you should know about them, plus answers to your most asked questions.
What Are Google Shopping Ads?
Google Shopping ads (also known as Product Listing Ads or PLAs) are listings that appear above standard search results when a user searches for a product on Google. 
Each listing typically includes the product name, price, brand, and a high-quality image. Sometimes it also features reviews, shipping information, and promotions. Beyond Google search results, Shopping ads may pop up on Google's Shopping tab (below the search bar), as well as partner websites, YouTube, and the Google Display Network. 
Thanks to their prominent placement, Shopping ads are an easy way to attract high-intent shoppers — they consistently offer brands some of the highest return on ad spend (ROAS) compared to other paid channels, according to Shopify. 
How to Set Up Shopping Ads
Similar to other ad types on Google, setting up Shopping ads is relatively simple. However, it does require navigating between two platforms: Google Ads (where you launch the campaign) and Google Merchant Center (which stores your product feed). 
Unlike other ad types — such as static display images where you input relevant keywords — Shopping Ads are determined by your product feed, site, and users' search queries. 
How to get started:
Sign up for a Google Merchant Center account. 

Download the Google channel from the Shopify App Store — rather than manually create a shopping feed with your products, the app will automatically sync your Shopify store's catalog with your Google Merchant Center account. 

Link your Google Ads account with your Google Merchant Center Account by clicking on "Settings" > "Ads" > "Link Account." 

To set up a campaign, open your Google Ads account, then click on "Create Campaign" > "Shopping - Product Listing Ads." You'll be prompted to select the country for your campaign, networks in which your product ads will appear (e.g., only the "Google Search Network" vs. "Include search partners), your budget, bid strategy, negative keywords, and more. 

You're ready to go!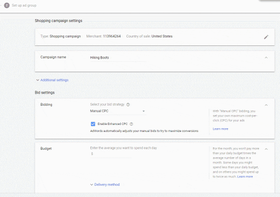 Your Shopping Ads Questions, Answered
So, I don't have to assign keywords? 
Nope! Shopping ads rely on Google's powerful data on the keywords users enter when searching for items similar to yours. However, if you want more control over your Shopping ads, consider using priority settings and negative keywords. 
What's the difference between Shopping ads and Smart Shopping campaigns?
Google's Smart Shopping campaigns are a combination of Shopping and display ads — where instead of manually tweaking bidding and placements, Google will automatically optimize them on your behalf. Powered by Google's machine learning capabilities, they're a great option for marketers who are strapped for time or brands with massive product catalogs. 
What's the most important tip I should keep in mind when launching Shopping ads?
Your product feed is what powers your Google Shopping campaigns, so make sure it's optimized as best as possible. This means checking that product titles and descriptions are not only compelling and accurate but also relevant to general search queries. And don't forget to include essential details about the product in your title, such as color, size, and model number. (Prioritize wisely because there's a 150-character limit.) 
What should I do if my Shopping ads aren't getting clicks and conversions?
Don't panic! Here are some tips that will help you get through the slump:
Make sure your product titles are search engine friendly. 

Use relevant longtail and short tail keywords in your product titles and descriptions. 

Take high-quality product photos — Google prefers product images against white backgrounds over lifestyle shots. Here are some Shopping ad image specs to bookmark. 

Adjust your bidding strategy — bid too low, and you'll struggle to receive any exposure. 

Exclude irrelevant keywords. 
It's Time to Start Shopping 🛍
Google Shopping ads are a fantastic way to attract more traffic to your site and drive higher revenue. But don't stop there: Google offers a suite of ad formats and tools to help you successfully grow your business.
To make the most out of what the tech giant has to offer, check out the AdRoll app for Shopify brands. Using our all-in-one AI-powered platform, you can not only launch optimized Google Display ads but also send emails, review your cross-channel performance, and more.
Last updated on March 30th, 2022.