Top 7 Pinterest Campaigns to Fuel Your Creative Strategy
Topics Covered:
If you've pigeonholed Pinterest as a platform solely for crafty hobbyists, zealous brides, and hands-on parents, you're missing out. Pinterest offers some of the best opportunities for brands to reach new audiences, drive sales, and boost engagement. After all, the platform hosts every marketer's dream: a user base with fat wallets and high purchasing intent.
But while opening a Pinterest business account and integrating it with your ecommerce platform and the rest of your MarTech stack is straightforward, finding success on Pinterest is not quite as easy as it sounds. You're competing with thousands of brands that have spent years curating highly attractive visuals, nailing their targeting strategies, and optimizing their ad campaigns.
Luckily, there's no need to panic. Rather than viewing other businesses as a threat, consider taking their wins and using them as a resource to drive inspiration and fuel your creative efforts. So buckle up as we dive into seven of our favorite Pinterest campaigns, complete with takeaways and recommendations for your own ideas.
Why Pinterest?
Sure, Facebook may boast nearly 3 billion monthly active users, but they're far from the high-quality leads that Pinterest offers. Pinterest was designed explicitly to help users discover new brands, products, and ideas; unsurprisingly, ads perform significantly better on the platform compared to its social media counterparts. Just take a look at these numbers:
The number of active monthly Pinterest users has nearly doubled in the last three years to a whopping 433 million.

If your target audience leans toward young females, you're in luck: over 44% of Pinterest's advertising pool are women 25 to 44.
It's clear: If you're looking to deliver ads to eager and engaged users, Pinterest is the perfect place to start firing off your campaigns.
1. Netflix's Interactive Show Recommendations
Everyone loves ads with a bit of flair and interactivity — that's why Netflix's "interactive show recommendation" Idea Pin landed the number one spot on this list.
The concept is ridiculously simple: The ad features five frames users can tap through. The cool part? While Idea Pins (similar to Instagram Stories) naturally show the next frame when tapped, the ad gives the illusion of interactivity by prompting users to tap a specific number of times to get a tailored show recommendation.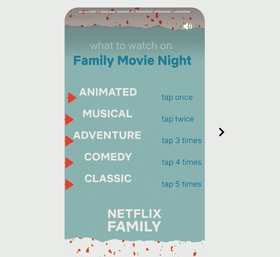 🔑 Takeaway: While Pinterest offers various short video ad formats that do an A+ job of capturing users' attention, you need to get a little creative to stand out. From "tapping"-related interactive elements to GIFs exported as video ads, the sky's the limit when it comes to brainstorming out-of-the-box ideas.
2. Volvo's Simple Lifestyle Ads
Short-form videos may be all the rage right now — thanks, TikTok! — but sometimes, keeping things clean and simple can go a long way in helping your content feel fresh. This ad from Volvo is an excellent example of how minimal copy and lifestyle images can come together nicely to deliver precisely what users need to know (which, in this case, is encouraging them to take a quiz).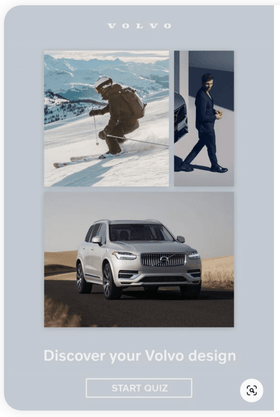 🔑 Takeaway: Pinterest is a visual platform that prioritizes high-impact visuals over heavy text, so make sure any headline you craft is short and to the point. Don't forget to add a punchy CTA to inspire users to click and continue their experience on your site.
3. Scotch's Creator-Driven Campaign
Tape, scissors, action! Pinterest is a beloved platform for hobbyists, which means brands like Scotch, known for its wide array of crafting supplies, are in luck.
In one campaign, Scotch launched a series of ads to promote DIY ideas for parents (and their kids) to create fun back-to-school projects, such as pencil holders and teacher's gifts.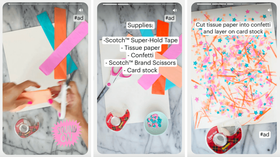 To nail precisely what crafts the ads should feature, Scotch used Pinterest Trends to gather insights into what topics their target audience was most interested in. Keywords such as "back-to-school crafts" and "preschooler crafts" then formed the basis for their creative strategy. But rather than going ahead and producing all the ads in-house, Scotch partnered with Kailo Chic, a Pinterest creator well-known for her DIY tutorials and kid-friendly crafts.
The result? A series of video and image ads that felt authentic, relatable, and engaging, despite prominently featuring Scotch products. Even better, the company saw 64% lower cost per impression than they had initially estimated — in other words, they achieved significantly better results than they had planned at no extra cost!
🔑 Takeaway: Try creating Pinterest ads that don't feel like ads. Video ads are a fantastic way to deliver tutorials or how-to's while introducing your products organically.
4. IKEA Custom Quiz Experience
Just like IKEA's no-nonsense reputation, its Pinterest campaigns reflect a penchant for simplicity and efficiency. Not only have they created various boards for their different audiences (e.g., "Nurseries & Kids' Rooms" vs. "IKEA for Business"), but they've also gone above and beyond to ensure Pinterest users can find the precise content they're looking for.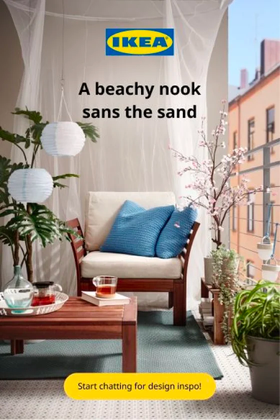 In one campaign, IKEA built an AI-powered chatbot quiz experience on their website named Renocations that invited users to answer questions about their favorite places and activities before redirecting them to a customized Pinterest board that reflected their home renovation goals. Each board included inspirational lifestyle images featuring various IKEA products.
As expected, users loved the fun and interactive aspect of the campaign. "Pinterest is on the forefront of marketing to consumers in new ways. And since it's the go-to destination for inspiration, it's a natural environment to play in," said Shideh Hashemi, Country Marketing Manager, IKEA US.
🔑 Takeaway: Think of broader ideas. Your brand might belong to a niche industry, but don't be afraid to get a little creative with how you connect your products to other contexts and use cases that Pinterest users may be searching for.
5. Boursin's Celebrity-Sizzling Campaign
Everyone loves cheese, and Boursin knows it. With millennials and Gen Z-ers preferring charcuterie boards, the food brand knew it had to do some work to boost awareness among the younger crowd. (Because let's be real: How many young people serve blocks of Boursin at their parties?)
For their 2019 Pinterest holiday campaign, the company decided to experiment. While the team still ran a combination of ads featuring classic themes, such as holiday appetizers, they decided to jazz it up by partnering with a celebrity content creator. Enter Antoni Porowski, the renowned food influencer and star of "Queer Eye."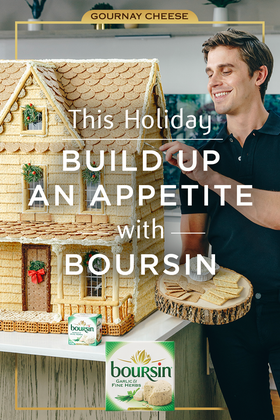 Porowski created several original Boursin-based recipes catered to younger users. These easy yet elegant appetizers were the first step to presenting the brand in a fresher light — the bite-sized close-up photography took it to the next (mouthwatering) level.
This concept was a hit. The campaign boosted both brand and ad recall by 2%, and A/B tests showed that ad sets featuring Porowski offered better performance than those without him.
🔑 Takeaway: While you may not have the budget to partner with an A-lister or any of the other "Queer Eye" cast members, adding a friendly face to your brand can go a long way in building trust, authenticity, and relevance with your audience. Consider leveraging influencers or even just UGC from regular customers to create that necessary human connection — even better, use this as an opportunity to showcase new ways to use your products.
6. IT Cosmetics' A+ Search Ad Strategy
To say Pinterest's search ads are extremely powerful would be an understatement — with users already primed for discovering new brands and products, having recommendations pop up as they search for relevant content offers marketers a massive opportunity.
IT Cosmetics knew that while it touted one of the best-selling color correcting (CC) creams available to makeup lovers worldwide, it still needed to put in some work on Pinterest to grab the attention of those who hadn't heard of them. After all, a whopping 91% of beauty searches on the platform are unbranded, meaning users actively use Pinterest to discover, research, and compare different makeup and skincare products.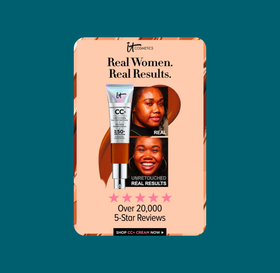 Their strategy combined both narrow and broad keywords that spanned specific terms related to CC creams as well as general makeup products. To ensure they received high ROIs, they opted for automatic bidding, which optimizes for results without blowing up your budget. (In case you're curious: Switching from standard to automatic bidding yielded the brand an incredible 84% higher CTR. That's massive!)
But having an A+ targeting and keyword strategy does not guarantee success unless you also have solid creative. That said, IT Cosmetics experimented with various image and video concepts to find a winner: before-and-after content paired with copy emphasizing product benefits.
The results speak for themselves. The beauty company not only met its goals of reaching new audiences and converting new shoppers but also managed to boost brand awareness successfully, with their organic reach on Pinterest growing by over 2x.
🔑 Takeaway: Non-branded search ads are a great way to reach shoppers unfamiliar with your brand. But don't just launch your pins blindly! Conduct thorough research on the keywords users search for, then use them as a starting point as you brainstorm creative ideas. Remember: Top-performing campaigns always align with topics, ideas, or products people are already looking for and clicking on.
7. Samsung's Video Size Experiment
Size doesn't matter… unless you're Samsung. When the tech titan launched its new washing machine, it experimented with Pinterest's different video formats to see what would be most effective in expanding its audience reach and, subsequently, boosting sales.
The first contender to step up to the plate? Sponsored max-width video pins, which are an eye-watering four times larger than standard pins (16:9 vs. 2:3, 4:5, or 9:16 ratio). By taking up so much real estate in users' feeds, the brand increased product awareness among those searching for relevant topics, such as interior decorating. As any brand seeking the best results should do, Samsung decided to test another format as well by rolling out a series of standard-sized videos.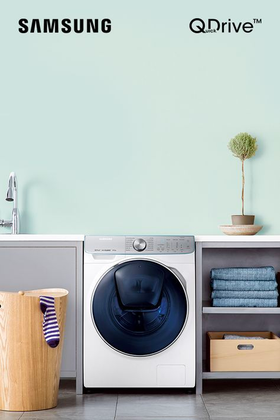 The dual video approach worked — the campaign helped Samsung boost product awareness by 25% and purchase intent by 23%.
🔑 Takeaway: Video ads are a fantastic way to drive engagement, but make sure you're testing factors such as video size and length. And remember: Just because something is working doesn't mean there isn't an opportunity to take it to the next level and unlock even better results!
Ready, Set, Pin!
Unlike ads on other platforms, Pinterest ads were designed to enhance the user experience rather than disrupt — and for that, users have rewarded brands on the platform by clicking, browsing, and purchasing.
If your creative juices are flowing and you're itching to manage your own top-notch ads, we've got one more tip for you: use AdRoll's automation builder to streamline and consolidate your social ads, display ads, and email into one place.

Learn more about Pinterest strategy with our resources below!
Last updated on May 10th, 2023.