Video Advertising Best Practices
Topics Covered:
Video advertising is not a new practice in the marketing tool belt. From commercials to moving billboards, most of us don't realize how often we come in contact with video ads. A new age is emerging online, as more and more users turn to their favorite apps and sites to consume the latest video content. For modern marketers, it will be pivotal to look beyond sites like YouTube and focus on the entire web to keep up.
The Rise of Video
With the rise of social media sites like Instagram and the continued dominance of content platforms like YouTube, using video to advertise online has never been more popular. In fact, it's been shown that more video content has been uploaded in the past 30 days than the major U.S. television networks created in the previous 30 years. Video is so popular that Cisco reports 2019 will see traffic to video accounting for over 80% of all consumer internet traffic. In other words, the age of online video has officially arrived.
Unparalleled Performance
If you're not already taking advantage of advertising with video online, the time to start is now. Unlike more traditional types of online advertising, like display or search, consumers actually want to interact with video ads. For instance, Hubspot found that 85% of people say they want to consume more video from brands willing to offer it to them. We decided to look into this and noticed that video advertising campaigns running from November 2018 through January 2019 saw click-through rates more than 3x higher than campaigns that included no video ads whatsoever.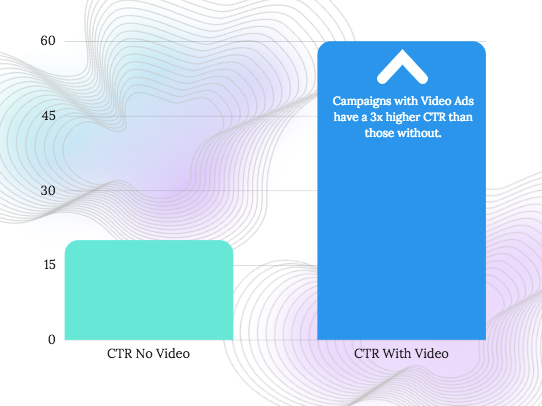 The Industry Takes Notice
With all of this in mind, it's easy to see why marketers are beginning to take notice. In fact, 97% of marketers reported video as helping increase user understanding of their products or services. Beyond this, a poll of marketers and agency executives showed that they are making big bets on digital video, by allocating nearly 60% of their online budgets to this strategy—with half of buyers specifically increasing their social media video spend.
Strategies for Success: Running Video Campaigns
The rise in video advertising has also led to rapidly-advancing capabilities to reach your target audience using this visual strategy. In the past, marketers were forced to confine their video ads to limiting, single platforms, like YouTube or Facebook. This hurt campaign performance by hindering the potential reach these ads had. In today's market, platforms allow marketers to serve video ads across platforms and devices, reaching users with relevant video ads, wherever they browse online.
With this increased reach have come better strategies for marketers to target key users with video ads, depending on where they are within the buying journey. For example, running ads directly through platforms like YouTube can hurt advertisers, as it only allows you to optimize campaigns based on that one site's specific content experience. This doesn't have to be the case. In fact, the most effective campaigns will employ a healthy mix of both retargeting and prospecting strategies that target users across the web and social media.

Strategies for Success: Creative Best Practices
Like all things in digital advertising, video has seen recent advancements that mean new creative best practices will need to be taken into account, to ensure the highest results for your 2019 campaigns. Let's take a look at some of the most important tips and tricks to follow:
Make sure the brand's logo or app icon is present in the video.
Engage users during the first 3-4 seconds, as the most successful videos do.
Make sure the aesthetics of the video are coherent with the landing page and contextually similar.
Ensure your videos make sense without sound. Users may engage with a video without audio; make sure the value is clear with either setting.
Provide a clear, customized CTA.
Lastly, and importantly, make sure to keep mobile in mind. Mobile is now more popular than desktop so it's necessary to take into account how your video will be viewed on mobile platforms like Instagram.
Video advertising offers marketers a powerful way to connect customers to their brand using beautiful, flowing imagery that engages users, without having to sell them too hard on specific products or services. With today's advances, you can now take these ads and place them across the web and social to engage with your target customers, no matter where they go online. With 2019 now well underway, there's no time left to wait to ensure video campaigns are incorporated into this year's digital strategy.
Interested in kicking off your own video advertising campaigns? We'll make it easy. Sign up for an account today, and we'll help you launch high-performing ads, with minimal effort and maximum results.
[amp-cta id="6967"]
Last updated on September 16th, 2022.