Top 4 Social Ads From 2021 to Inspire Your Next Campaign
Topics Covered:
In social media marketing, great ideas, powerful messaging, and vivid imagination are the keys to building brand awareness and driving sales. While you also need to price your products accordingly and know the market, it's a creative spirit that truly sets you apart from competitors in a world of oversaturated brands, products, and social platforms.
This especially applies to paid social ads. When you pay to play, it's vital your ads are eye-catching, on-brand, and have a crystal clear messaging. A spark of creativity transforms your ad from a nuisance to scroll past to a conversion magnet.
To get inspired for your own paid social ads, check out four of the best examples of paid social ads in 2021 and the secrets that made them work.
1. Ollie: Attracts With Simplicity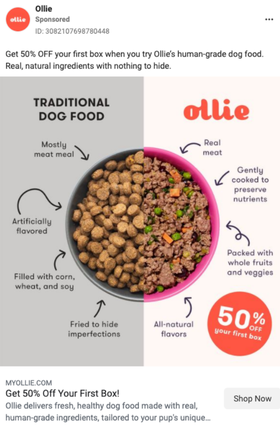 As a company that specializes in all-natural, minimally processed meals for dogs, Ollie knows its target market: people who consider pets family. What Ollie does particularly well in this ad is take an item that's well-known by dog parents — brown, plain-looking dog food in a bowl — and pair it side-by-side to their dog food. Ollie's dog food is on the right, colorful, more fun side of the ad — alongside persuasive keywords important to their audience like "real meat" and "whole fruits and veggies." It's also on the same side of a well-placed, brightly-colored discount sticker, offering "50% off your first box."
This ad is a perfect example of a clear, yet powerful, message — essentially asking consumers "Which pet parent are you?" without unnecessary frills.
2. Truebill: Uses an Emotional Hook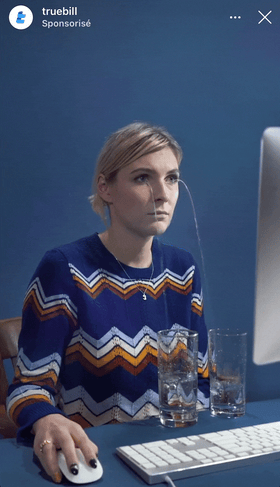 With only four words and a simple GIF-like video, you're able to understand what the actress is doing, that she's crying, and, more importantly, why she's crying, even if you've never heard of Truebill or know exactly what they do. Dramatizing budgeting woes is exactly the right tactic for a company that helps you find and cancel subscriptions you're not using for better money management.
Remember: The best ads leverage emotions to tell a story. Though simple, this ad is funny, memorable, and bound to resonate with anyone who's ever been bored to tears making a budget spreadsheet.
3. National Geographic: Makes Them Stop to Think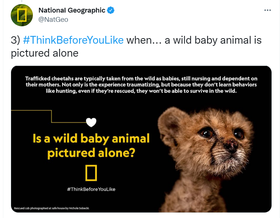 Thanks to National Geographic's effective #ThinkBeforeYouLike campaign, scrollers were forced to take a few seconds to reflect on the images, videos, and messaging they see every day on social media. While the campaign raised awareness of the illegal pet trade on endangered cheetahs, it simultaneously posed ethical questions about shares, likes, and the role social media plays in human and animal interest stories (for example, adopting dogs from shelters versus breeders).
Its powerful imagery — a high-def picture of a cheetah against a black background next to bold, yellow font — served as a reminder of just how important it is to read and ponder content and messaging before clicking the "like" button. What's more, this cross-channel campaign translated well across social platforms (including Facebook, TikTok, and Twitter) with different audiences.
4. Guess: Shows Influencers Know Best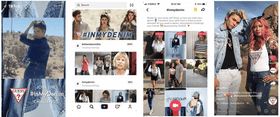 To promote their Fall Denim Fit collection to millennial and Gen Z customers, clothing brand Guess released four brand takeover videos on TikTok that went viral in only six days during the height of back-to-school shopping season. By leveraging influencers that spoke directly to their target audience — coupled with a successful #InMyDenim Branded Hashtag Challenge — Guess generated 10.5 million views and an additional 12,000 followers.
Launch Your Own A+ Social Ads With AdRoll
Even the most creative people need a little help with their marketing efforts. AdRoll provides you with all the tools, knowledge, and support you need to manage powerful paid social campaigns that convert. Check out how our Connected Social Ads can turbocharge your social media efforts today!
Last updated on August 30th, 2022.