4 Great Holiday Campaigns to Inspire Yours
Topics Covered:
Retail sales during the 2022 holiday season grew a whopping 5.3% over 2021. While that's great for brands' bottom line, the fierce competition for shoppers' attention and dollars can leave marketing teams scratching their heads when brainstorming a holiday campaign that's fresh, original, and eye-catching.
The good news is that you don't have to reinvent the wheel for great holiday campaigns. Take a page from the playbooks of top brands to find inspiration for your own holiday campaign. Whether it's a dash of tradition, a dollop of sarcasm, or something that's out there — literally — these holiday campaign examples may just be the creative infusion you need.
1. Pull at the Heartstrings: Apple
Apple has always creatively captured the spirit of the holiday season and what it's like being with family, and its 2021 campaign was no different. Directed by Oscar nominees Ivan and Jason Reitman, "Saving Simon" tells the story of a young girl who attempts to preserve a beloved snowman for a whole year by stuffing it into a freezer. It's a heartwarming ad, especially when you see the succinct tagline: "To the ones we've waited all year to be with."
Not only does Apple capture the yearning we've collectively experienced in the last few years, but the spot is another installment of the company's "Shot on iPhone" series that showcases the creative capabilities of the iPhone 13 Pro. Talk about a double whammy!
In 2022, Apple continued to uphold the notion of sharing the spirit of the holidays through their "Share the Joy" holiday campaign. This campaign focused on the Audio Sharing function of Airpods Pro, telling the story of friends and family sharing holiday tunes as a critical part of the winter festivities.
2. Build Your Own Imagination: LEGO
Building with LEGO creates a world of endless possibilities and that's exactly what LEGO showed in their 2022 "Holiday Hero" campaign, where they invited celebrities and referenced some of children's favorite fictional characters. Isn't it every kid's dream to meet their favorite singer or movie star?
In this video campaign, LEGO first shows the kids building a DIY vehicle that becomes a real invention. An exact model rolls up in front of their house with none other than Katy Perry standing atop it singing her hit song Firework as the kids run out in joy. The vehicle then brings them through their neighborhood and gets stuck in a sandbox. Rapunzel sees this commotion and whistles to call for Iron Man, who sails through the sky and pushes the truck out of the sandbox.

LEGO didn't show the typical snowy, Christmassy elements of the holidays, but showed an adventurous, imaginative skit that delivered a single message: LEGO is where you can "build a playful holiday and rebuild the world."
3. Be a Little Snarky: Heinz
Everyone knows that British department store John Lewis is the king of holiday advertisements — until Heinz UK came along with its TikTok parody, that is. When you pair a chuckle-worthy concept with a widely anticipated campaign drop, you've got a winning formula.
In 2022, Heinz UK brought a touch of snarkiness to the holiday season by creating a spoof of a John Lewis ad for TikTok. Featuring a gift exchange of Heinz's Christmas Dinner Big Soup, complete with an emotional soundtrack, green screen John Lewis-esque holiday imagery (don't you just love TikTok effects?), and the caption "We spent nothing on this Christmas ad. Enjoy🎄," the campaign was unconventional for a major brand, to say the least. Yet, it was funny, timely, and relevant — in fact, the campaign wonThe Drum Awards for Marketing 2022 in the Social Media category.
4. Bask in Tradition: Macy's
As marketers, we can get so caught up with selling gifts and promoting sales that we sometimes forget charity is also a significant part of the holidays. 
That's exactly why Macy's has made charity the hallmark of its annual "Believe" campaign. For every letter to Santa posted on its website, Macy's would donate $1 to the Make-a-Wish Foundation. The campaign gets its audience to engage with Macy's directly through the letter to Santa site while fostering goodwill toward the brand. That might be more than you can spend, but aligning your brand with a charity lets you express your brand identity while also doing good for others. This is a stroke of brilliant marketing storytelling that aligns perfectly with Macy's brand values.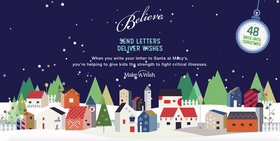 Launch Your Own Holiday Campaign With AdRoll
These are just some holiday campaign examples you can use to inspire your upcoming holiday campaigns. Whether your brand is sentimental, sarcastic, or something in between, there's always a way to make your marketing stand out from the incessant stream of jingling bells and falling snowflakes, if you take cues from what worked for other brands.
Ready to take this year's holiday season by storm? Check out our holiday marketing resources and strategies below.
Last updated on August 22nd, 2023.