The Beginner's Guide to Performance Marketing for Shopify Merchants
Topics Covered:
Performance marketing is one of those terms you'll hear over and over in ecommerce blogs, podcasts, and ebooks. But do you actually understand what it means? 
If not, here's everything Shopify merchants need to know about performance marketing: what it is, why it's relevant, and most importantly, how you can get started. 
What Is Performance Marketing?
Performance marketing is an approach to customer acquisition, engagement, and conversions, in which you pay only when a user completes a desired action. It could be purchasing a product, downloading a resource, installing an app, viewing an ad, clicking on a page, or signing up for your emails.
Here are some examples of performance marketing you've probably heard of (or perhaps dabbled in yourself!):
Creating an affiliate program where you pay publishers only when a user clicks on a link or makes a purchase

Launching pay-per-click display, search, or social media ads

Designing an influencer marketing program that rewards influencers when shoppers check out with a unique code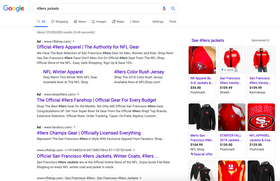 The Perks of Performance Marketing? 
In any digital marketing campaign, you're working toward one goal: results. Performance marketing, which some call results-based marketing, is the ultimate way to lower financial risks while still working toward the KPIs you've set. And because performance marketing involves working with third-party partners, such as publishers or influencers, you're likely to tap into new audiences beyond your existing marketing efforts.
Performance marketing also unlocks simplified and transparent data — so you can immediately track and evaluate key metrics on a granular level. This provides insights to optimize your marketing efforts, whether that's the ad creative or strategy itself. In the long run, you'll be able to do more with a limited budget.
TL;DR: If you've been struggling with a reduced budget or straining to get your desired results, performance marketing can be a great opportunity to turn things around.
Are There Downsides to Performance Marketing?
Performance marketing may be the key to getting fast results and achieving short-term goals (such as generating more impressions or increasing ad clicks) — but if you're not careful, it can be easy to lose track of the big picture and your overarching business goals. 
If your main brand goal is to boost awareness, performance marketing may not be the best route for you, though. That's because a performance marketing strategy relies on people taking specific actions. On a similar note, performance marketing may also be less suitable for brands focused on goals or KPIs that take longer to come to fruition, such as building an active brand presence online. In other words, when there are multiple metrics in play, performance marketing gets a lot trickier.
That said, we recommend using a performance marketing strategy for smaller, quicker campaigns.
What Are Some Performance Marketing Best Practices? 
When it comes to mastering performance marketing, you should keep some best practices in mind.
1. Set clear performance goals
Before you get into the nitty-gritty work of tracking metrics, it's imperative to set clear goals — or you'll risk paying for results that don't move you any closer to your objectives. 
Remember: Performance marketing should be one piece of your marketing pie. It doesn't substitute a robust marketing strategy and plan. Don't neglect the big picture for short-term results.
2. Beef up your data skills
Evaluating the success of your performance marketing efforts requires looking at data from different channels (such as paid ads and web traffic), so you'll want to feel comfortable with data interpretation and analysis before starting.
3. Monitor your results
The key to performance marketing is monitoring your results consistently. To stay sane, we recommend using a tool like AdRoll or Google Analytics that'll display your results in one useful dashboard.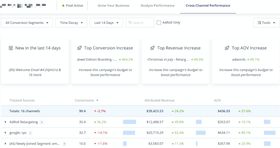 Pro tip: There's no need to look at all the data. Focus on key metrics such as attribution, bounce rates, and click-through rates. For more, check out this quick guide to KPIs. 
4. Optimize your landing page and offer
Clicks that lead to bad landing pages are just a waste of money. So, it's well worth your time to A/B test your landing page copy, design, and offer — keep it simple but enticing and always think of how the whole user experience flows.
Psst: We've created a helpful explainer to help you design A+ landing pages.
You're a Step Closer to Becoming a Performance Marketer
Performance marketing can be a game-changer to lower costs and risks for growing Shopify merchants. But remember: It shouldn't replace your big-picture marketing strategy.
For that, you'll need a MarTech solution like the AdRoll app for Shopify merchants. It's an all-in-one platform that'll help you with all your marketing efforts, from ads to emails, so you can offer shoppers a seamless browsing and purchasing experience.
Last updated on April 5th, 2023.