Affiliate Marketing for Beginners: What Is It and Is It Worth It?
Topics Covered:
Imagine if you could get new customers without having to pay an upfront fee. Does that sound too good to be true? Think again: This is exactly how affiliate marketing works. Not only is it a tried and true tactic, but it's also a fantastic way to boost profits.
Unsure how to get started with affiliate marketing or whether it's worth it for your brand? Read on for everything you need to know about affiliate marketing for beginners.
What Is Affiliate Marketing?
Affiliate marketing is a type of performance-based marketing that lets you reward and incentivize a third-party affiliate (whether it's a brand partner, publication, or influencer) to bring in customers. 
Here are some examples:
Blog posts or listicles that round up trending or relevant products. Often, you'll see a disclaimer that reads something along the lines of: "This post contains affiliate links." Fun fact: Wirecutter, The New York Times' consumer site that promotes best-in-class products, is supported exclusively by affiliate commissions and reader subscriptions.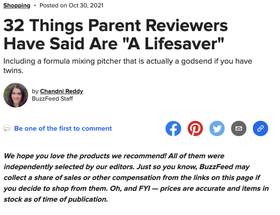 An influencer who promotes a product and encourages their followers to click on a dedicated link to unlock a special deal, such as 20% off and free shipping. (To comply with social media regulations, they'll tag the post with #ad)

The Amazon Associate program is one of the most famous and largest affiliate programs out there. Depending on the niche, affiliates can choose which of Amazon's millions of products they want to promote.  
Is Affiliate Marketing Right for Small Businesses? 
The answer is a resounding yes! (That is, if you have the budget for it, of course.) We love talking about the power of word-of-mouth marketing — and affiliate marketing is one of the tactics that leverages social influence to drive brand awareness and sales. In fact, one study found that 37% of shoppers find new brands via an affiliate link. 
The best part of affiliate marketing is how it's performance-based. In other words, unlike pay-per-click ads, you only pay for performance and don't have to invest upfront. This makes the tactic cost-effective and low-risk, perfect for small and growing brands. 
But while we can't tout the benefits of affiliate marketing for beginners enough, there are rare cases where affiliate marketing might not make sense, like if you have small profit margins and can't afford to carve out a portion of every sale to your affiliates. 
How to Get Started With Affiliate Marketing
Launching an affiliate program can be exciting, but make note: Just like anything else in marketing, success will depend on how much time and effort you invest into it. Here are some tips to get started:
Recruit your affiliates wisely
If you're partnering with a publication, influencer, or industry-adjacent brand, you'll want to make sure that they: 
Are reputable

Have an audience with whoM they've built trust

Post relevant content and have an audience that matches your target shoppers' profiles

Have a significant reach and high engagement numbers
Choosing the right affiliate is extremely similar to the process of picking out influencers — for more help, check out this post. 
Determine your affiliate program's terms 
The commission terms for affiliate programs vary from brand to brand — you can pay your affiliates for completed sales and/or for every lead or click. Similarly, you might pay a flat-rate amount or a portion of the total sale, but you could also reward your affiliates with free or discounted products. 
While the most common commission package is between 5% and 30% of every order, it'll ultimately depend on who your affiliates are and what industry you're in. 
Choose an affiliate management app
While you could theoretically organize all your affiliates and data on a spreadsheet, why waste time when an affiliate management app can handle all of this for you? Here are a couple of popular ones:
With Refersion, you can launch and start managing your influencer and affiliate programs in mere minutes. Via the platform, you can even recruit (from a database of over 5,000 potential partners), track, and pay your affiliates. 

LeadDyno helps you easily track all your affiliate codes and automatically pay your affiliates. Each affiliate will also have access to their own personalized dashboards so they can easily see how they're doing! 

UpPromote does everything its competitors can do and more — you can use their platform to convert customers into affiliates. 
Reach out to potential affiliates
Now it's time for recruitment. You can announce the launch of your affiliate program on your website, social media, or via email — interested parties can visit a landing page to learn more and apply. Make sure you spell out what perks are potentially in store for them.
Alternatively, you can use affiliate networks to find your ambassadors — check out ShareASale. 
Onboard your affiliates
The key to affiliate marketing for beginners? Communication. As the face of your brand, your affiliates need to be somewhat familiar with your mission and products. Consider creating an onboarding document that includes:
Your brand story

A list of hashtags that they should use

A list of call to actions (CTAs) they should use — are you trying to get them to sell specific products or promote particular product categories? 

A summary of the program's payment terms

Any brand assets they'll need if they're creating their own content (e.g., logos, fonts, color hexes)
Offer unique promotions to your affiliates' followers
Nobody says "no" to a good deal, and a huge part of why affiliate programs work is thanks to irresistible coupons or discounts. (Raise your hand 🙋 if you have signed up for HelloFresh or Green Chef simply because an influencer offered $80 off?)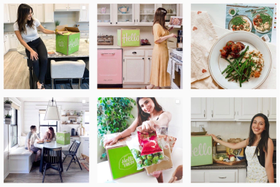 Make sure you factor in these promotions as you budget out your affiliate program — when you're offering a discount to shoppers and paying a portion of the sale to your affiliate, your profit margins can disappear if you're not careful. 
Pay attention to metrics
As with any marketing tactic, consistently monitoring and analyzing your data is essential. Understanding what's working and what's not in your affiliate program will help streamline the process and save costs.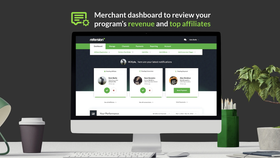 Some metrics you'll want to spend extra time looking into are:
Total revenue from affiliate links

Payout per affiliate

Payout-to-sales ratio 

Order size from affiliate links compared to your usual orders
Get Started With Affiliate Marketing Now
With affiliate marketing, you'll be on your way to better brand awareness, new customers, and more sales. For more ideas on marketing tactics that'll help level up your ecommerce store, check out the AdRoll Marketing Resource Library. 
Last updated on November 16th, 2021.