Top Takeaways: Unlocking Growth With Your Shopify Apps (Webinar)
Topics Covered:
You've probably realized by now that creating strong marketing and CX tech stacks is essential for ecommerce success, regardless of what you sell, who your customers are, and how long you've been in business. 
One way to strengthen these strategies and generate more wins for your business? Uncovering the deeper capabilities of your Shopify apps! From creating more engaging customer experiences to leveraging new revenue sources, taking your Shopify apps to new heights can unlock tremendous growth — as we covered in our recent webinar on Shopify apps with partners: Yotpo, Gladly, Privy and Refersion.
No time to watch the 40-minute webinar? Well then this blog is for you as we'll cover the session's key tips, tools, and tricks for leveling up your Shopify tech stack. The best part? This actionable advice is coming from five Shopify Plus Certified Partners — meaning that Shopify has established that they meet a high level of product quality, service, performance, privacy, and support for small and large businesses alike. Let's get started!
Streamline Your Cross-Channel Marketing and Advertising Efforts With AdRoll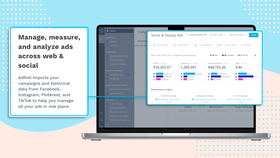 What Is AdRoll?
AdRoll is a marketing and ads platform that helps you tackle all your ecommerce marketing in one place. We provide a single platform for brands to manage display ads, social media ads, and email.
AdRoll's Shopify integration makes it really simple to get campaigns up and running thanks to the 3-click integration that pulls in your product feed to create dynamic ads and emails. And while the more advanced features may take a bit more marketing know-how, they are absolutely worth the additional effort to implement.
Advanced AdRoll Features for Shopify-Powered Brands
Shopify-powered brands can benefit from three advanced AdRoll features in particular:
Dynamic List Builder is a tool that lets you create contact lists defined by criteria based on time, activity, item and value — combining AdRoll and Shopify event and contact profile data. Our customers can utilize these lists across ads and email campaigns for precise targeting.

Connected Social Ads allows you to manage and measure ads across Facebook, Instagram, TikTok, and Pinterest — all from one place. Through a simple app integration with your existing social channels, AdRoll will import your campaigns and reporting data.

Cross-Channel Performance Dashboard provides UTM-based data needed to optimize campaigns (such as frequency, ad spend, industry benchmarks, and smart audience segments) all in one place. In addition, the dashboard filters data across channels and campaigns, providing actionable insights and recommendations on where to shift your marketing budget to get the most bang for your buck!
How RIGd Supply Grew Its ROAS by 35x
RIGd Supply is known for its off-road hitch racks. But its high price point and naturally long buyer's journey means they can't rely on a traditional growth formula. 
Luckily, AdRoll had a solution. Using AdRoll's Shopify integration, the team ran campaigns across social, email, and the web for brand awareness, retargeting, and abandoned cart recovery.
The results? RIGd Supply's average ROAS grew by 35x, and their abandoned cart recovery campaign culminated in a 44.5x ROAS in just one month! 
Harness the Power of Reviews, UGC, Loyalty, and Rewards With Yotpo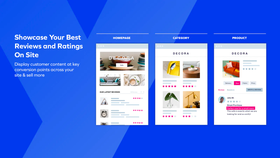 What Is Yotpo?
Offering an interconnected set of tools to help Shopify brands strengthen their relationship with customers, Yotpo is one of the most popular reviews and UGC apps. With Yotpo, you can maximize customer lifetime value by:
Leveraging social proof and reviews to help brand discovery via search

Building loyalty and referral programs to keep existing customers engaged and turn them into loyal brand advocates

Using SMS marketing to meet today's shoppers where they are: on their phones
Offering consumers a way to quickly and easily subscribe to products they purchase on a regular basis
Advanced Yotpo Features for Shopify Brands
Yotpo's robust suite of solutions can be challenging to navigate, but luckily, we're here to help — check out these advanced features that Shopify brands can benefit from:
Yotpo's smart sentiment algorithm analyzes your customer reviews and automatically identifies positive and negative reviewer sentiment across different relevant keywords. This makes it easy for you to get a holistic view of customer sentiment, easily surface your best reviews to display in ads and on social media, and identify any widespread issues with your products.

Yotpo recently launched Click to Buy, which has been driving huge ROI for the brands that were early adopters. Using the native integration with Shopify, you can create personalized links that take each customer to a pre-populated cart experience via text, expediting the path to purchase and increasing conversion.

With Yotpo's advanced loyalty segmentation, you can target customer segments based on program-related data, including point balance, number of referrals completed, last purchase date, VIP tier, and more. We currently have over 14 cross-product Yotpo Loyalty data points that brands can use in tandem with Yotpo SMSBump to create personalized, higher-converting SMS campaigns.
Case Study: Barefaced
After replatforming to Shopify, D2C skincare brand Barefaced wanted to ensure that their customers had an optimized experience with the brand across their path to purchase. They implemented Yotpo's solutions for loyalty, reviews, and SMS to simplify their tech stack and take advantage of Yotpo's product synergies.
The Yotpo platform enables Barefaced to share valuable data across tools and create hyper-relevant, high-converting customer experiences. For example, Barefaced rewards customers with loyalty points when they subscribe to SMS, and sends texts with timely point balance reminders and perks. They also segment campaigns to send exclusive deals and promotions to their top loyalty VIP tier.
The results? Yotpo SMSBump's synergies with Loyalty & Referrals propel powerful engagements for the brand. Triggered messages that remind customers of their remaining loyalty points to spend have driven an incredible 253x ROI, with New VIP Tier texts driving 120x ROI as well.
Transform Your Contact Center Into a Loyalty Engine With Gladly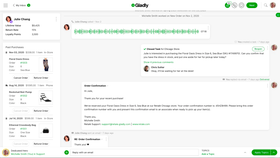 What Is Gladly?
Ticket-based customer service no longer meets the needs of modern shoppers. When an issue arises, whether due to a shipping delay or a product-related issue, customers don't spend time contemplating your different customer service channels. Rather, they just want to ensure that you are there to receive them. 
Here's where Gladly comes in. The ultimate platform designed for radically personalized customer service, Gladly doesn't treat people like tickets, and instead helps brands build relationships with customers at every stage of their journey. With Gladly, brands say goodbye to repetitive requests for customers' order numbers and hello to cross-channel and personalized customer service tools that instantly unlock a holistic view of who they are and what they need. 
Gladly empowers customer service agents to turn customer frustrations into new opportunities, so brands can transform shoppers into loyal advocates, which is the key to helping your brand win big over time. 
Advanced Gladly Features for Shopify Brands
Gladly's integration with Shopify allows customer service reps to provide meaningful and effective support without leaving the platform. Here are two advanced Gladly features Shopify brands can benefit from:
Gladly Consumer Self-Service boosts loyalty and operational efficiency by streamlining tasks that would otherwise be handled manually, e.g., processing a return or an exchange. This technology recognizes and authenticates customers, letting them get the information they need with the click of a button. Additionally, agents receive a complete picture of the customer as relevant context from self-service threads is added to the single lifelong conversation timeline within the customer's profile.

Gladly's People Match matches customers with the representative best equipped to serve them in real-time by leveraging Shopify data like spend history and VIP status. They can be routed based on how they are feeling (e.g., low CSAT score), what their situation is (e.g., severe delivery delay), and how strong their intent to buy is (e.g., recently engaged with a marketing campaign, added a high value of goods to their shopping cart).
How Andie Swim Used Gladly to Help Customers Feel Comfortable
Andie Swim improves the swimsuit shopping experience by offering try-on support that helps women find the perfect swimwear. 
But for a company prioritizing personal connections, its customer service wasn't very personal. Customers were getting cold, automated texts and had to repeat their sizes, concerns, and story each time they needed help from Fit Experts.
Luckily, Gladly's all-in-one platform was there to help. Instead of being routed through an impersonal platform, customers' entire record — which included their name, order history, and past communications — were sent seamlessly to Fit Experts. Beyond that, adding Gladly's self-service channel Sidekick throughout their site has also reduced the volume of basic questions for customer service reps, allowing the whole team to better meet its customer service goals.
Optimize Your Shopify Store for Conversions With Privy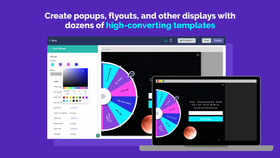 What is Privy?
Privy provides Shopify brands with pop-up solutions that drive customer action, including welcome displays, mobile flyout displays, and cart saver/exit intent displays triggered when a shopper is about to abandon their cart.
Advanced Privy Solutions for Shopify brands 
There's a science to building an optimized pop-up — Privy offers targeting and segmentation tools that ensure you're presenting the right displays to the right audience.
Segmentation is key to keeping subscribers engaged. Naturally, you want to send the right message to the right people, whether that's a sneak peek of new products or a roundup of monthly bestsellers. With Privy, you can segment shoppers by when or what they purchased. 
Privy also offers the ability to target shoppers in real-time with its native Shopify integration. So, you can run campaigns based on what or how much is in a shopper's cart or even run a display based on the referral URL — displaying a form only to shoppers coming from a specific ad campaign.
How Lori Wall Beds Recovered $250,000 in Sales
Before switching to Privy, Lori Wall Beds sent shoppers a single checkout abandonment email — which, unsurprisingly, isn't very effective as most shoppers don't even make it to checkout.
Using Privy's Cart Saver campaigns and cart abandonment campaigns, they identified 4x more abandoned carts and recovered $250,000 in sales.
Check Out Privy's Email and SMS Solutions
Fun fact: While Privy is most famous for its pop-ups and displays, it's also an ESP and SMS provider. Its email product (which includes automated cart abandonment sequences, welcome emails, segmented newsletters, and post-purchase emails) uses real-time cart data, which can be super powerful when combined with pop-ups and displays.
Leverage Ambassador and Affiliate Marketing to Reach New Customers With Refersion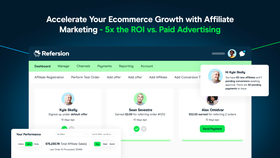 What is Refersion?
Refersion helps you launch affiliate marketing programs that drive revenue while saving you time and money. Its affiliate marketing technology offers the ultimate end-to-end affiliate marketing experience that covers everything from management to strategy and reporting to payment solutions — essentially, all you need to build and scale an affiliate  program with ease.
With Refersion, you can identify and engage with high-quality affiliates, accelerate revenue, receive and leverage robust reporting and data for optimal performance, and more.
Advanced Refersion Features for Shopify Brands
Some of Refersion's advanced features include:
Custom offer settings: offer the flexibility and power to create offers that align with your comprehensive marketing strategy

Advanced commission calculations: great for revenue-driving holidays like Black Friday that require specific affiliate parameters

Post-purchase widget tools: help you turn customers into ambassadors with a post-purchase popup display as a referral invitation

Refersion Pay: an end-to-end payment and tax solution that covers payment scheduling, direct payments, and readily accessible tax information
How Goorin Bros Achieved $1 Million in Affiliate Sales 
As a 100-year-old brand, Goorin Bros. is no stranger to adapting to the times. Eyeing bigger growth, the company partnered with Refersion. They invited their most devoted customers to join their affiliate program. The team could easily track, manage, and pay their affiliates, as well as ensure their affiliates stayed happy and engaged via weekly newsletters featuring new arrivals, educational materials, and incentives.
Within just one year of working with Refersion, Goorin Bros. achieved $1 million in affiliate sales, 10,000+ approved affiliate conversions, and 600+ new affiliate registrations.
Don't Miss: Affiliate Discovery
Next up for Refersion? Affiliate Discovery, a global database that will offer brands access to millions of active affiliates and publishers with audiences relevant to their specific products or services.
By using Affiliate Discovery to discover ideal affiliates, access the right audiences, and perform competitor analysis, ecommerce brands receive critical insights to grow their affiliate program with the help of high-quality brand partners.
Power Your Shopify Tech Stack Today 
With these actionable and useful tips, tricks, and tools, you're one step closer to designing an unbeatable Shopify tech stack. Download the 5 Shopify integrations from AdRoll, Yotpo, Gladly, Privy and Refersion and start uncovering new levers you can pull to grow your business!
Last updated on September 1st, 2022.