The Ultimate Pinterest Competitor Analysis Template
Topics Covered:
If you're new to Pinterest, it can be pretty overwhelming to pinpoint what you need to do to drive traction for your ecommerce brand, especially considering the abundance of ad formats, audience filters, and organic pin types the platform offers.
Luckily, you don't need to reinvent the wheel. As with much of marketing, one A+ trick to get your ideas rolling is to simply check out what other top brands are doing. How are they building their communities? What are their most engaging boards? What types of ads are they launching? (Psst: To get a glimpse of a specific competitor's ads, you'll need to use a tool like BigSpy as Pinterest, unlike Facebook, doesn't provide a library of ads.)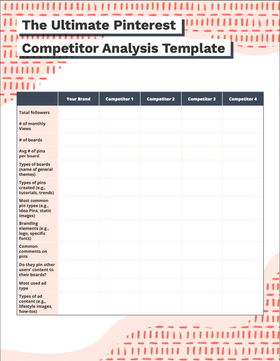 This is precisely what this template is all about! Use this table to compare your Pinterest account with those of your competitors (no matter how large or small), then see if you can spot any trends. Have fun!
Now that you've filled the table above with insights, are your creative juices flowing? If so, we've got good news: AdRoll's automation builder is one of the best ways to create, manage, and optimize not just your Pinterest efforts but also your Facebook, Instagram, and TikTok campaigns plus your display ads and email.
Last updated on May 10th, 2023.