Is the Cart Abandonment Rate for Your Shopify Store High? This Could Be the Cause
Topics Covered:
As marketers, large numbers bring us joy — who doesn't want high conversion rates, next-level traffic, and two-digit click-through rates? However, there is one number no one wants to see increase: cart abandonment rates. 
Across all industries, a whopping 70% of shoppers abandon their carts. Although they're an inevitable headache for most ecommerce marketers, not tackling them may lead to a significant loss of potential revenue. 
The first step toward recovering some of your Shopify store's abandoned carts? Diagnose the problem. Here are six reasons why you may be experiencing high cart abandonment rates. 
Unforeseen Checkout Costs
This has happened to all of us: A digital ad catches our eye, causing us to spend the next hour browsing through an online store, carefully reading reviews, and gleefully adding products to our carts — only to be shocked by crazy-high shipping costs when we're finally ready to pay. 
It may feel like a wise choice to hide pricey shipping costs from shoppers until the last minute — especially if you're shipping bulky items or your customers are halfway across the world. After all, a shopper spent the time and effort picking out items and learning about your brand, so they'll pay up for shipping, right? Not so fast. 

When extra costs — such as shipping or taxes — are hidden until checkout, shoppers may feel surprised by the final sum, choosing to abandon their carts instead. 
Complicated Checkout Processes
Another major reason for high cart abandonment rates involves overcomplicated checkout pages. From requiring a shopper to create an account to unnecessary mandatory fields (such as birthday or gender), every extra friction point poses a new opportunity for shoppers — especially new or casual ones — to abandon their cart. 
Pro tip: Consider encouraging shoppers to create an account after they successfully check out. Make sure to inform them of what benefits they'll receive, such as easier order tracking. Here's how to set the customer account preferences for your Shopify store. 
Clunky Mobile Checkout
Mobile unresponsiveness is another culprit that can lead to higher cart abandonment rates. Because mobile plays a massive role in the shopping journey, it's not uncommon to see up to 73% of purchases originate from phones or tablets. 
On the flip side, shoppers are more likely to abandon their carts if your mobile checkout process isn't as seamless as expected. When choosing a theme for your Shopify store (especially if you're using one outside of Shopify's Theme Store), make sure your checkout processes fit properly on smaller screens, with device-friendly buttons, short forms, and fields that automatically expand when clicked on. 
Unclear Store Policies
Online shopping may be the most convenient way to buy. But without the ability to see or try products before checking out, shoppers run the risk of needing to conduct a return. That's why browsers prefer ecommerce stores with generous return and exchange policies. No one wants to fight with an obscure company via email for weeks before receiving a return shipping label. 
When your store policies are unclear, shoppers may feel hesitant about placing an order, choosing to abandon their carts instead. 
Pro tip: Want to alleviate these last-minute doubts from shoppers? Offer customer support at checkout. This can be as simple as a chatbot pop-up that provides convenient, accessible assistance for common questions, such as shipping times, return policies, and sizing information. (If you're using Shopify's base plans, a third-party app is the best way to go here — a popular one that easily integrates with your store is Tidio.) 
Too Many Casual Browsers
We're all guilty of mindlessly virtual shopping and adding items to our carts — even if we have zero buying intent. If you're looking to capture casual cart abandoners, consider providing more incentives for them to complete their purchases, including limited-time deals or social proof live notifications (e.g., "You have a good eye — a shopper from Los Angeles just bought this item!" pop-up).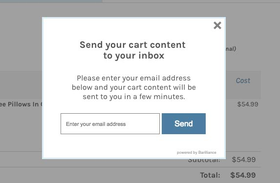 Shopify has numerous apps to help you capture these casual browsers — check them out here. 
Concerns Over Payment Security
Don't be an ecommerce site that looks like they're a front for credit card fraud. When shoppers are concerned about security — whether their personal details or credit card information — they won't hesitate to close the tab. 
There are many reasons why an ecommerce site may appear sketchy, from a lack of social proof (or fake-looking reviews and testimonials) to missing company information to zero customer service channels.
Don't Let High Cart Abandonment Rates Ruin Your Day
If you were nodding your head throughout this guide and muttering, "Uh oh, that sounds a bit like my store," you're in luck: We created an all-levels cart abandonment recovery guide for Shopify merchants to help you win back some of your lost shoppers and revenue. Check it out and start turning cart abandoners into loyal customers.
Last updated on April 13th, 2022.