Integrating Emails With Your Brand Marketing Strategy
Topics Covered:
There are two accepted rules in marketing today. Number 1: Brand consistency is king. Consistent branding across all channels is shown to increase revenue by 23%. Number 2: Email is one of the most effective tools in the digital stack. In a study by McKinsey & Company, email marketing was found to be up to 40x more effective than social media. Despite these facts, a poll of small businesses showed that only 7% were using email as a tool for brand building. That means there is a huge potential for brands to better integrate email into their overall brand marketing strategy. 
Here are several simple approaches to email marketing that will go a long way to creating brand consistency and boosting conversion rates.
Build an Email Template
No brand wants to be email clutter in a customer's overflowing inbox. They want to stand out. But it's not as easy as it sounds. It takes between five and seven impressions for a person to remember a brand. That's why consistent branding is so important. In fact, brands that are presented in a consistent way are three to four times more likely to achieve visibility.
An effective way to be memorable is by leveraging a branded email template. Using an email template enables brands to be more recognizable by matching the email design to the brand's overall look and feel. It also makes it much easier to create consistency across different email campaigns and recipient lists. 
Whether sending a first email to a new subscriber or a followup email reminder to existing customers, an email template provides a consistent overall structure, yet with room to adjust copy and design according to the campaign goals. Check out how Netflix does it in two emails below. 
Both feature a narrow scroll-down layout, yet the first has a light grey background while the other is black. One includes the Netflix logo at the top; the other skips it altogether. One employs a title above the fold; the other leads with an image only. Even with these differences, there is still a familiar consistency between the two emails, and that's because they are based on a template.

An email template provides the freedom to adjust numerous elements, such as colors, image placement, headings, and more, while static elements, such as the footer details, remain the same, saving time and effort. In the Netflix example, both email footers include a standard CTA and data privacy compliance links and information.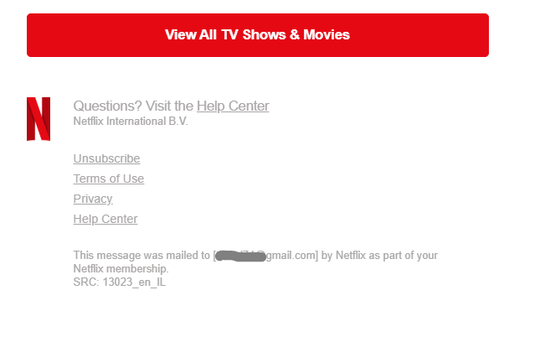 Building an email template is the best way to create emails quickly and efficiently while maintaining a consistent structure and layout — and also ensuring room to customize according to campaign goals.
Build an email template for your brand marketing strategy:
Use HTML in the Email Template
Plain text emails are limited in their scope for branding and design, offering only the most basic formatting options. With HTML, however, the email template is coded to include advanced formatting capabilities, enabling almost endless possibilities to integrate the email design with the brand identity, such as a logo, stylized CTA buttons, and embedded links. 
To be sure, there is a place for plain text emails in marketing. When a customer is already corresponding with a salesperson, for example, email without all the bells and whistles is more appropriate. However, for the purposes of branding and awareness, HTML can take email design to much more visually exciting places.
For example, with HTML, marketers can embed video in emails, which has been shown to increase click rates up to 300%. Other advanced files, such as the latest email trend of Animated PNGs (APNGs), can help integrate branding in emails in powerful and interesting ways. Take a look at this eye-popping email featuring an APNG: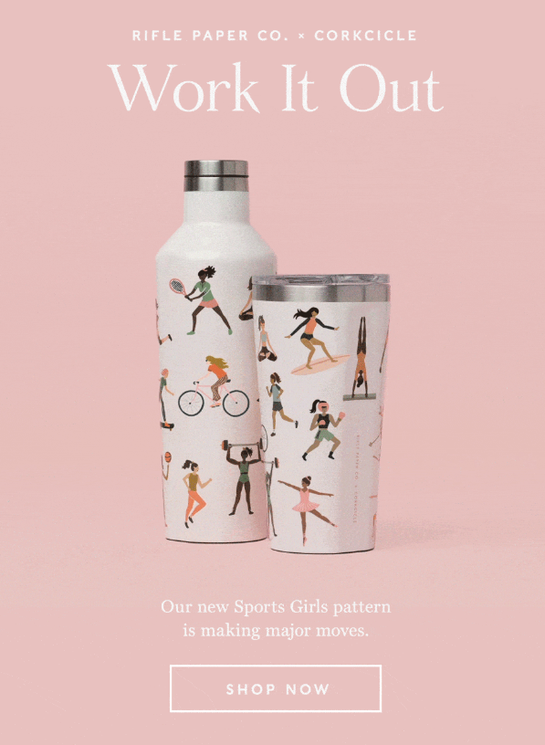 HTML also enables better monitoring and analytics of email campaigns, as tracking pixels can be embedded in HTML snippets. This allows brands to optimize campaigns via HTML tracking and align their email activities with their overall marketing strategy and goals.
Include Social Media Links
Email and social media are two of the most effective digital marketing channels. More than half of U.S. survey respondents said they check their personal email account more than 10 times a day, and people spend an average of three hours per day on social media platforms. It makes total sense to connect these two marketing channel powerhouses and give customers the opportunity to click through to the brand's social media pages directly from a marketing email.
Customers who have signed up for marketing emails have higher levels of engagement with the brand, too. Over at Quicksprout, it's been found that email subscribers are 3.9 times more likely to share the brand's blog content on social media than non-subscribers. 
It is now standard practice to include links to social media pages in marketing emails, and they are most commonly displayed in the footer. Even so, they should be treated as much more than an afterthought. It is important to make links accessible and eye-catching so that any customer looking for them can easily find them. In the example below, eMarketer sets their social media icons against a grey background so they pop out visually.

In this example from MyUS.com, a shipping services company, the social media links are spaced evenly and clearly between separator lines. 

There are other creative ways to use social media links in marketing emails. Neil Patel gives a great example with Sony VAIO. The brand included a "Pin It" link in their purchase confirmation emails so customers could share their purchase with their Pinterest network. This led to an extra 3,000 clicks and the brand exceeded its "revenue by email" goal by 172%. As with many aspects of email marketing, the only limit is creativity.
Be Mobile-Friendly
Mobile usage is now a key driver of customer engagement, even for email. According to Hubspot, 46% of all email opens happen on mobile devices. Plus, emails on mobile are more likely to be consumed on the go. When creating email campaigns, it's critical that they be mobile responsive, readable, and eye-catching on a small handheld screen.
Links must be large and well-spaced so the viewer can easily click through with their fingertip. Short headings, catchy images, and minimal text work great on mobile. Brands should focus on smart links and clear CTAs to help the viewer navigate rapidly to the next stage of the funnel. 
eBay is a good example of how to do this. Its mobile-friendly email format enables long scrolling through suggested products, with links to product categories, bold pricing, and lots of white space for easy clickthrough.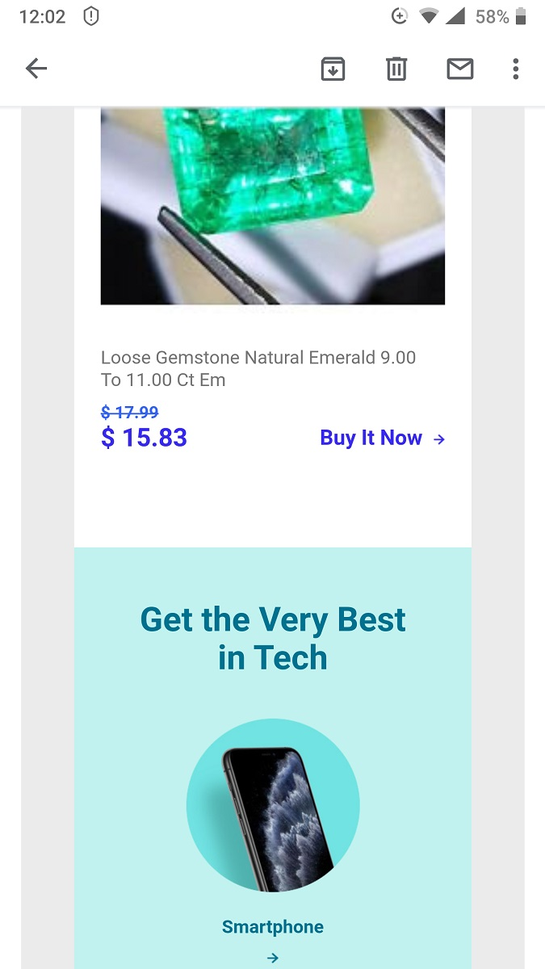 Match the Message to the Customer 
The kind of email experience that will work best for customers depends on their location in the marketing funnel. If a customer has just subscribed to a brand's email marketing list, a welcome email with a special introductory offer can be effective in driving conversions. On the other hand, if the customer is already active as a free user, an email with a discount to upgrade to the premium version can be more compelling. 
Here's an example from grammar-checking app Grammarly: an email offering a time-limited upgrade discount, with an eye-grabbing illustration in a branded HTML template.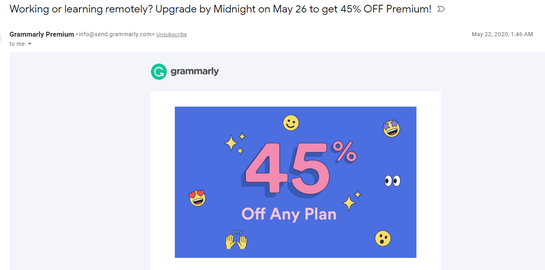 Brands can customize email campaigns to integrate with their overall brand marketing strategy by segmenting customer email lists and targeting each segment with the most appropriate message or offer. For example, personalizing the email subject line can increase open rates by 50%. For customers who have abandoned their shopping cart during the checkout process, sending three well-spaced follow-up emails gets 69% more orders than just one follow-up email.
The permutations and possibilities in email marketing are incredibly broad. The better organized and segmented the customer lists, the better the brand will be able to tailor email messages for different audience groups and meet set KPIs. 
For more on how to match email messages to your brand marketing strategy: 
The Customer Journey Is Long. Keep It Consistent.
According to Google, the online customer journey involves anywhere between 20 and 500 touchpoints, depending on the purchase. One of the biggest challenges for brands is maintaining consistency between all those touchpoints, whether on mobile, desktop, social media, search, website, and — yes — even email. 
Email marketing is not a standalone effort in the race to gain customer mindshare. Rather, it is one of the strongest pillars in the entire edifice of digital marketing. That's why brands must make the most of the incredible potential of email by integrating it deeply and consistently with their brand marketing strategy. From design and UX to messaging and segmenting, every aspect of email marketing is another opportunity to inspire the customer on the journey to conversion.
Check out our D2C Shopping List — you wouldn't want to miss the goodies we have lined up for you. 
Last updated on September 16th, 2022.