How to Write Data-Driven Content That Converts
Topics Covered:
With so much content being published in a day — some counters estimate about 7 million each day on average — it's safe to say that not all content performs equally. 
Content performance can also go beyond simply pageviews — it depends on your goals. Was your content meant to build your brand as an authority in your niche? Was the goal to inform and educate? In most cases, your content's purpose is probably to convert. 
Whether that's converting views into leads or leads into sales, there is a tried and tested way to make sure your content is converting in the way you like.
Enter data-driven marketing.
When you adopt a data-driven marketing approach with your content, you're able to make the most of any data you are already tracking and collecting, then use it to make more informed choices that lead to better results.
Data-Driven Marketing in Action
We see data-driven marketing as a way to create interesting and important campaigns. One strong example is when washing machine brand Whirlpool started a campaign that aimed to put washers and dryers on school campuses.
The reason? They found that thousands of students missed classes each day because they didn't have access to clean clothes. And students who always missed classes were 7x more likely to drop out of school.
The program has been up since 2015 and continues to go strong. Over 38,000 children have benefited from the program, together with the 82 schools that are part of the initiative.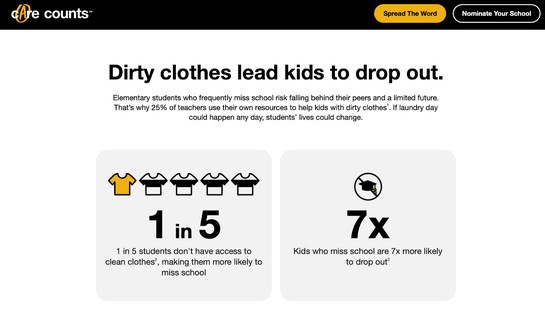 Now imagine for a minute if Whirlpool hadn't used data about dirty clothes being a huge reason for children being unable to go to school for their campaign. Imagine if they'd gone the route of creating a marketing campaign based purely on the intuition that it might work. Chances are, they wouldn't have arrived at such a brilliant campaign that continues to be a major success and force for good in the education sector, even six years later.
Whirlpool's example is an excellent example of data driving your marketing campaigns and using your brand for good. And the great news is this strategy can be used for just about any stage in the marketing process, including creating content to convert more customers.
Want to learn how to start thinking like a data-driven marketer and write content that converts? Read on for our top tips.
Steps to Use Data to Write Content that Converts 
1. Audit your existing content's performance 
Because we're dealing with data to create better-converting content, it makes sense to first check out what you have. Do a complete audit of your site's existing content, and check how each piece is performing. 
Important to note: performance should go beyond simply page views. It would help if you also considered other important metrics that point to the likelihood of conversions, including page retention, social sharing, engagement, as well as how you think each piece has contributed to your marketing and sales process.
You'll need to dig deep in your analytics tools to get data like this, but fortunately, it shouldn't take too long to gather and collate this data with our existing analytics tools on the market.
After doing this step, you might even come to a surprising realization: most of your content is probably not performing all that well. In fact, you might even find that most content you've done in the past is barely hitting your minimum threshold for "successful" content, such as getting enough social shares or engagement and, most importantly, conversion.
2. Analyze your top performing posts 
So you've now seen how your content is performing as a whole. This time, let's focus on the top performers.
Top performers can be the posts that get significantly more page views per month. They could also be the posts you see are converting the most, even if they have fewer page views than usual.
Collect your top 10-30 posts, then ask yourself the following questions:
What makes these posts perform better than the rest of your content?
What do these posts do for your audience that other posts don't?
How are people finding these top-performing posts? Is it via SEO or because of a particular page on your site?
What is the customer journey your audience takes after consuming these posts? Where do they tend to go after landing on these posts?
What do they immediately do after they land on these posts? (e.g., click on your Services page, check your homepage, read related posts, etc.)
You may or may not have all the answers when you're first asking yourself these questions. If you can get actual numbers and data to glean your insights and analysis from, then better. 
3. Research what type of content your customers want 
Part of using data to write content that converts means starting from data. You might not have all the data you want from your own analytics, so this is where you can turn to outside sources.
Do your research about the types of content that your customers might want to see and read from you. For example, this might be based on trending topics. Simple keyword research can do a lot to point you in the right direction, but feel free to also consult places like forums and even social media to see what your customers are asking and looking for.
Here's an example of a popular post on the website Cool Tech Zone. After doing customer research, they saw that a topic their audience often searched for was how to find a VPN for Netflix. This finding resulted in an educational blog post, and they even went the extra mile by testing each of the VPN providers on their list.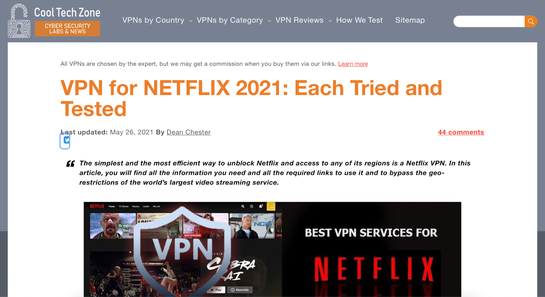 So not only did they find a compelling topic based on their customers' needs, but they also went the extra step to identify that customers wanted reviews based on actual tests. By creating a comprehensive post on what users actually want to know — supported by real-life testing and trial — they ended up making a post that customers were eager to read.
4. Identify the content types your customers prefer 
Given the rapid developments of tech, it's been easier for content producers to create more and more content in a wide variety of different types and formats.
When you're debating which content format or type is the best, consider what your audience prefers. Preference matters, but also consider the reasoning behind each preference.
Do audiences want videos because they'd rather be able to see and hear the content delivered to them on the go or in the background? Does your customer like reading blog posts to see all the sources and data and consume this content at their own pace?
It's not enough to simply stop at your audiences' preference; you need to look into the why behind each too. Consider Google's Year in Search compilation. Every year, they publish the hottest searches from the year, from those inspired by current events down to the most bizarre obsessions the world collectively fell into. And perhaps because they know their audience prefers to consume content in different ways, they created a page that asks audiences to choose how they want to see the report: either through short slides (with interactive elements to boot) or through a complete film on YouTube.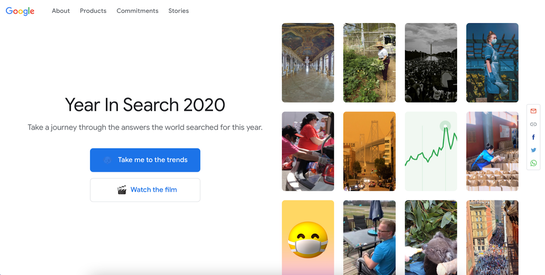 5. Choose the right distribution channels 
To make sure that you're writing content that converts, your chosen distribution channels matter. It's a waste of resources if your audience doesn't get to see where you're promoting your content.
Use the data you've gathered about your customers to see the most effective distribution channels for your content. Later, this can translate into ways to repurpose said content into new types and formats, as we saw in the previous section.
Take, for instance, a business whose clientele is most likely active on LinkedIn. Perhaps they do cold messaging and networking on the platform for their job. If they were to see a highly relevant post of your brand on their preferred platform, they're more likely to want to click or save the post for later.
Once you've found the proper distribution channels, then you can move on to experimenting with different content formats to attract your audiences' attention and later on get them to convert.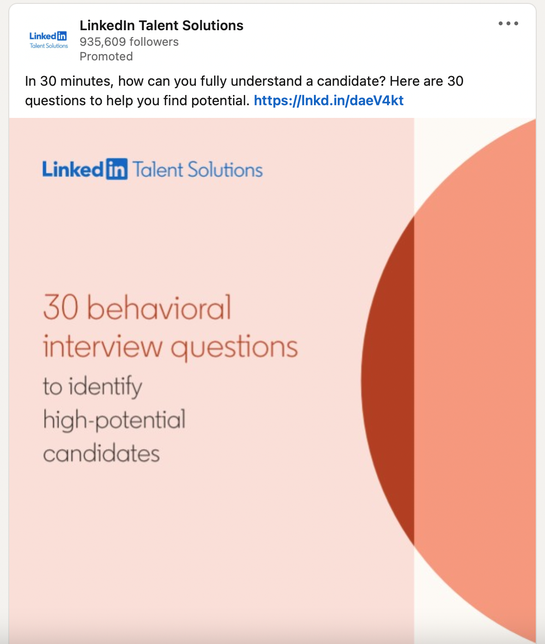 In the example above, LinkedIn Talent Solutions distributed a blog post on 30 behavioral interview questions to their feed using an eye-catching photo that shows exactly what the blog is about. Interested audiences can then follow the link to read the full post.
6. Make A/B testing a habit 
Sometimes it only takes a tiny tweak to get better results from your content. This is where A/B testing comes in. There are many ways you can test your content to increase conversions, but the most important thing to remember when you implement this step is to only test one variable at a time. Otherwise, you might not be able to quickly identify which variable contributed to better conversions in the long run.
Here are examples of different variables you can test in your content, depending on the platforms you're on:
Email subject lines
Article headlines
Call-to-action (CTA) copy and design
7. Document and refine your content writing process 
Finally, an essential aspect of data-driven marketing is rinsing and repeating your process based on the best practices you've learned from your efforts so far.
Track the changes you've made since implementing the steps above, then communicate these changes with your team. This practice will also help you onboard new content creators or help you align with your sales team even better.
Create detailed documentation about your content performance reviews, your A/B test results, and any changes you make to your copywriting, content writing, and more. Over time, having these handy can help you create high-converting content faster while giving you room to experiment with new variables and strategies as you go along.
Make your data work for you in the long run, and soon you'll be able to create better and better content every time.
Patience Is Key
Now that you know how data-driven marketing and content creation works, how do you plan on using data to write better content that increases your conversions? Remember that this process may take some time before you see any results, so give your efforts enough time before switching gears again. 
Use the steps above to help you create a process of data-driving your content, and then see how this data can help you make better content that converts more customers every time.
Last updated on September 16th, 2022.