How to Start a Fashion Blog
Topics Covered:
If you have any friends that are remotely into fashion, you may have heard about one of their favorite influencers or style icons. Maybe, like me, you've dreamed of being featured in The Sartorialist's Instagram feed and website. Perhaps you've always wanted to find out how to start a fashion blog. The fact is the fashion industry is big business.
According to Shopify's Fashion and Apparel Industry Report, e-commerce fashion businesses are expected to generate $606 billion in global revenue in 2020 and up to $714 billion by 2022. Despite there being a hungry appetite from a rabid pool of potential customers, it can be extremely difficult for new and emerging direct-to-consumer (D2C) brands in the apparel space to break through. For one, the market has become saturated. Based on research from DigitalCommerce360, there are between 12 to 24 million e-commerce clothing brands worldwide. This makes it essential for D2C retail brands to find unique ways to penetrate the market. 
In previous posts (Increase Website Traffic: How to Do It Without Breaking the Bank and How to Optimize a Blog for SEO), we've gone over how blogs can increase brand awareness and revenue. But for D2C retail brands, in particular, learning how to start a fashion blog can be instrumental in building strong customer/brand relationships that create positive word-of-mouth, spur on repeat business, and improve customer lifetime value (CLV). It only makes sense to utilize blogging to generate more value for both potential customers and your D2C retail brand.
Let's go over a few of the basic steps on how to start a fashion blog.
Tips for How to Start a Fashion Blog
Set clear goals
While it may seem obvious, it's surprising how many brands and influencers forget about this foundational step. Identifying and agreeing on particular benchmarks helps build alignment with all internal and external contributors and cohesion within a content strategy. This can be anything as simple as increasing website traffic and engagement on social channels or as ambitious as becoming a fixture in the fashion space. Once the main overarching goals are solidified, then an e-commerce retail brand can decide on the type of blog content to produce and metrics to monitor.
For example, if a peer-to-peer fashion app (such as Grailed) wants to position itself as a thought leader in the space, they can produce blog content that approaches and talks about fashion in a more academic tone. They can check the success of their blog content by monitoring their organic traffic growth month-over-month, social shares, and mentions on social platforms that are great for fashion brands, like Instagram.
Know your audience
As a kid, one of the things I learned from going on sales calls with my dad was the importance of knowing your audience. Depending on who was sitting across from him, whether it was a buttoned-up, high-level executive, or a rough-and-tumble small business owner, he would mold his messaging, narrative, and demeanor directly for them. While he was always authentically himself, my dad knew that he would need to alter his approach so that he could make the sale. The same is true for e-commerce retail brands and influencers looking to start a fashion blog.
Is your target audience made up of hypebeasts and sneakerheads? Or is it comprised of aspiring influencers who would find any excuse to wear their newest Reformation dress? Your target audience should dictate not only the type of blogs you produce, but also the topic, tone, and overall execution of them. For example, a modern workwear brand (similar in vibe to Carhartt Work In Progress) could produce a blog that dives into selvedge denim since their target audience has an affinity for raw denim. The key is to create blog content that not only resonates with your audience but fits your brand.
Establish blog categories
Fashion blogs may all center around the world of style, but quality ones explore the relationship people have with the clothes they wear. These blogs can break down outfits into pieces, highlight fashion designers and houses, or inspire appropriate attire for certain occasions. The thing that these types of fashion blogs have in common is that they bring value to readers based on search intent. Let's explore some of the most popular fashion blog themes/categories out there:
Fashion designer and houses 
These blogs explore the history, fashion shows, designers, and influences of well-known brands. These types of blogs are great for fashion brands that want to position themselves as thought leaders in a particular fashion category (e.g., streetwear). Peer-to-peer brands, such as Grailed, Tradesy, and Heroine, typically publish this type of blog.

Recommended Blog: Grailed's Dry Clean Only
Upcoming and current sales
Blog posts that feature the latest deals are some of the easiest pieces of content to produce and are very effective at driving traffic. It's as simple as staying on top of sales seasons and knowing when brands provide discounts for consumers. These are great for influencers that are starting out and want to add value for their readers immediately.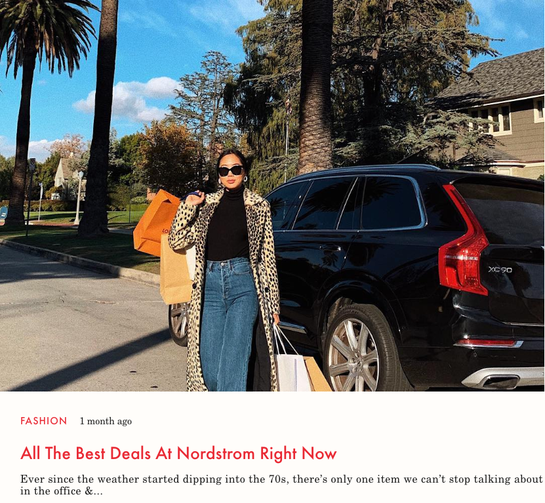 Recommended Blog: Song of Style
Outfit inspiration
As long as there is interest in fashion, there will always be people looking to evolve their style. Outfit inspiration posts introduce readers to new trends, advise on how to incorporate prints, basics or specific materials, give real-life examples of people (typically celebrities) emulating the trend, and list out specific items that readers can purchase. These are great for e-commerce retail brands that have a diverse selection of clothing, either from their brand or various others.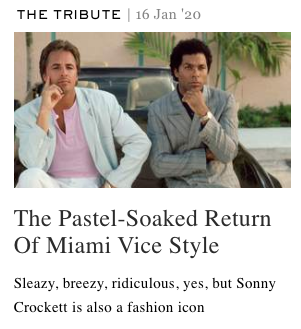 Recommended Blog: Mr. Porter's The Journal
Streetwear photo board
Over the past decade, photographers and bloggers like Scott Schuman (known as The Sartorialist) have seen their influence grow in the fashion industry. These fashion influencers have the ability to create the latest fashion trend with a single click of a camera. If you're an aspiring influencer who doesn't feel confident writing, blogs that feature streetwear photos are a great option. These posts also work great for social, which enables influencers to share their content with more dynamic visuals.

Recommended Blog: Heroine's The Editorial
How-to's
One of the major benefits of search engines is that it makes it easier to learn about specific topics or tasks. All a person needs to do is type "how to..." and a mass of potential search results populate. This is why fashion brands and influencers have utilized instructional blog posts — ranging from how to wear certain tricky pieces to how to build a wardrobe — to create trust with readers. These blogs are great for most brands and influencers since they offer educational value and help build a rapport with their target audience.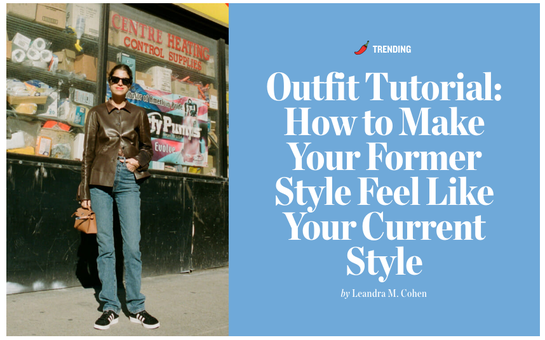 Recommended Blog: Man Repeller
What to wear on certain occasions
Similar to how-to's, these posts provide a ton of value for readers looking for outfit ideas for upcoming events, such as weddings, festivals, and office holiday parties. These are pretty simple in terms of structure and execution and work great for both influencers and brands since they also help build rapport with readers.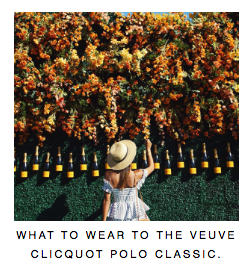 Recommended Blog: Sincerely Jules
Options for specific articles of clothing
This type of blog has been an editorial staple for fashion magazines and online publications for years. Retail e-commerce stores, such as Net-a-Porter, have used these blogs to showcase their catalog of clothing and accessories. Similarly, influencers have used these posts to recommend items from designers they wear and work with. Whether it's square-toed heels, high-waisted mom jeans, or wool duster coats, these blogs give you several options at a variety of price points so you can stay up to date with the latest trends.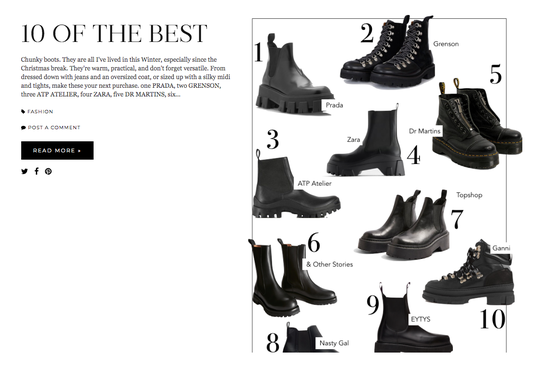 Recommended Blogs: A Fashion Fix
Now Comes the Fun Part — Writing 😬
For most, writing can be the most difficult step when it comes to blog production. If you're interested in learning on how to write high-quality blog content, check out these posts:
Last updated on September 16th, 2022.