How to Create Your Digital Strategy [WORKSHEETS]
Topics Covered:
For many direct-to-consumer (D2C) brands and marketers looking to forge ahead with their digital strategy, consolidating resources, and gaining clarity on how to get started are not the most challenging steps. The billion-dollar question is really how to put together an action plan that turns a digital strategy into a reality. More and more businesses are adopting a digital mindset as they try to capture revenue and boost their customer lifetime value (CLV). 
According to eMarketer's forecasts, by 2021, 84% of US companies will adopt some sort of digital attribution model, 91.5% will incorporate social media into their marketing strategy, and 85.1% will produce digital content. The fact remains that in order to keep pace with competitors, D2C brands will need to move toward where their audiences are online.
Let's go over some broad stroke plans that will help you address some of the major pillars on the pathways towards a digital transformation.
Evaluating Your Website
The most important asset in a brand's arsenal is their website. Typically, it's one of the first interactions a potential customer has with a brand, which makes it incredibly important to make a great first impression. According to Roth Capital Partners' most recent survey, 31.3% of millennials cite a brand's website as the deciding factor when considering a purchase.
Now, there are plenty of ways of turning your website into a revenue and lead-generating machine. Everything from building out an SEO strategy to ramping up blog production to developing an easy-to-interpret navigation bar to optimizing for mobile can help. However, prior to moving forward on any tactic or digital strategy, the first step should be to take inventory of your website. What's missing? What can be better executed? What are some potential blockers?
Conduct an Audit
Look over your onsite audit and write out the items you missed or could improve on the left, then make a plan to fix them. That means stating clearly how you will improve the situation, assign responsibility, and set a deadline for when the action needs to be completed by. Some items may require more than one action to fix, so feel free to use multiple lines.
Click the image below to download this worksheet.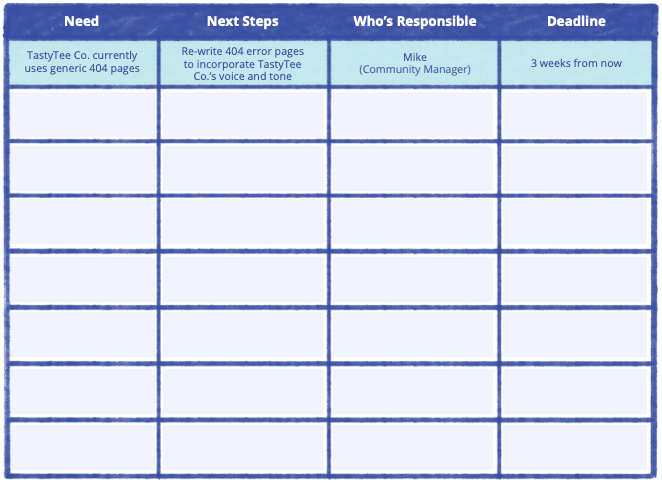 Recommended Blogs:
Ramping Up Content Production
Content marketing is currently at the center of the marketing world. Brands large and small understand how crucial content production is to the viability of their digital efforts. According to the Content Marketing Institute's 2020 research report, 35% of the business-to-consumer (B2C) marketers surveyed stated that they have a content marketing budget of at least $100,000. These marketers wouldn't have this level of organizational buy-in if digital content didn't move the needle from a business perspective. Based on Get Response's findings, over 50% of marketers cited content marketing as being effective throughout all stages of the customer journey.
Content plan
The key to a true content transformation is to stop asking the question, "What do we want to say?" and start asking, "What does our audience want to hear?" More than that, it's about creating the kind of content that your audience wants to consume, and sending it out to the platforms and channels they are most likely to be active on. Use the customer profiles you put together earlier to create content profiles. Think about what topics each audience might be interested in, what medium they prefer, and what channels and platforms they may visit to see your content. Then, put together a content plan that outlines what you'll produce, how often, who will be in charge, and when it will start.
Click the image below to download this worksheet.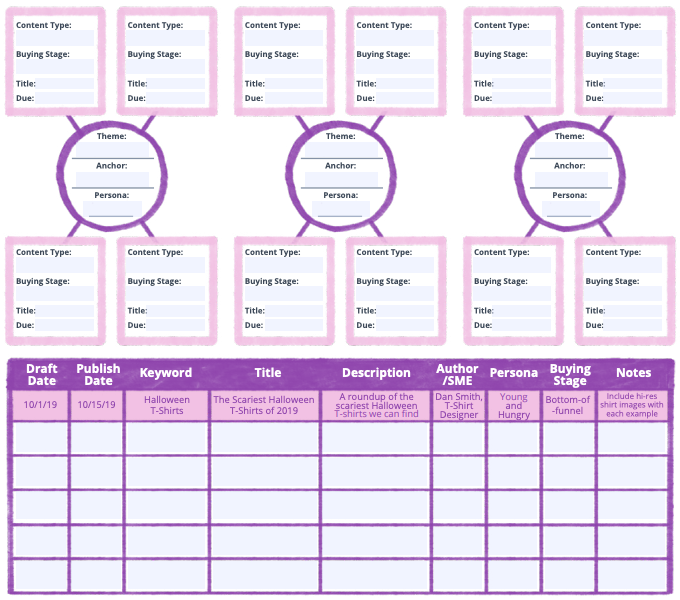 Recommended Blogs:
Paid Media Plan
The goal of any effective paid media campaign is to meet your customers where they are already spending time, and remind them that you have a solution to one of their problems. This is where all that time and research you have put in really pays off. By creating customer profiles and understanding how they move through their buyer journey, you have all the tools you need to create a segmented plan for paid media. Use the worksheet to build a multi-channel approach for each audience, and evaluate your existing efforts for maximum return on investment (ROI). Return to this sheet regularly to reevaluate as you gather results.
Click the image below to download this worksheet.

Are you interested in learning more about how to carve a place for your brand? Check out our interactive workbook, The Ultimate Guide to Building a Digital Brand, to understand how to differentiate your brand from the competition.
Last updated on September 12th, 2022.