Health and Fitness Brands: How to Maneuver the Coronavirus
Topics Covered:
For many people, gyms and health and fitness shops are a part of their every day lives. But when the coronavirus outbreak hit, people began to look at gyms with new eyes; the big question became, "Is it safe to exercise outside of your home?" Their worries were answered when experts weighed in and deemed gyms a "risk" — big players such as Barry's and Peloton have closed their studios, and Equinox has confirmed that one of its patrons tested positive for COVID-19. 
This news isn't just a massive blow to a billion-dollar industry; it's also bad news for fitness enthusiasts who look forward to exercising as a way to blow off steam, release endorphins, and stay healthy. However, both consumers and brands are rising to the challenge — people are finding ways to work out from home, using household items to create makeshift gym gear (water bottles as weights, anyone?). Health and fitness brands are pivoting hard, whipping up new methods of engagement while their patrons are in quarantine. 
The ingenuity that's being shown by both consumers and brands is a testament to how necessary fitness is.
Question of the Day: What Do People Need? 
The coronavirus has brought on a sharp distinction between "essential" and "non-essential" shops and products. While the gym is considered non-essential, it's becoming more apparent that staying fit is a critical component of maintaining a sense of normalcy. For many, the anxiety around the virus is downright crippling. 
So as a marketer, ask yourself what your customers need. Of course, there are the bare basics, such as food, but your customers also need a way to blow off steam. And as a health and fitness brand, it's your job to provide alternative avenues for your customers to stay healthy. 
Now Is the Time to Get in Front of Customers
During periods of economic turmoil, people are less likely to spend freely and are more prone to saving. Because of this, a significant amount of brands have paused, reduced, or stopped their media spend all together. While their hesitancy makes sense, it's essential for you to:
a.) Consider how your brand is critical to many people at this time
and,

b.) Pivot your thinking to recognize that more people online + more spaces to place ads = a less costly way to catch the eye. 
Our team has discovered that since the first coronavirus reports, cost per thousand impressions (CPM) have decreased by 15% across our networks. And while it's easy to dismiss brand awareness campaigns as ineffective, remember that many people are currently searching for a gym substitute, health supplements, etc. — why not stay top-of-mind with them until they're ready to purchase? Keep in mind that familiarity breeds trust; brand awareness efforts can help increase customer lifetime value (CLV) and decrease customer acquisition costs (CAC).
Solidify Brand Loyalty 
Gyms are known for their loyalty programs — but how do you inspire brand loyalty online? A few ideas include: 
Keeping members informed: Always keep your customers up to date on the latest company news. In this case, if gyms are closed for the foreseeable future, let people know ASAP — tell them that their memberships are automatically paused, and then offer alternative fitness avenues. Or, if your fitness shop is exclusively available online, you could offer discounts and free shipping for your products. 
Ramping up customer service: It's essential to be open and available to your customers whenever they need you. This is particularly true in the midst of uncertain times — whether it's through phone calls, social media, or live chatbots, be sure to respond to people within 24 hours. 
Offering external resources: As a health and fitness brand, you probably have an incredible amount of information at your fingertips. Share articles you've found useful or address questions you've heard. 
Ways to (Virtually) Switch Up Your Marketing Strategy 
The health and fitness space is crowded, so it's crucial to not only sell your products but to provide an attractive lifestyle and culture, as well. But, how do you go about doing this virtually? Here are a few tips:
Get creative with your messaging. Switch up your messaging and address current events. For example, if you're an athleisure brand, it's not about how stylish your clothes are — it's about feeling comfortable while working from home. Check out Betabrand's brilliant example: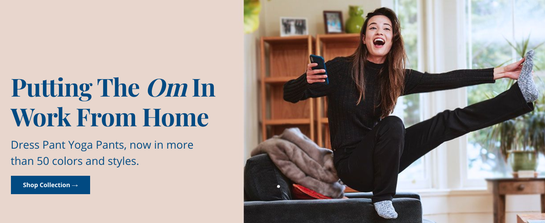 Take advantage of social media. As mentioned earlier, people all over the world are starting to get creative with their in-house workout routines. Encourage your members and followers to post videos of their workouts and reshare them on your social media accounts. Remember to always give credit where it's due (and fun, motivating captions are a plus, too!). 
If possible, keep your audience engaged by conducting a weekly live stream workout session that people can sign up for. For instance, Nike hosts a weekly live stream that's available for free on YouTube.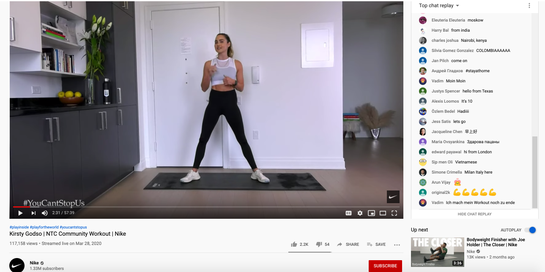 Create a virtual community. For a lot of people, it's not just about being fit and the feel-good endorphins; it's about the friendships from the gym community, too. The group classes are more fun when taken with your friends, and the stationary bike is definitely more entertaining with someone by your side. With this in mind, consider creating an online community through a dedicated Slack channel. This way, people can interact with one another, share their tips and workout videos, and combat the loneliness of isolation. Do your part and contribute, as well: Ask daily questions, solicit progress stories, and host monthly contests.
Provide helpful content. The realm of health and fitness is ripe with opportunities for all kinds of content. You could offer blog posts and social media campaigns that touch on fitness and health topics. An excellent example: 

Last updated on September 16th, 2022.