Google Display Ads: How to Get Started
Topics Covered:
Do you want to showcase your ads across three million websites and 650,000 apps — in an effort to reach 90% of internet users worldwide? With its impressive influence and relatively low cost, the Google Display Network is one of the best options for brands that want to promote their products and engage with new customers. 
But for beginners, getting started can be an overwhelming process. That's why we're here to ensure your journey toward more sales and better brand awareness is as smooth as possible. 
Here's what to know about launching your first Display ad. 
How Do Google Display Ads Work?
Display ads are static images, animated slideshows, or video banners delivered to internet users via the Google Display Network (GDN), a collection of websites, apps, and Google properties such as Gmail and YouTube. 
There are two primary ways to use Display ads:
Target users who have not interacted with your brand. Using Display ads to reach these prospects can provide tremendous value for those looking to boost brand awareness or introduce relevant shoppers to your products. 

Remarketing users who have engaged with your website or ads. Display ads are particularly useful for re-engaging shoppers who have visited your site but failed to take action or abandoned their cart. This strategy also works for existing customers who haven't shopped with you in a while. Remarketing is typically cheaper than prospecting since these shoppers are already familiar with your brand.
How to Get Started With Google Display Ads
With the AdRoll integration for Shopify merchants, getting started with Google Display Ads is easy:
Download the AdRoll app from the Shopify App Store, then create an account or log in.  

From the Home tab, click "Campaigns" > "Social & Display Ads" > "Create Campaign." 

Choose how you'd like to target your display ads. (For an introduction to different targeting approaches, check out this guide.) 

When prompted to select what channels you want, click "Web," then follow the instructions to finish setting up your ad. 
Keep This in Mind When Launching Display Ads
Experiment with targeting
Display ads offer serious flexibility in terms of targeting, making them extremely powerful for reaching brand goals:
In-market targeting allows you to reach Google users interested in broad product categories (e.g., home and garden vs. sports and fitness). Google determines these segments based on what they've previously clicked or purchased. If you're launching Display ads for the first time, opting for in-market segment targeting is a good place to start, especially if you add a few additional demographic qualifiers (such as age, gender, or location) to narrow it down. 

Affinity audience targeting works in a similar way to in-market segment targeting, except you're targeting users based on their general interests (e.g., cooking vs. gaming vs. fashion). Consider using additional targeting criteria to pinpoint a more specific audience beyond their affinities. 

Topic targeting is a more general form of contextual targeting, where Google will display your ads on site pages that match the topic you provide.  

Custom segments are users who are "likely to be interested" in keywords and websites relevant to your ad. In other words, Google delivers your ads to users who are browsing websites that have a contextual connection to the keyword or URL you provided. 

Placement targeting involves specifying which websites and URLs you want your ads to be displayed on. 
To learn more about Google's targeting options, check out this guide. 
Pay attention to content exclusions
Nobody wants their ads to be shown next to a tragic news article or sexually explicit content (unless that's related to your line of business, of course). So when creating your Display ad, make sure not to skip past the advanced content settings where you can set content exclusions: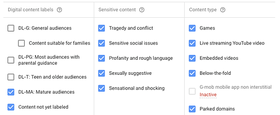 Review best (and worst) placements
While Google offers a transparent and comprehensive overview of your ad's results, it's useful to specifically review your placement performance. Click on the "Placements" button > "Where Ads Showed" for the data. 
If you can identify placements with higher spend, low click-through rates, or zero conversions, consider blocking them as you continuously optimize your campaign. 
Test ad formats
When it comes to launching Display ads, there's no reason to opt for standard image ads. Instead, don't be afraid to experiment with responsive ads that fit in a range of ad formats — they frequently yield higher click-through rates and better engagement with shoppers. Here's more on how they work.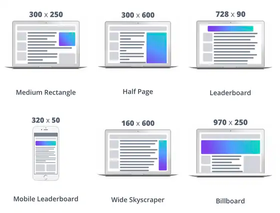 Pro tip: If you have no clue where to start, studies have found that 300x250px and 728x90px Display ads have the highest impressions compared to other ad sizes. 
It's Time to Take the Plunge
With its reach and affordability, Display ads are the go-to for Shopify brands looking to increase sales and boost brand awareness. 
Instead of charging forward on your own, consider leveraging an automation solution like AdRoll —  with our AI-powered platform, we've helped thousands of growing ecommerce brands launch better ads. Check out how the AdRoll app for Shopify merchants can level up your store in no time.
Last updated on March 29th, 2022.