Google Ads Showdown: Display Ads vs. Search Ads
Topics Covered:
With an advertising platform as robust and complex as Google, it can be tough to determine which ad types will provide the biggest impact on your brand. 
Gather around because it's time for a Google ads showdown: Here's everything you need to know about display ads vs. search ads. 
What Are Google Display Ads?
Google Display ads are paid placements that appear on websites based on your targeting parameters — think of it as a type of push advertising. These ads will typically appear across the Google Display Network, which includes Gmail, YouTube, and more than two million sites that reach 90% of all online users.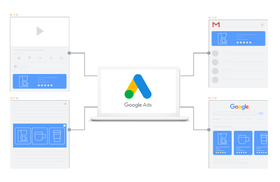 What Are Google Search Ads
Google Search ads paid ad placements that only appear in one location: search engine results pages (SERPs). Compared to Display ads, Search ads are a type of pull advertising that are served to users actively searching for keywords relevant to your brand or product.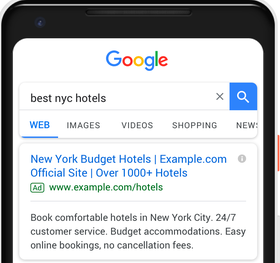 Google Display Ads vs. Search Ads: Differences
Display and search ads are both a type of pay-per-click (PPC) advertising in which marketers use an action-based model to bid for ad placements, however their features, prices, and results differ significantly:
Google Display ads offer more control over your ad (including size and format, e.g., video vs. static). Search ads are limited to a headline, descriptive text, and display URL with no visual element.. 

Across all industries, the average conversion rate for search ads is 4.4%, yet this number drops to 0.57% for display campaigns — people viewing search ads have higher purchase intent and are more likely to find your ad relevant. 

On the flip side, average conversion rates for display ads may be lower, but they are more budget friendly — the average cost-per-click for display ads is $0.59 vs. $2.41 for search ads. 
Display Ads vs. Search Ads: Which Is Better?
Despite the discrepancies in conversion rates, search ads are not inherently better than display ads — they simply serve a different purpose. We recommend using both in your marketing mix to capture shoppers across the entire funnel and increase your reach to the right audience.
Here's when to use each ad type:
Display ads
Have a visual product? Display ads allow you to better demonstrate and promote your items through images and videos. 

If you're looking to boost brand awareness among shoppers with low purchase intent, display ads help move them from the discovery or awareness stages of the marketing funnel to consideration. Think of display ads as a way to generate demand for your products rather than addressing their current needs. 

Retargeting display ads can capture the attention of shoppers who have already interacted with your brand but failed to convert, such as cart abandoners. 
Search ads
If you're not getting the organic traffic you want, search ads can help drive shoppers to your website. They're a great short-term answer as you spend time building your organic content and working on SEO. 

Search ads are also a great way to capture high-quality leads — as long as you use the right keywords that match search intent. 

For ecommerce brands selling seasonal products or items with short sales cycles, search ads can be an effective way to capture immediate sales (rather than spending the time and budget engaging with shoppers over time). 
Getting Started With Display and Search Ads
It's time to move away from Display ads vs. Search ads and toward Display ads + Search ads. Both have their perks and will be a valuable addition to your other marketing efforts. (Psst: Here's a Google ads 101 checklist to ensure your first campaign is a raging success.) 
Ready to get started with launching A+ Google ads? See how AdRoll can help.
Last updated on February 25th, 2022.